The Gwen Ifill College of Media, Arts, and Humanities
The Gwen Ifill College of Media, Arts, and Humanities cultivates trailblazers and leaders. Here, you'll study the modes of expression through which we record and interpret the human experience.
"We can't expect the world to get better by itself." — Gwen Ifill
Our students view society through the multi-faceted lenses of language, narrative, art, music, film and contemporary media. You'll hone your creative abilities through real-world projects and on-the-job learning experiences.
As a pioneering Black woman journalist, Gwen Ifill broke through barriers of prejudice and stands as a model of professional excellence and a purposeful life. The Ifill College aims to carry on that legacy for the next generations. Our mission:
We are a community of educators and learners guided by intellectual curiosity, critical thinking, and generosity of spirit.
We derive strength from our differences and pursue civic engagement through humanistic inquiry that values language, lived experience, artistic expression, and imagination.
We give voice to our stories, past and present, individual and global, told and untold, to influence a future whose questions have yet to be asked. 
How will you do the hard work of imagining a more just future?
---
Take a look back at our successful first year - The Year in Review 2018-2019
Contact Information
Having trouble deciding what to do? Contact The Ifill College. We'll be glad to help you out.
MCB C-116
300 The Fenway
Boston, MA 02115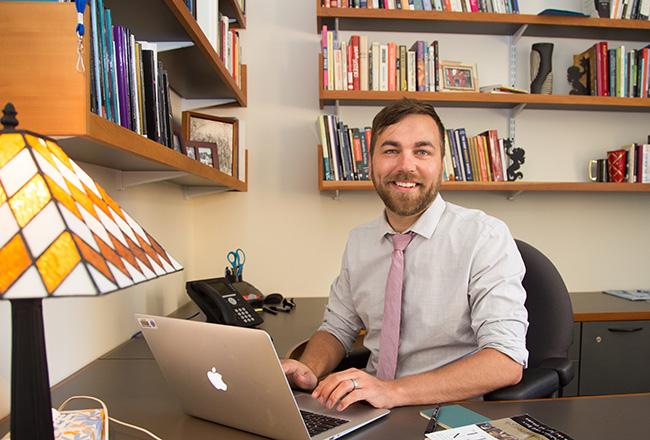 Meet the Dean
Dr. Brian Norman is the Dean of The Gwen Ifill College of Media, Arts, and Humanities. He is a scholar of American and African American literature, professor of English, and academic administrator.
Learn More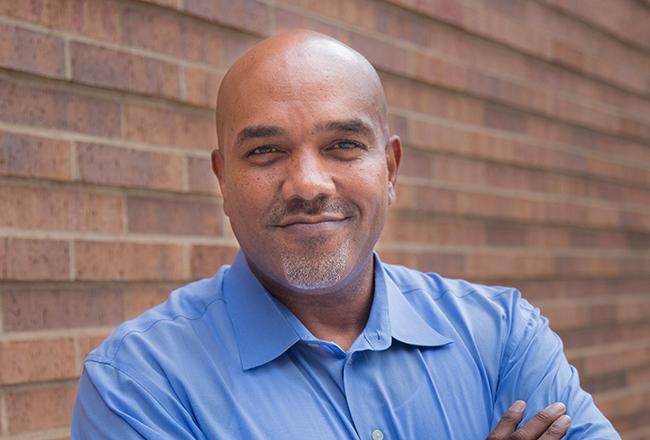 Our Faculty
You'll study with faculty who are thought-leaders and award winners, researchers and professionals in their fields.
Faculty Profiles
A note from Brian Norman, Dean of the Gwen Ifill College of Media, Arts, and Humanities. I am proud to look back at a successful first year. Our collective task was to begin the work of building a college of...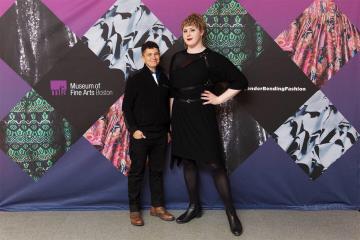 Matisse DuPont '19MA and Professor Jo Trigilio served as consultants on the Museum of Fine Arts Boston's Gender Bending Fashion exhibit interpretation team.
What made you choose your program at Simmons? I really loved all of the faculty I spoke with when I was touring, and how student-focused the programs are. Every faculty member I spoke with, or have worked with in my...
We caught up with Christina about her time at Simmons and how studying abroad changed her life. Why did you decide to come to Simmons? Initially, I just knew that I wanted to be in Boston. I met with Simmons...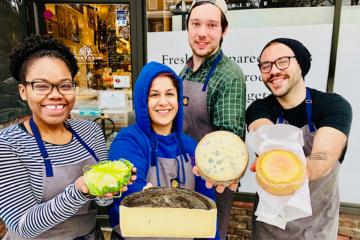 Hannah tells us how she turned her passion for food and media into a career. Why did you choose to attend Simmons? Simmons was one of the few schools outside New York City I'd discussed with my college counselor. I...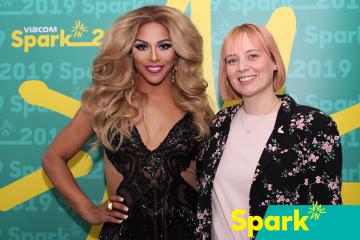 Amy tells us how she found her confidence as a senior producer for comedy television. Tell us a little bit about your background. I was a communications major at Simmons, but never sure what I wanted to do beyond "entertainment."...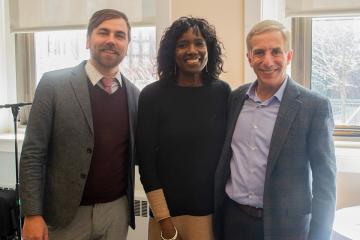 Rick Berke and Mentor-in-Residence, Nancy Ancrum discussed Gwen Ifill's lasting legacy. "Conversations that matter." That's how Brian Norman, Dean of The Gwen Ifill College of Media, Arts, and Humanities introduced the March 26 Ifill College community meeting. That was an...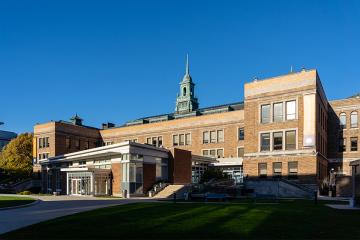 Congratulations to Professors Diane Grossman, Jyoti Puri and Špela Trefalt! Simmons Provost Katie Conboy announced the names of three professors who have become Endowed Chairs at Simmons. An endowed chair is a distinctive achievement as it provides funding for salaries...