Research
Working closely with faculty experts, our students put theory into practice through on-site and off-site research opportunities.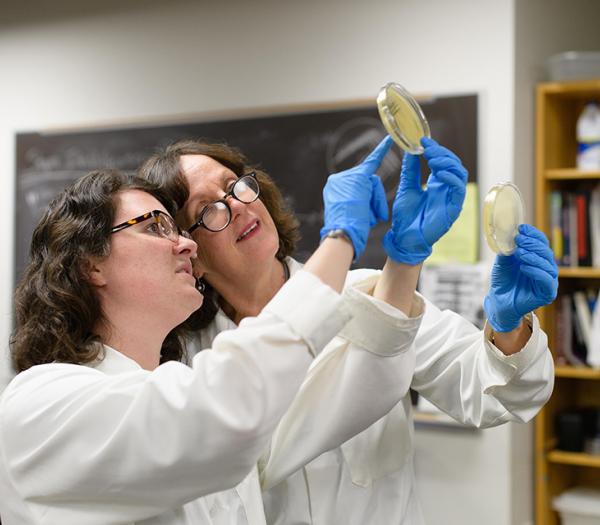 Our faculty are leaders in their fields and mentors in the classroom.
Our faculty and students are actively engaged in research, scholarship and creative work. They publish intriguing research articles, exhibit original artwork, share their expertise at major conferences — and so much more. 
Working closely with a faculty mentor, our students conduct, present, and publish cutting-edge empirical research. You'll gain hands-on experience in the classroom and graduate with a remarkable record of publications, professional experience, and an extensive portfolio.
"Faculty research and creative work are key ingredients for achieving the goals of our small university."

— Provost Russell Pinizzotto
Research Centers and Resources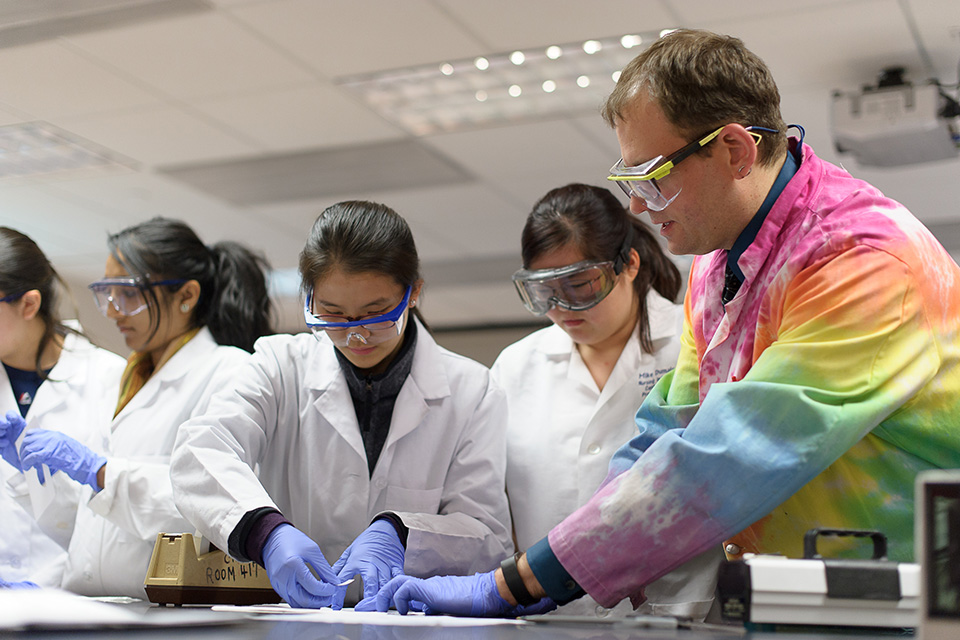 Research Labs
Our modern teaching laboratories are designed for high-impact, active-learning teaching and research practices and are capped at 16 students to increase faculty-student interactions. Four faculty-student research clusters foster interdisciplinary collaborations and include a biomedical ultrasound laboratory; a microscopy center; a separation, quantitation, and spectroscopy center, and three level two certified tissue culture and microorganisms laboratories.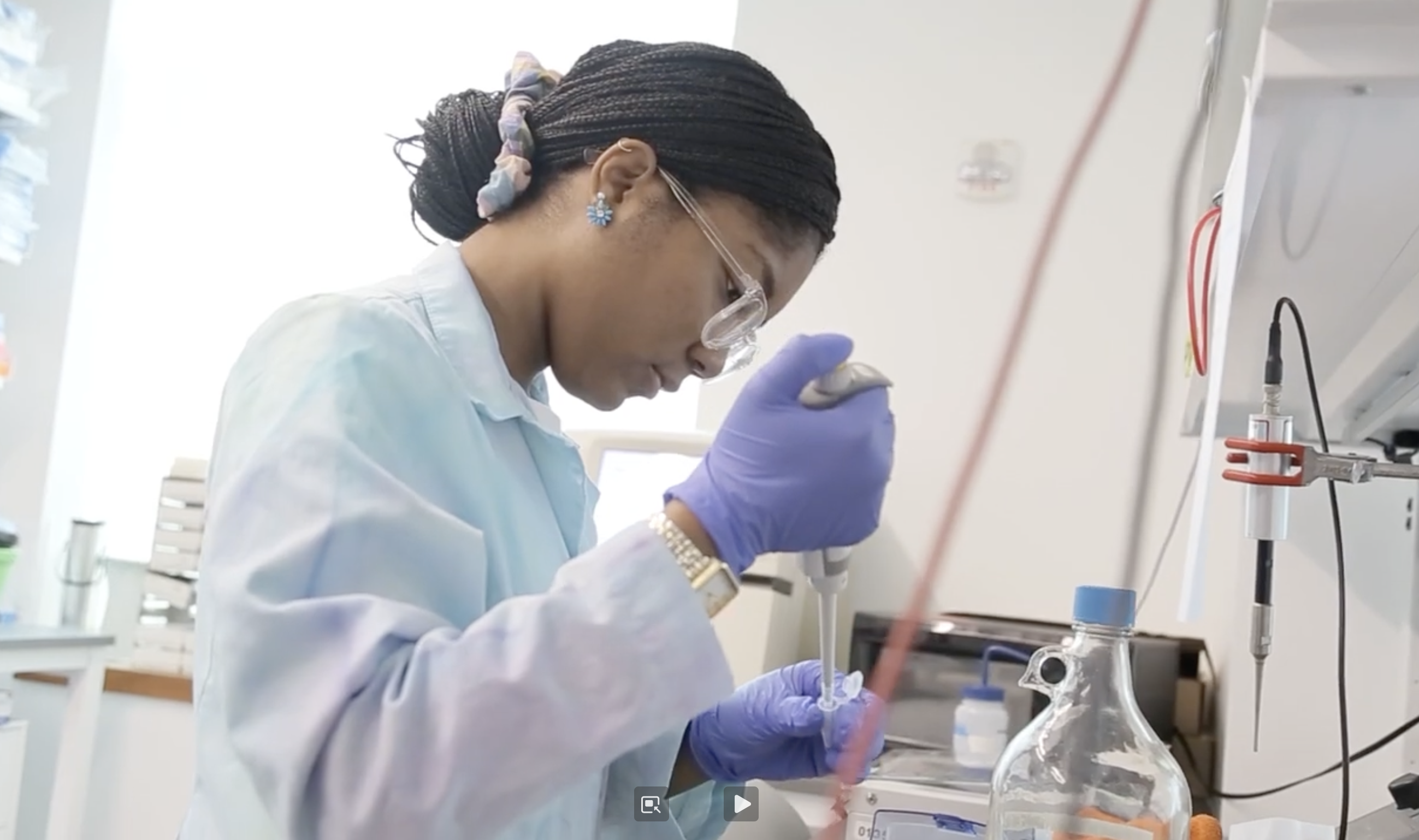 Centers with a Focus on Research
Research is at the heart of the work done in many of the centers on campus.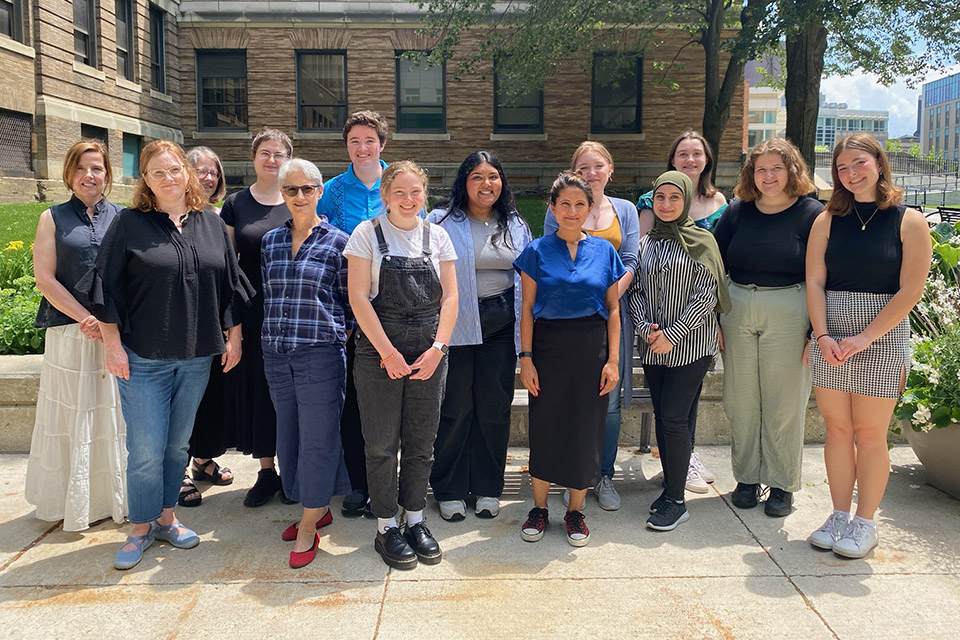 Student Research in the News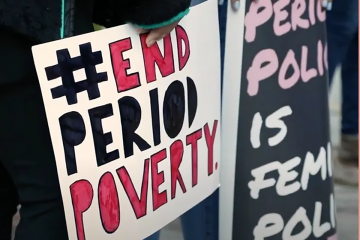 Menstrual equity is an under-discussed and under-researched topic within academia, politics, and the general populace. Katarina Sousa '24 is breaking the silence with her groundbreaking research and activism in Massachusetts.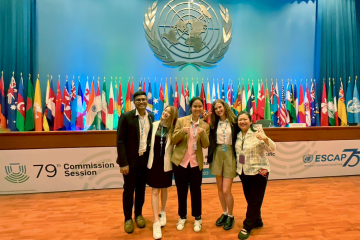 Laurel Murphy received a McGrath Global Research Grant to cover travel expenses for her internship at the United Nations Economic and Social Commission for Asia and the Pacific (UN ESCAP) Library in Bangkok, Thailand, a collection of UN official documents...
Biology major Piper Alyea-Herman has developed a deep interest in genetic research. In March, she gave a poster presentation at the American Society for Biochemistry and Molecular Biology Conference (ASBMB) in Seattle, for which she received a competitive travel award...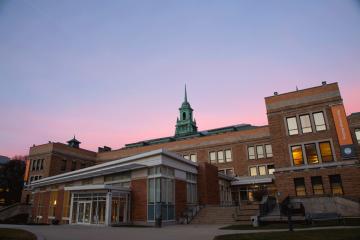 On March 3, Caitlin Curry '24 and Charlotte Rice '23 delivered a poster presentation, "A Qualitative Analysis of Parenting Young Children during the COVID-19 Pandemic," at the Eastern Psychology Association Annual Conference in Boston. Their research reveals how families were...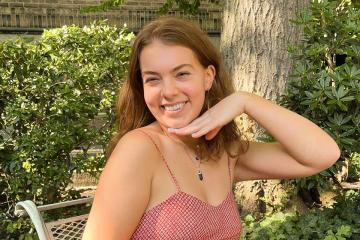 CJ '24 (Chloie Johnson) attended the American Physical Society's Conference for Undergraduate Women in Physics (CUWiP) at Boston University in January 2023. They spoke with us about their experience at the conference and their love for science. Tell us about...
When Roe v. Wade was overturned on June 24, 2022, student Sara Slager — a double major in Education and Women's and Gender Studies — was in the middle of a research project on local reproductive rights activism. She spoke...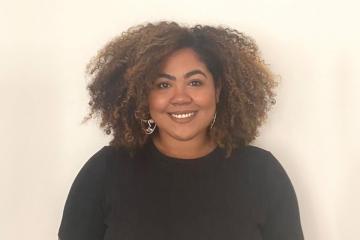 Jennifer Eckert '08MSW, a member of the Simmons University Board of Trustees, provided a generous donation to support the mission of Simmons University to become a beacon of leadership in the world of higher education. A portion of these funds...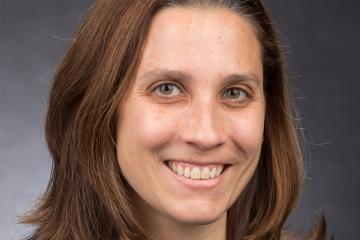 What She's Studying Jordyn Hagar '23PhD currently teaches in the Social Work Department at Providence College after working as a child and adolescent family therapist for almost 15 years. At Simmons, Jordyn is studying how changes to systems and policies...
Faculty Research in the News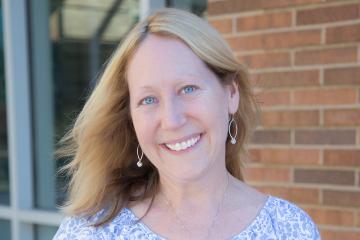 Suzanne Leonard , Professor of Literature and Writing, and the director of the MA in Gender and Cultural Studies, teaches courses on Feminist Media Studies, Women's and Gender Studies, and American Literature at Simmons. The co-editor of Imagining We in...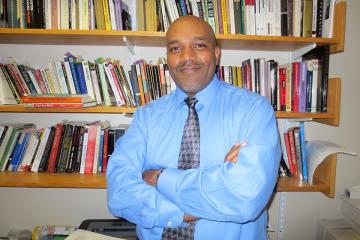 Professor and Department Chair Sheldon George has diverse research and teaching interests in literary and cultural theory, race, and psychoanalysis. He spoke with us about his new scholarship that explores Black women authors from around the world, as well as...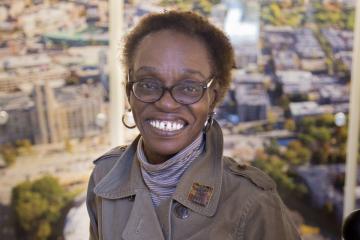 Founded in 1919, the League of Women for Community Service is a Boston-based Black women's organization that still exists today. According to Professor Hamilton-Mason , the League helped cultivate Black womanhood in a nurturing and supportive way. Members of the...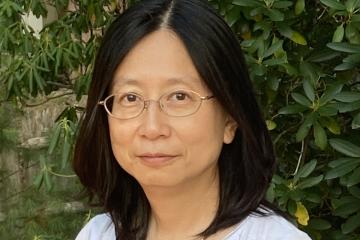 Professor of Nutrition and Director of the Didactic Program in Dietetics Teresa T. Fung , ScD, RDN has been recognized by the Academy of Nutrition and Dietetics for her outstanding research. She spoke with us about this honor, her current...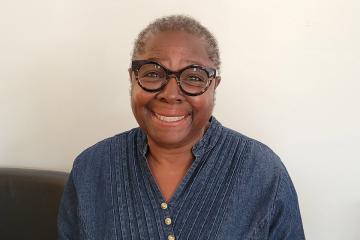 In her new book co-authored with Tracy L. Robinson-Wood, Sister Resisters: Mentoring Black Women on Campus (Cambridge: Harvard Education Press, 2022), Professor Janie Victoria Ward uncovers strategies of resistance that empower young women and their mentors. She and her co-author...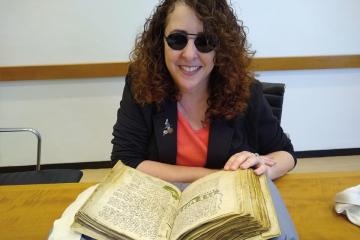 Dr. Lisa Fagin Davis, who teaches for SLIS, is passionate about medieval manuscripts. She directs the Medieval Academy of America and was recently featured on the Medievalists.net Podcast. Here Davis shares with us how a study of medieval artifacts can help train future librarians.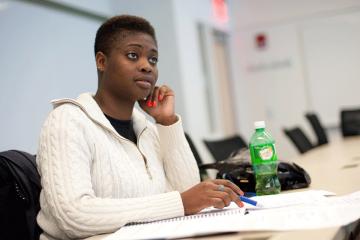 Africana Studies at Simmons is celebrating 50 years . Assistant Professor Tatiana Cruz sees it as a perfect complement to any major at Simmons, offering cultural insight that is invaluable for working in diverse communities. Tell us about Africana Studies...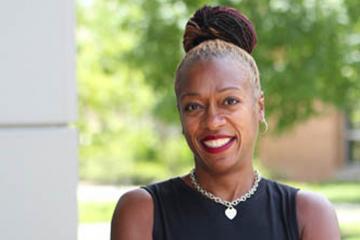 Simmons School of Social Work Associate Professor Vanessa Robinson-Dooley just published the co-edited volume Black Men's Health: A Strengths-Based Approach Through a Social Justice Lens for Helping Professions . In this book, Robinson-Dooley and her co-authors explore Black men's health...
Alumnae/i Research in the News
Kyle T. Ganson is an Assistant Professor at the University of Toronto, Factor-Inwentash Faculty of Social Work. As part of his studies at Simmons, he created the course "Social Work Assessment and Treatment of Eating Disorders," to be taught in Spring 2024. We spoke to Ganson about his doctoral experience at Simmons and the inspiration behind the course.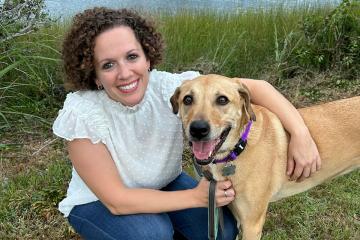 What made you choose to study Mathematics at Simmons? Simmons had a great, small, close-knit community, with the bonus of being in the larger city of Boston — it had a little of everything! When I first visited Simmons, I...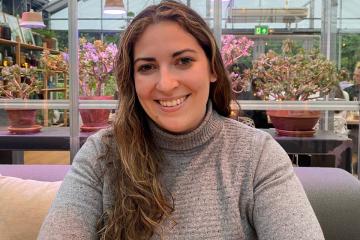 Research librarian Kaitlin Allair shares insights on problematic teen social media use, the dangers of "sharenting," and other aspects of her research.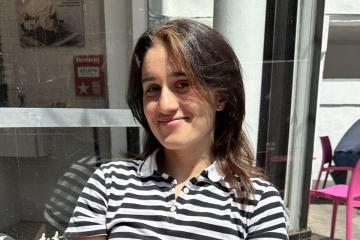 How Did Eva's Time at Simmons University Shape Her Path in Science? Eva Piernas, a recent 2023 alumni, reflected upon her journey at Simmons University, where she majored in Neuroscience on the neurobiology track and minored in Chemistry. As she...
Physics major Geraldina Cruz '23 recently participated in the annual Radiology Research Symposium at Brigham and Women's Hospital (BWH) on May 25. Cruz was one of just two undergraduates who presented research alongside seasoned researchers at BWH. They spoke with...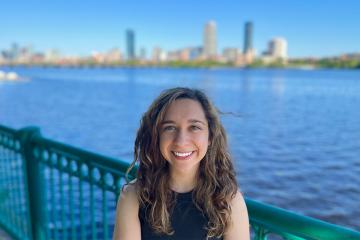 Environmental Science major Monica Alves's first major career revolved around water science . Recently, she has transitioned into oncology-related research data. In this interview, Alves imparts advice on changing careers and discusses her love for writing children's poetry. Tell us...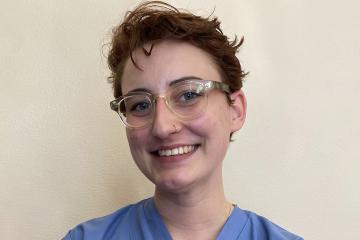 After Nora Monahan graduated from Simmons with a degree in Neuroscience in 2021, she promptly began a research position at a prominent mental health treatment and research center. While still engaging in full-time scientific research, she has taken on a...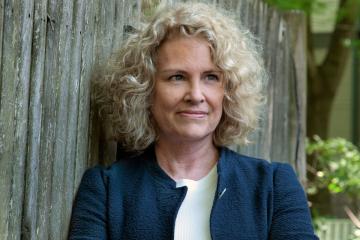 Historian Kate Clifford Larson '80 '95MA is the author of Bound for the Promised Land: Harriet Tubman, Portrait of an American Hero (2003, Penguin Random House), The Assassin's Accomplice: Mary Surratt and the Plot to Kill Abraham Lincoln (2008, Basic...