Building Our Future
Creating a Sustainable Path Forward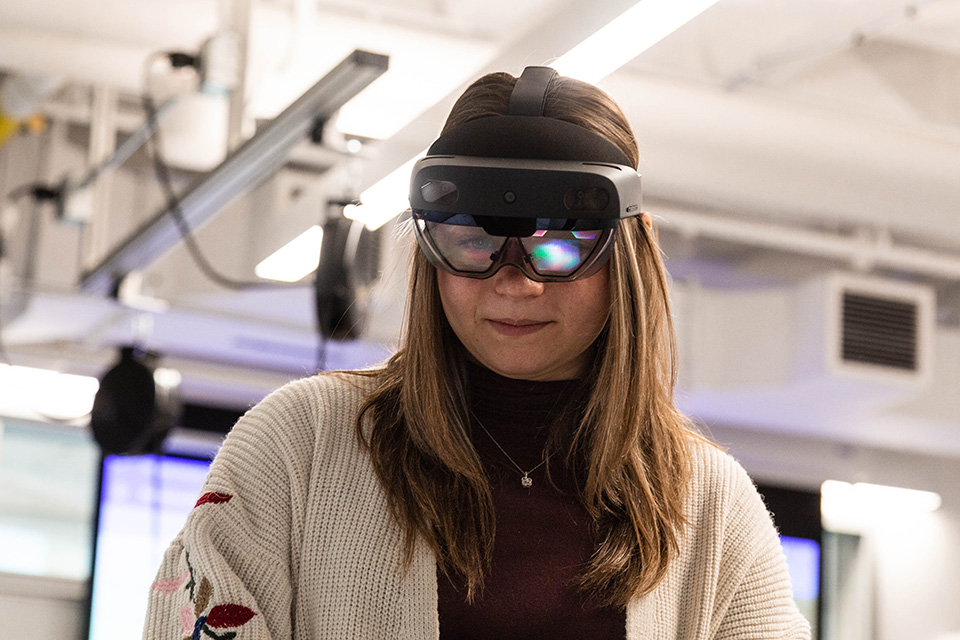 Higher education must evolve to meet the changing needs of students in today's world. In this landscape, Simmons is leading by charting a new way forward. Building Our Future, our university's latest strategic plan, honors our rich history of preparing women and non-binary students for their life's work while laying out the important steps needed to secure our long-term success.
Simmons is not unlike many private universities who are challenged by declines in enrollment, shifting demographics, the demand to meet the current needs in the market, and the pressures to increase revenue to support a sustainable future. As we plan our path forward, it is critical that we maintain our foundation in social justice and equity while also focusing our curriculum and enhancing our operations.
We must shift our thinking toward innovation and adjust our revenue model to ensure that resources are appropriately aligned with strategic priorities. We must continue to invest in our signature strengths and develop distinctive academic offerings in places of influence where equity has not been achieved. When we do, we will be better ready to respond to the workforce needs of our community without wavering from our founding principles.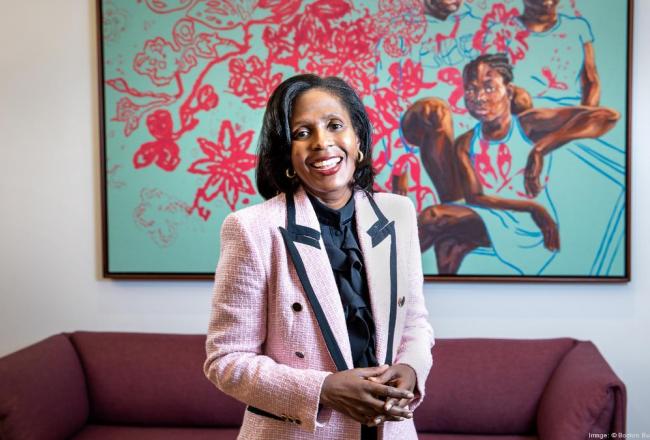 Leading the Way to a Stronger Future
Simmons has played a vital, distinct role in higher education and in women's education for more than 125 years. Building the Future is about ensuring that the mission and vision that has distinguished us as a women's-centered college remains strong for the next 125 years.
Read President Wooten's message
Over the Next Three Years, We Will:
Leverage Our Assets
We will leverage our real estate and academic assets strategically to improve our position in the market and build a stronger revenue model.
Build a Better Financial Model
We will strengthen our budget model, balancing our expenses and revenues, improving our fundraising and financial aid strategy, and aligning finances with strategic institutional priorities.
Create a Positive and Thriving Campus Culture
We will prioritize the health and wellbeing of our campus community, increase opportunities to recognize and reward faculty and staff excellence, and foster a culture of diversity, equity, and inclusion.
Centers of Excellence
We will achieve these priorities through four centers of excellence.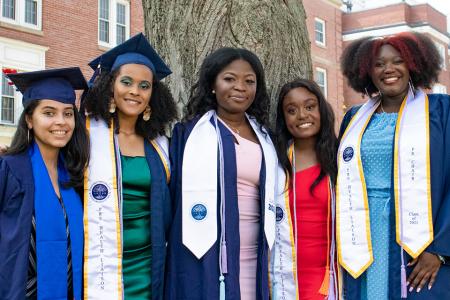 We will cultivate a thriving community that fosters wellbeing, engagement, and preparation for life's work, high-impact experiences, and academic success.
STRATEGIES
Re-envision the Division of Student Affairs and the Center for Student Success
Improve undergraduate and graduate student retention and graduation rates
Increase opportunities for leadership development, career planning, and preparation for life's work
Create a targeted fundraising campaign with a focus on securing philanthropic funds to support the University's student financial aid model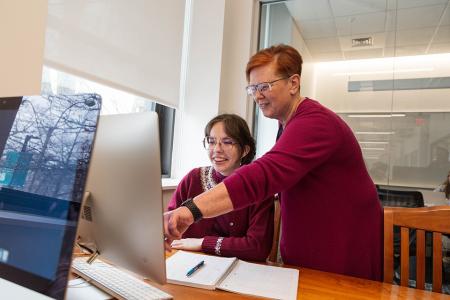 We will focus on growth in our areas of distinction, seize future opportunities, and remain deeply committed to inclusion and equity.
STRATEGIES
Refocus the academic portfolio to better align with student demands, to focus on areas where we see future growth potential, and to invest in areas that support the goal of gender equity
Re-envision the academic foundation to create innovative educational opportunities in liberal arts, humanities, and social sciences
Introduce the Simmons Edge, an accelerated degree program that allows every undergraduate to complete an accelerated graduate degree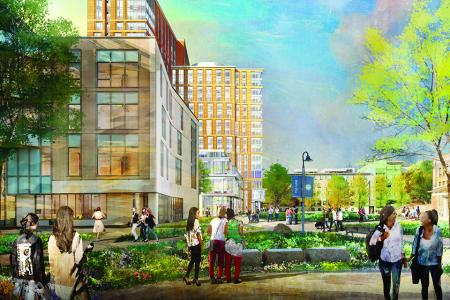 We will ensure a sustainable future and build capacity to support innovation by aligning resources with strategic priorities, strengthening our business model, and increasing efficiency in operations.
STRATEGIES
Increase revenue through net tuition, fundraising, real estate, and programming through the Institute for Inclusive Leadership
Assess, realign, and focus administrative structures to maximize efficiency and reduce redundancy
Balance revenues and expenses and align budget with institutional priorities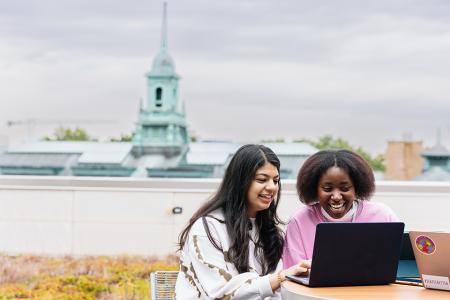 We will enhance our commitment to diversity, equity, inclusion, and justice by infusing equity minded principles in our decision-making, prioritizing access, recognizing champions for inclusive excellence, coordinating our approach and deepening our engagement in the community.
STRATEGIES
Re-envision diversity, equity, and inclusion organizational structures
Increase social justice education
Increase recognition and support for inclusive excellence
Focusing Forward
John Simmons founded this university in 1899 on the idea that women should be able to earn independent livelihoods and lead meaningful lives of their own choosing. While times have changed considerably, our commitment to gender equity, life's work, and leadership have not wavered. We remain committed to advancing this vision while creating a thoroughly sustainable Simmons. As we forge ahead, we reaffirm that when Simmons leads, the world works better.
How Did We Get Here?
As the University approaches its 125th year, the strategic plan provides an opportunity to focus on taking critical steps toward building our future. The strategic planning process began in December 2021 when the leaders of the Strategic Planning Steering Committee, Cathie Mercier and Jason Wood, engaged the campus community in discussions about the mission, vision, and values. Over 500 members of the campus community, including faculty, staff, and students, provided feedback. The feedback gathered led to the development of a new mission, vision, and values and also provided the foundation for the priorities and strategies for the first version of the strategic plan. In December of 2022, Dr. Renique Kersh, Vice President for Student Affairs, was nominated to lead the completion of the plan.
Forging the Path Forward
In January of 2023, three goal teams were formed to review the first draft of the plan and to develop tactics. The goal teams led by Dr. Russ Pinozzotto and Dr. Stephanie Cosner-Berzin; David Hollinden and Laura Brink Pisinski; and Kerri Brophy and Meghan Kass; included faculty, staff, and students. The teams met between February and April. While the goal teams were meeting, Dr. Renique Kersh gathered feedback from students faculty and staff on the first draft of the plan. Student feedback was gathered through small group meetings, meetings with the Student Government Association, and meeting with graduate student leaders. Faculty and staff feedback was gathered through attendance at faculty meetings, community meetings, and individual staff meetings.
Reframing and Rebuilding Our Future
As the strategic plan began to take shape, it became clear that the path to our future will require a significant focus on ensuring long-term financial stability, while also prioritizing excellence. The reframed plan will prioritize strategies that ensure our financial and organizational future over the next three years and will enable us to lean into innovation and prioritizing our strengths.
2027 Strategic Planning Timeline
CONVENE
December 2021
President Wooten convened the Strategic Planning Steering Committee (SPSC) and appointed Dr. Cathie Mercier and Dr. Jason Wood as co-chairs.
REFLECT
January - April 2022
The SPSC reflected on the 2022 Strategic Plan, assessing outcomes.
IMAGINE
January - April 2022
The SPSC engaged the community (500 participants) in a mission, vision, and values exercise.
SHARE
May - June 2022
The SPSC shared the suggestions on mission, vision, and values and the first draft of considerations for goals and objectives with the University Strategy Team (UST).
REFINE
July - November 2022
Marketing and Communications and PRG refined the mission, vision, and values and considerations for goals and objectives.
SYNTHESIZE
December 2022
Finalize mission, vision, and values; synthesis of feedback; draft priorities and strategies.
CONFIRM
January 2023
Share priorities strategies and next steps with UST.
UNITE
January - February 2023
Goal team leads identified; goal teams finalized strategies and developed tactics; update to Board of Trustees.
ENGAGE
February - April 2023
Community feedback and stakeholder engagement.
REFRAME
April - May 2023
Integrate feedback and refine priorities, strategies, and tactics.
LAUNCH
Summer 2023
Prepare to launch the strategic plan.