Leadership Events at Simmons
Join us!
Simmons is a community that unites passion with purpose and where leadership is promoted and encouraged. We believe in changing the world for the better by inviting the best of the world to change us. To that end, Simmons hosts a number of events each year that focus on tackling important questions and fostering excellence in leadership. 
Ifill Forum
Gwen Ifill '77 '93HD was a model of intellectual curiosity and truth seeking. The annual Ifill Forum invites alumnae, community members, students, faculty, and staff to experience an event where important national voices come together for a conversation of a pressing issue. The Ifill Forum seeks to ask the questions that Gwen herself would be asking of our world today.
Learn more about the Ifill Forum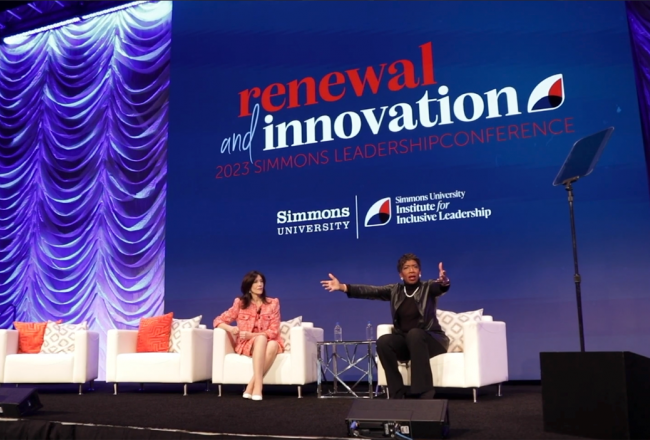 The Simmons Leadership Conference
The Simmons Leadership Conference brings together more than 8,500 professional leaders from around the globe – women and their allies – who want to better themselves, their workplaces, and the world. The conference stage has seen notable keynote speakers such as Michelle Obama, Hillary Clinton, Brené Brown, Gloria Estefan, Maya Angelou, Oprah Winfrey, Serena Williams, Quinta Brunson, Sheryl Lee Ralph, and more.
Learn more about the Simmons Leadership Conference
Upcoming leadership events