Leading the Way to a Stronger Future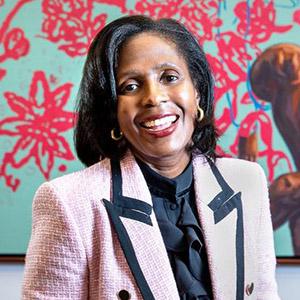 Simmons has played a vital and distinct role in higher education for nearly 125 years. Our founding vision to center the influence of women on the betterment of society, which was revolutionary in 1899, has only grown in importance over time. Today it is perhaps as urgent a priority as ever: where there were once 200 women's colleges across the United States, now roughly 30 remain. The mantle of our leadership grows at once heavier and more vibrant.
As we evolve to meet the needs of students in the current landscape, our faculty and administration together have crafted a new strategic plan to help ensure that the mission that has always distinguished the Simmons name stands proud for the next 125 years and beyond. In Building Our Future, we are making the thoughtful changes needed to continue leading with our values of inclusion, service, and pragmatism while also developing the talent that our region and the world increasingly demand.
I believe Simmons is uniquely suited to meet this moment, but we will not do so without changing. As Building Our Future will lay out, to be successful requires refocusing our academic portfolio on our core strengths in nursing, health sciences, social work, library and information science, management, technology, and communications. We are also introducing the Simmons Edge, an accelerated graduate degree program focused on experiential learning and direct career pathways. Taken together, these are changes that boldly enhance our founding commitment to train Simmons students as genuine leaders in their industries, in their communities, and—as the principles of the liberal arts and humanities hold so dear—in their own lives.
The Simmons community together will implement Building Our Future across four areas of excellence:
Sustaining Academic Excellence requires us to recognize that today's students seek a clear path to career preparation and advancement; they seek classrooms that honor equity and support their growth as individuals. We will be laser-focused on preparing undergraduate and graduate students with the skills they need to enjoy thriving careers and create a more just world.
We will continue to provide a distinct environment for Student Excellence unlike any other in the Boston area—one where thoughtful community engagement is central to collective wellbeing, and where social experiences and academic success enhance each other seamlessly.
Improving Operational Excellence will require difficult decisions in some areas. We must seek to reduce some expenses, increase student and alternative revenues, and deepen our culture of philanthropy. As we work in collaboration across our community, we will continue to maintain an open and transparent process of decision-making and information sharing.
A unflagging commitment to Inclusive Excellence will permeate everything we do. This institution was founded on the understanding that inclusion and belonging are necessary, not optional, if we are to succeed as a society. In collaboration with the Institute for Inclusive Leadership, along with our community and friends, we must and we will continue to lead on this front like few others can.
When Simmons leads, the world works better. I have said so since my first day on the job as president of this university, and I believe it is the key to a thriving and sustainable future for our entire community. As we chart the latest way forward together, I invite your partnership in the critical work of educating the leaders of tomorrow.
Lynn Perry Wooten
Simmons University President