Earn your Bachelor of Arts (BA) Degree in Writing from Simmons University
A Bachelor of Arts in Writing trains you to write with insight, clarity, and creativity. It prepares you for a variety of career paths or further degree programs.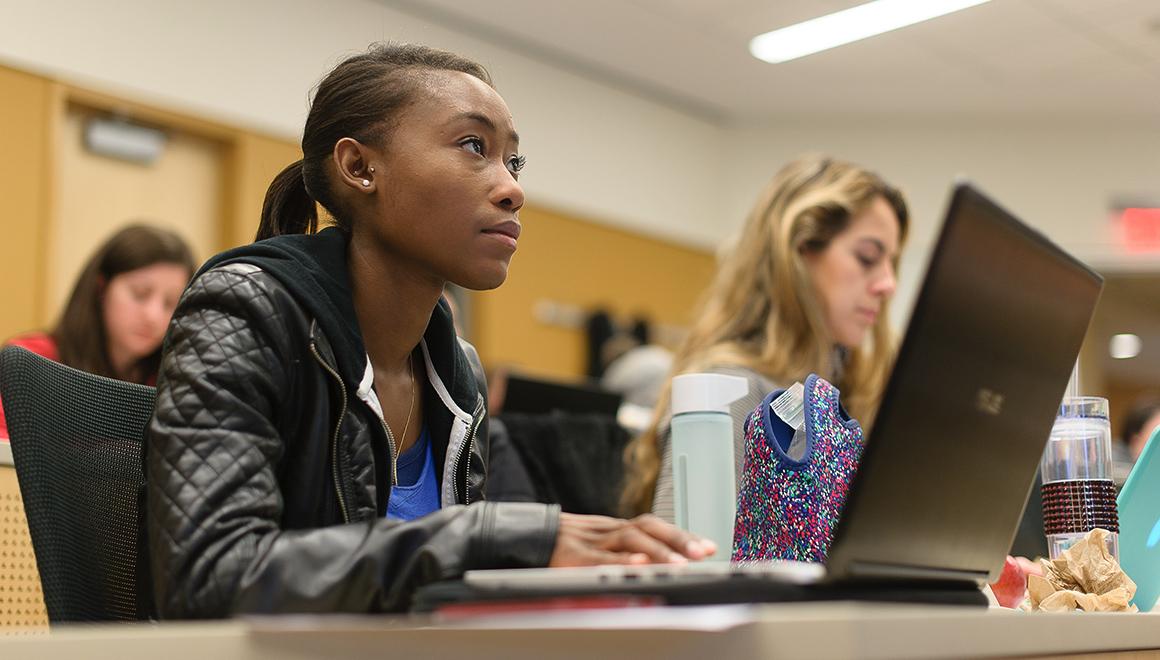 Why become a Writing major?
Our students develop sophisticated understandings of writing through reading and producing essays, short stories, poems, and public humanities writings. Students learn to read with a writers' eye by analyzing the craft of published authors.  They sharpen their critical skills and their writing technique by participating in peer workshops.  Guided by award-winning faculty who are poets, novelists, literary scholars, and cultural critics, Writing majors discover their own style and talent as thinkers and writers. 
Writing majors learn to read with discernment and write with clarity and force. Such abilities enrich students' personal lives while providing them with practical skills that serve them well in their professional lives. Writing majors discover their own voices, learn to collaborate and revise, develop skills of critical analysis and creative expression, and gain confidence in themselves as independent thinkers.
What will you learn as a Writing major?
Students will develop appreciation for the art of writing and hone their own skills as writers. They  will be able to read closely, produce creative and critical written pieces driven by their own insights in conversation with the ideas of others, do research independently, reflect critically on their own writing, and talk intelligently about their insights in discussions or formal presentations.
Internship opportunities for Writing majors
Students in our Writing program take advantage of internships in Boston and beyond, building their skills and resumes and learning from mentors in their fields.
Recent internship sites include:
Charlesbridge Publishing
The Actors' Shakespeare Project
Make-a-Wish Foundation
Brookline Center for the Arts
Horn Book Magazine
Candlewick Press
Boston Ballet
What can you do with a BA in Writing?
Graduates from our Bachelor of Art in Writing program are able to read carefully, analyze complex and sophisticated material, and communicate clearly in written and verbal form, skills that will always be in demand.
Literature majors go on to careers in law, publishing, advertising, business, government service, technology, public service, media, journalism, writing and teaching.
Find out more about our Bachelor of Art in Writing!
Earn your Bachelor of Art in Literature degree at Simmons University and get started on the path to a fulfilling career. You can request more information, schedule a campus tour, or find out how to apply today!
The Writing major consists of 10 courses given by, or approved by, the department.
Core Courses
Two core courses are required for the Writing major:
| | | |
| --- | --- | --- |
| ENGL 199 | Approaches to Literature | 4 |
| ENGL 210 | Creative Writing: Theory and Practice | 4 |
Required Courses
Four of the following writing courses are necessary.  Preferably, two of the four will be taken at the 200 or 300 level:
ENG 350 requires the consent of the instructor.
Context Courses
Two Context courses that cross borders of space or time are required for the Writing major:
One course that emphasizes Geographical and Cultural Contexts
One course that emphasizes Historical Contexts
The remaining two courses are taken as electives.
ENGL 199 is an introduction to the Literature and Writing majors and is open to all students thinking about majoring in Literature or Writing. All potential majors are urged to take it no later than the beginning of their sophomore year. While ENGL 199 and ENGL 210 constitute a sequence in the Writing major and must be taken in that order, this sequence does not necessarily have to be completed in consecutive semesters.
ENGL 199 is the prerequisite to all 300-level classes offered by this department. Some 300-level classes may have additional prerequisites.
The Department of Literature & Writing does not permit double-counting. Although some of our courses fill multiple requirements, each course can only be used to fill one requirement for a particular student's major.
We encourage our students to augment their required courses with in-depth study in the liberal arts and additional courses in the major. Dual-degrees, interdisciplinary programs, and a wide range of minors are also available. You'll work with your advisor to develop a coherent course program that will meet your educational goals.
We also offer a minor in Literature & Writing and a minor in Cinema and Media Studies for students pursuing other majors.
 
Majors in the Department of Literature & Writing take advantage of internships in Boston and beyond, building their skills and resumes and learning from mentors in their fields. Simmons Literature & Writing majors have interned at:
Charlesbridge Publishing
The Actors' Shakespeare Project
Make-a-Wish Foundation
Brookline Center for the Arts
Horn Book Magazine
Candlewick Press
Boston Ballet
Horticulture Magazine
MIT Press
Harvard Museum of Natural History
Blackwell Publishing
Beacon Press
The Museum of Fine Arts
Children's Television Workshop
Comcast
Versus News
De Gruyter Publishing
United Nations Association of Greater Boston
Blueberry Hill Productions
Cambridge.com
The Cotting School
Boston Public Schools
Brookline.com
Woburn Public School System Libraries
Raytheon BBN Technologies
Boston Casting Company