Around Campus
Our campus is located in the heart of the city surrounded by museums, parks, restaurants, shopping, nightlife, and more. Take in the bright lights or chill on the quad — it's your move!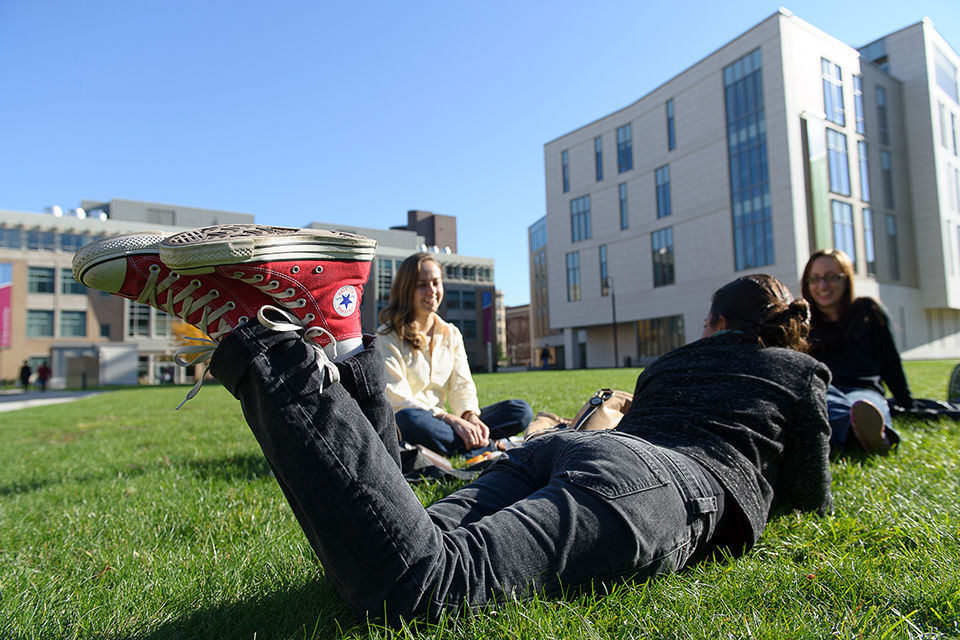 Small college feel + big city benefits
Our close-knit campus combines a small college feel (like sitting around a grassy quad) with big university benefits (like landing the internship of your dreams).
Right on the Simmons campus you'll have access to multiple dining options, coffee shops, the Simmons University Library, and the Holmes Sports Center.
Plus, our neighborhood is home to 300,000+ students and 15 other colleges within walking distance so there's never a dull moment!
A campus designed for you
In recent months, as part of the One Simmons project, our campus has undergone the first stage of the renovation project. These spaces are aimed to improve the living and learning environment for future Simmons students. We are excited to modernize our campus to support our academic programs and to improve our student experience.
Students will experience an updated academic campus with:
The Multicultural Center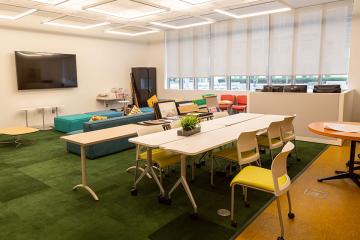 Our Multicultural Center now has a new home right off the quad on the first floor of the Management and Academic Building. Check out the newly designed space featuring flexible soft seating, a multi-purpose screen, a new kitchenette, and common dining/event table. The space outside the Center will serve as a gallery for artwork and archival displays as determined by the students. Our goal was to provide a vibrant, comfortable, and flexible space for the social and educational programming that is conducted in the MCC. The Multicultural Center strives to help students merge the narratives of who they are with their academic and professional commitments. We acknowledge that an individual is made up of a multiplicity of identities that shape their experiences and we aim to provide space and education necessary to explore the intersections of who they are. Simmons is committed to building a living and learning environment in which each and every student can thrive intellectually, socially, and emotionally.
Center for Leadership and Engagement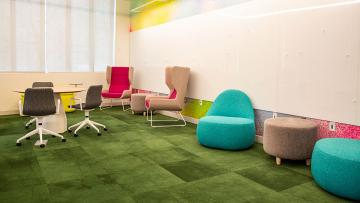 A new student space has been created on the first floor of the Management and Academic Building. Featuring a large, open space with large windows overlooking the quad, a whiteboard wall, offices for student groups, as well as collaboration spaces—the Jennifer Eckert Center for Leadership and Engagement puts the undergraduate student experience at the core of the building. Just outside the Center are study booths, soft seating, and a large collaboration table in the lobby. Our goal was to create an energized, colorful, and collaborative space for students to engage, socialize and work.
Student Services One Stop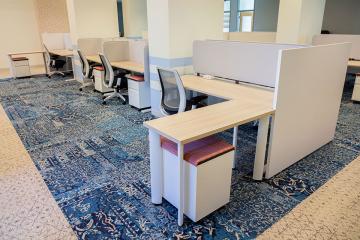 In order to provide the best service to our students as possible, we have created the Student Services One Stop on the second floor of the Main College Building. Housing all student business services (Student Financial Services, Registrar, Bursar, Veterans Services) in a completely renovated space with areas for students to gather and meet—the "One Stop" mirrors the services provided in the Center for Student Success and epitomizes Simmons's commitment to an outstanding experience for students.
The Makerspace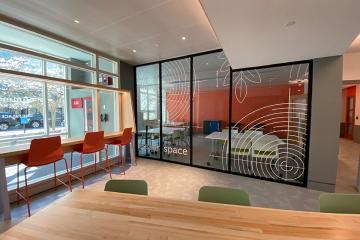 Our new Makerspace, located on the first floor of Palace Road, is being designed as a student-led facility that will be used for creative activity, entrepreneurial explorations, learning about robotics and technology, curricular and cocurricular projects, and community outreach and engagement. The space features a glass wall for visibility, movable furniture for flexible use, and will be outfitted with a 3D computer, robotics kits, laser cutting equipment, computerized sewing and embroidery machines, as well as "back to basics" crafts supplies.
The Media Center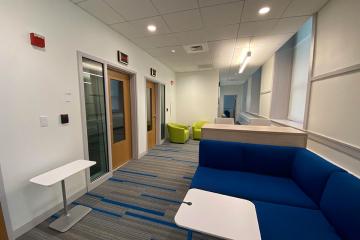 Student-driven media is a critical component of a Simmons experience. To allow for more collaboration, innovation, and focus, we created the Media Center on the first floor of the Main College Building. Housing the Simmons Radio Station, the Alden Trust Video Studio and a multi-purpose, flexible, collaboration space with new podcast rooms—the Media Center is the first of its kind at Simmons. Whether students are working on social media, print media, video, radio, or a combination of all—this is a newly created space for these activities.