Why Simmons
Can't decide between a small, close-knit college, a bustling, big-city university or an online program that fits into your life? Good news — at Simmons, you'll find all three!
Discover a Transformational Education Designed to Work For You
Located in the heart of Boston, Simmons provides you with all the benefits of a small college campus, plus the unparalleled opportunities of a large university. Our digital campus expands our campus footprint far beyond New England — so you can become part of the vibrant Simmons student community, no matter where you live.
You'll experience our innovative curriculum, which allows you to customize your course of study. Whether you're undecided about your major or have already found your dream career, you'll find your passion and develop your unique leadership style.
If you join us on our Boston campus, the city is yours. You'll find internships, clinicals, and jobs in many fields, including healthcare, education, technology, and business. Boston also offers endless social and cultural opportunities to explore, so take in the bright lights or chill on the quad — it's your move!
Or, you can join us online in a program designed to work within your lifestyle. You'll learn in immersive, live online classes with a small group of motivated peers and complete faculty-designed interactive coursework at your own pace between class sessions. You'll be a fully integrated student in the Simmons community, welcome to join us for events and organizations beyond the classroom.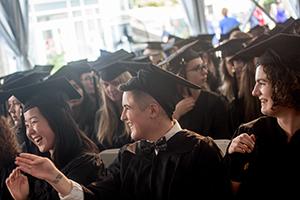 89% of Simmons graduates are employed or in graduate school within 6 months of graduation
Our focus on leadership development ensures that you build the skills and confidence you need to pursue higher positions, negotiate your salary, and leverage your career potential.
of on-campus Simmons students complete internships, clinicals, fieldwork or research projects
With Boston as our backyard, our students have easy access to learning opportunities in the city (and beyond!)
of first-year students receive financial assistance
Our Student Financial Service Counselors are assigned to students and families from day one. They are devoted to helping you navigate the financial aid process throughout your education at Simmons.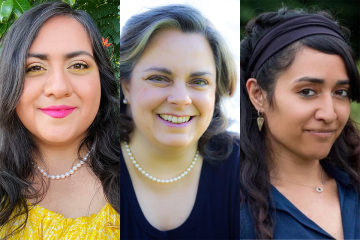 This fall, Simmons students from the Social Action Leaders course are channeling their academic studies into advocacy. We spoke with students Felipa Canchola '24, Lisa deRosier '24, and Rashida Alisa Hagakore '24 about their passion for experiential service learning and their conception of good leadership.
The Bonner Community Leaders Program at Simmons University is a unique opportunity for students who want to combine a strong commitment to service with personal growth, teamwork, leadership development, and scholarship. This fall, Simmons announced a new cohort of 11 Bonner Leaders. We spoke with three of them.
We asked first-generation student Gia Lebrun '24 about her perspective on the college experience and what advice she would give to prospective first-generation students.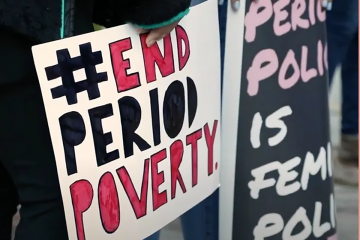 Menstrual equity is an under-discussed and under-researched topic within academia, politics, and the general populace. Katarina Sousa '24 is breaking the silence with her groundbreaking research and activism in Massachusetts.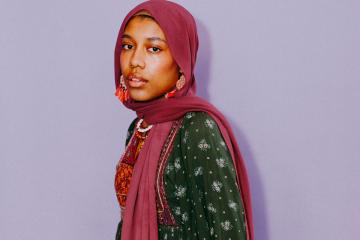 "To me the Ifill scholarship is just that: the inception of an amazing legacy and the prospect of a radical future." — Asiyah Herrera '25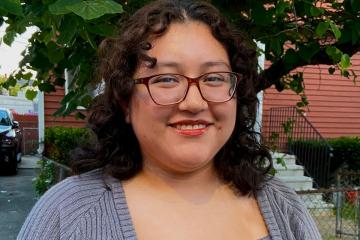 Ifill Scholar Carla Bamaca shares her passion for filmmaking and storytelling to inspire change.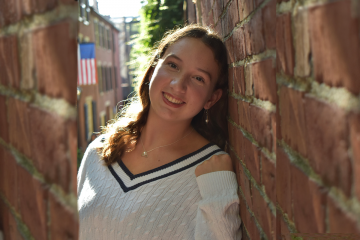 Incoming student Anna Kelly from South Kingstown, Rhode Island, received a $10,000 Gold Award Scholarship from the Girl Scouts, a special recognition for her community service project "Peer-to-Peer Program in Middle School." Kelly spoke with us about her passion for community service, mental health, and nursing.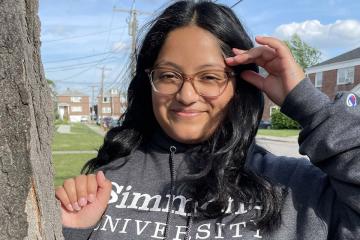 McLean Hospital recently launched Deconstructing Stigma: Changing Attitudes toward Mental Health. This campaign challenges popular and erroneous assumptions about psychiatric disorders. Social work major Marina McCollum is a participant in the program. She spoke with us about her personal experiences...