Why Simmons
Can't decide between a small, close-knit college, a bustling, big-city university or an online program that fits into your life? Good news — at Simmons, you'll find all three!
Discover a Transformational Education Designed to Work For You
Located in the heart of Boston, Simmons provides you with all the benefits of a small college campus, plus the unparalleled opportunities of a large university. Our digital campus expands our campus footprint far beyond New England — so you can become part of the vibrant Simmons student community, no matter where you live.
You'll experience our innovative curriculum, which allows you to customize your course of study. Whether you're undecided about your major or have already found your dream career, you'll find your passion and develop your unique leadership style.
If you join us on our Boston campus, the city is yours. You'll find internships, clinicals, and jobs in many fields, including healthcare, education, technology, and business. Boston also offers endless social and cultural opportunities to explore, so take in the bright lights or chill on the quad — it's your move!
Or, you can join us online in a program designed to work within your lifestyle. You'll learn in immersive, live online classes with a small group of motivated peers and complete faculty-designed interactive coursework at your own pace between class sessions. You'll be a fully integrated student in the Simmons community, welcome to join us for events and organizations beyond the classroom.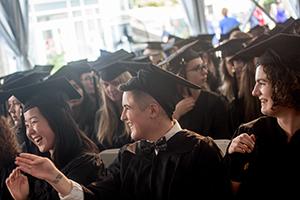 89% of Simmons graduates are employed or in graduate school within 6 months of graduation
Our focus on leadership development ensures that you build the skills and confidence you need to pursue higher positions, negotiate your salary, and leverage your career potential.
of on-campus Simmons students complete internships, clinicals, fieldwork or research projects
With Boston as our backyard, our students have easy access to learning opportunities in the city (and beyond!)
of first-year students receive financial assistance
Our Student Financial Service Counselors are assigned to students and families from day one. They are devoted to helping you navigate the financial aid process throughout your education at Simmons.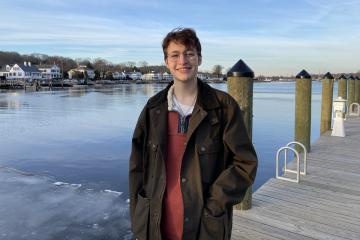 In December of 2022, Simmons student Theo Hatfield attended the American Society of Cell Biology (ASCB) annual conference, which took place in Washington D.C. Hatfield spoke with us about their original research and conference experience. Why did you decide to...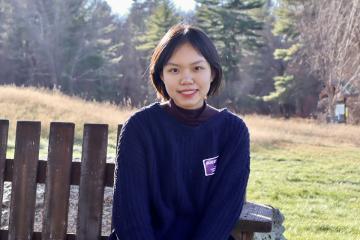 Physics major Dan Nguyen has received a prestigious award from the Acoustical Society of America (ASA). Nguyen began her research as a SURPASs (Summer Undergraduate Research Program at Simmons) scholar and is now testing her theories at the new science...
Nursing major Beth Pennington is one of Simmons' first-generation students. She spoke with us about her interest in working with children and why she was drawn to Simmons. What is it like to be a first-generation student? It is an...
When Roe v. Wade was overturned on June 24, 2022, student Sara Slager — a double major in Education and Women's and Gender Studies — was in the middle of a research project on local reproductive rights activism. She spoke...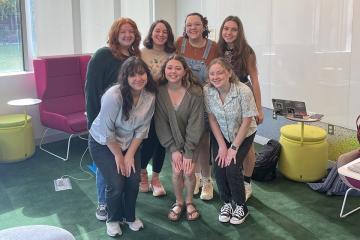 What is the Explore course? The Simmons Course is a part of the PLAN core curriculum. First year students take Simmons: Explore, which is an introduction to college life, study strategies, and on campus resources. Each year, the courses build...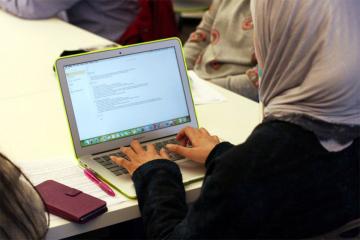 We spoke to CompleteDegree student Miladys Perez about why she chose the Simmons online program for her second bachelor's degree, and what her experience has been so far.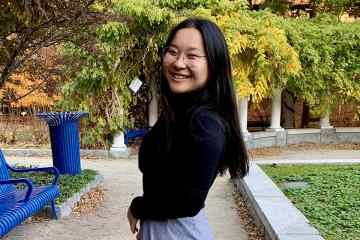 During the summer before her junior year as a Communications and Media Studies major at Simmons, Abrielle Cunningham '23 interned for The Wall Street Journal through the Dow Jones Internship Program. Since January 2022, she has been working part-time as...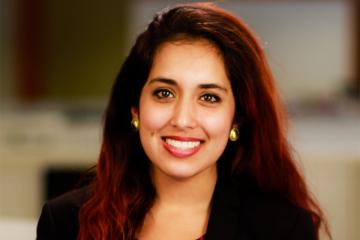 CompleteDegree student Anisha Srivastava '23 describes what it took to leap into her second bachelor's degree in Computer Science, and the support she's received from Simmons professors.