Why a Women's Undergraduate Experience?
Choosing a women's undergraduate program can open doors that might not seem obvious at first, but will definitely pay off! Don't be afraid to make a bold and unexpected move on your path to success.
Benefits of a women's undergraduate experience
There are tons of myths and misconceptions about undergraduate programs for women. People assume they are catty, they won't prepare you for the "real world," and your social life will be totally non-existent. Wrong! There is ample evidence that women's undergraduate programs actually prepare women to succeed better than co-ed colleges. 
Compared to women at co-educational institutions, students and alumnae/i from women's undergraduate programs:
Have more successful careers holding higher positions, increasing their earning power, and finding more satisfaction in their work.
Are more likely to express the goal of wanting to influence the political structure, and to have worked in a local, state, or national campaign.  
Report higher levels of class participation, active learning, and faculty interaction, resulting in more confident and well-prepared graduates.
Are more likely to collaborate in faculty-led research projects and experience student-centered teaching practices that respect the expression of diverse beliefs.
At Simmons, our location in Boston means endless opportunities for internships, grad schools, careers, and social life. There are over 300,000 college students in our neighborhood, and partnering schools that host social events and intramurals that you can take part in.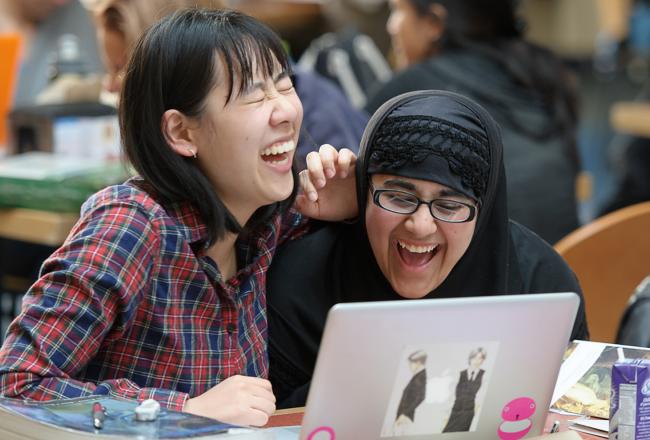 Benefits of a Women-Centered Education
Watch as our Woman on Campus sits down with several prominent voices on campus to explore the importance and the value of a women-centered education.
More Videos
From attending team meetings to pitching stories, Katie Cole loved every aspect of her fellowship with PBS NewsHour. We caught up with Katie about this experience and getting her work promoted on-air by Judy Woodruff herself.
Natarajan is the creative vision behind "Re-assembling" and "Bound Together." Both exhibits are currently on display in the Management and Academic Building (4th floor) and the Main College Building (4th floor). Learn about her journey.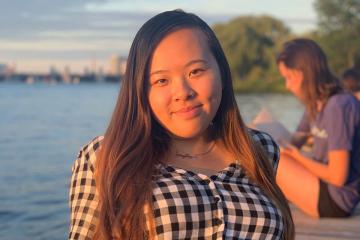 When Jenny Huynh '22 came to Simmons, she was looking for a place to grow. Four years later, Jenny reflects on the many lessons she's learned from the vibrant Simmons community to her cross-cultural internship in the Netherlands.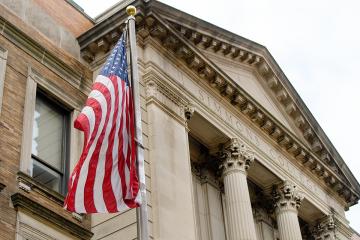 After ten years in the military, Rebecca Mitchell '22 is embracing civilian life. In fall 2020, she enrolled at Simmons as an undergraduate for a second bachelor's degree, via the Post-9/11 GI Bill.
What does Estela Raya-Fouts '24 love about being a political science major? The supportive faculty! Check out how Raya-Fouts is combining the political science, Spanish and migration studies programs to pursue a career with immigrant populations.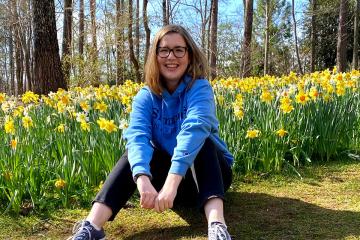 For Emma Harrison '22, the lessons she gained through her PLAN courses are endless. From gaining a deeper understanding of Boston to informing her career path, Emma is excited to take these lessons and make a positive impact.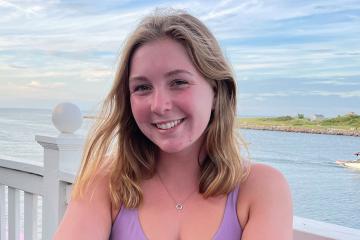 Simmons Academic Mentor, Sydney Iannantuono, tells us what she loves about being an exercise science major and why she thinks her program has the best faculty.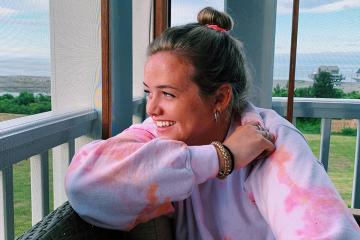 Erin Graney didn't have the typical college experience, but after transferring to Simmons and taking time off to find her passion, she learned some valuable lessons along the way. Read about Erin's journey and the incredible internship she ended up landing.