Campus & Community
Meet Julia Hvoslef: Director, Center for Leadership and Engagement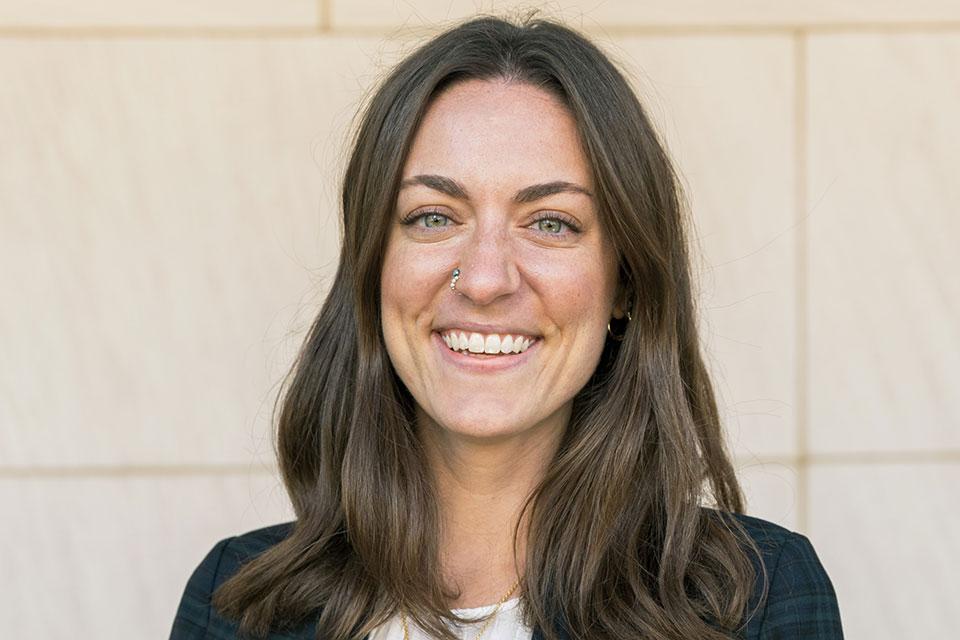 This is a community of caring, passionate, vibrant people who hold diverse interests and insights.
Where did you go to college and what did you study?
I attended Quinnipiac University for my undergraduate education where I majored in History and minored in Psychology (go Bobcats!). I went to UMass Amherst for graduate school, where I graduated with my Masters of Education in Higher Education Administration.
Tell us about your role at Simmons.
In my role as the Director of the Center for Leadership and Engagement, I oversee First Bite Orientation, Family & Friends Weekend, First-Year Mentors, support the undergraduate student organizations, and am working with campus partners to build a new leadership development program for undergraduate students at Simmons! I also have the fantastic opportunity to teach a course here at Simmons, which I really love.
What's your favorite thing about Simmons?
It might sound cliche, but the students! Having the opportunity to work with both seasoned student leaders and new, incoming students is so exciting for me. The chance to learn from and engage with students is something I really enjoy.
What inspired you to work in your field?
For a long time, I wanted to be a high school history teacher (hence the History major), but then I discovered Orientation! I was an Orientation Leader for three years as an undergrad student and thought to myself, "this is the best, how can I do this forever?" Once I learned I could work with Orientation and student engagement as a career, I was hooked!
What advice would you give to students considering Simmons?
Change can be scary and it's challenging to know if you've made the right decision; as a new staff member myself, I can tell you that Simmons immediately felt like a home away from home for me. This is a community of caring, passionate, vibrant people who hold diverse interests and insights. Finding your niche at Simmons isn't hard to do - there are so many opportunities to engage on academic, co-curricular, and personal levels!
How should prospective students connect with Simmons?
The Simmons Student Life Instagram is a great way to learn more about what's happening on campus! 
How can students get in contact with you? 
You are welcome to send me an email! I would love to hear from you
If we visited your office, what would we see?
Stormy (our mascot!); photos of people, places and things that have inspired me over the years; and an airplant that I am desperately trying to keep alive.
What's your favorite thing to do in Boston?
Walking through the Arnold Arboretum, biking along the Esplanade, and going for runs along the Boston Harborwalk (which is 47 miles long!). I'm also a self-proclaimed foodie and I'm eating my way through an incredibly long list of Boston restaurants that is organized by neighborhood.
What's your favorite book and TV show?
It's hard to choose a favorite, but I will read anything and everything by Roxane Gay – She is an incredibly inspirational and informative writer. I don't watch a lot of TV, but I have a soft spot for Jeopardy and every once in a while I love a good TV show binge; most recently, I've really enjoyed watching Yellowstone and Ozark.
What's your favorite local lunch?
TimeOut Market! I love being able to try food from a bunch of different vendors in one location.