Student Story
Karla Alba '23, Inaugural Jennifer Eckert Leadership Fellow for DEI, Knows the Importance of Difficult Conversations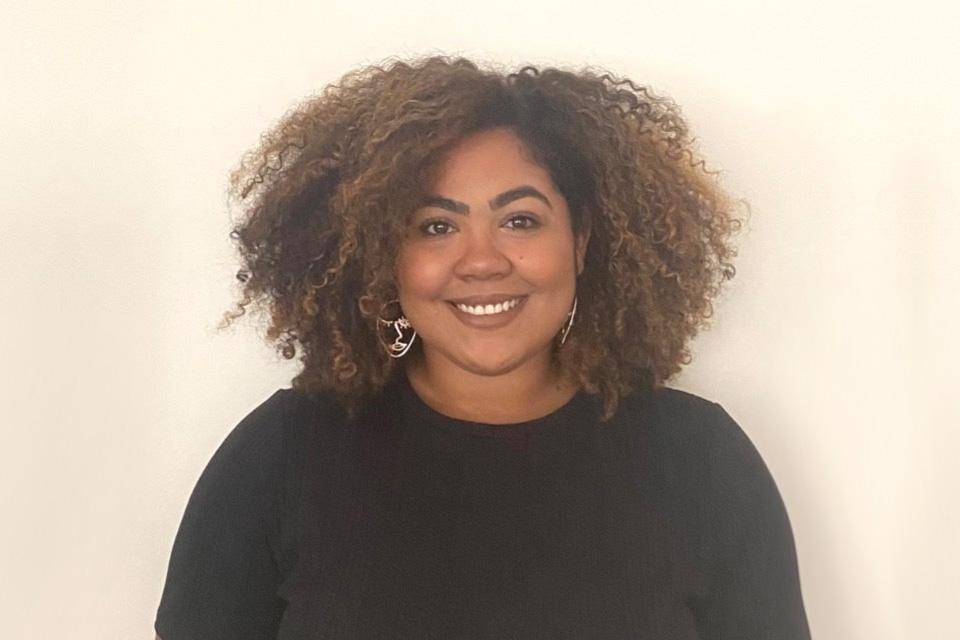 Jennifer Eckert '08MSW, a member of the Simmons University Board of Trustees, provided a generous donation to support the mission of Simmons University to become a beacon of leadership in the world of higher education. A portion of these funds has been allotted specifically to support critical work in the Division of Student Affairs to enhance the student experience. The Jennifer Eckert Leadership Fellows will each lead a project at Simmons that is critical to enhancing the student experience. Each Fellow will oversee a project that aligns with the institutional priorities and the priorities within the Division of Student Affairs. Through this project, fellows will also be assigned a leadership coach to help guide and support them as they develop their leadership skills.
As part of the inaugural cohort of fellows, Karla Alba '23 was selected as the Eckert Leadership Fellow for Diversity, Equity and Inclusion, to be supervised by EriKa Monfort, Assistant Dean for Student Experience and Director of the Multicultural Center. This Eckert Fellow will engage leaders and staff across the Division of Student Affairs in professional development and training related to diversity, equity, inclusion, and belonging. The Eckert Fellow will also facilitate community conversations throughout the year and will coordinate division-wide programming and initiatives that foster equity-minded thinking.
Alba, a Master's in Gender and Cultural Studies and Public Policy student, has experience in admissions and student enrollment, mentorship and support, leadership, curriculum, and program development. She is passionate about college student success and access to opportunities, and is energized by the possibilities in the progression of diversity, equity, inclusion, and belonging within higher education and across communities.
What research will you be pursuing as a graduate fellow?
My job is to start implementing community dialogue conversations within the university among faculty and students. It is important to have uncomfortable conversations in order to unpack and understand what diversity, equity, and inclusion looks like at a university. Part of the goal is to set the groundwork, because this is a new fellowship. I would like to have these conversations at least twice a semester. I want to provide a safe space for students, faculty, and community members to communicate their frustration and to learn different viewpoints.
This is a work-in-progress and we are figuring it out together. We are following President Wooten's leadership initiatives. I also envision having a research component to this project, perhaps through surveys.
How did Simmons prepare you for this opportunity?
Initially as a graduate student I felt a little disconnected from the university. Many of the students in my cohort are a lot younger than I am. But when I came across the Jennifer Eckert Leadership Fellowship, I thought that this could be my opportunity to give back, and be an integral part of, the university.
I had a particularly inspiring course at Simmons with Professor Saher Selod called Race, Gender, Empire. This course helped me look at things in a different way and better understand what's going on in the world. It opened my mind and caused me to start asking different questions. We did have uncomfortable conversations in this class, and it was a safe environment for us. And I realized that I was very passionate about having these conversations.
What do you aspire to do after graduation?
I still don't know exactly, but I think being an Eckert Fellow will help me decide if I want to pursue student affairs or begin a doctoral program in gender studies, cultural studies, or Africana studies. Those are two goals that I have.
As an underrepresented student, especially when I was an undergraduate at a big school, I felt that a lot of things needed to change. There weren't a lot of students who looked like me on campus. I aspire to make the changes that I have always wanted to see.
I recently took a poetry class at Simmons with Professor Becky Thompson. She told me that I would be a great educator and a great professor. I'm very passionate about critical race theory, so that might be my sweet spot.
Do you have any advice for graduate students pursuing similar interests?
Get involved. Building a community is part of why I now feel a lot more successful in this program. This will give you a purpose. Try things you are not normally used to doing; you should try everything at least once. Everything is a learning process, so give it a shot.