Campus & Community
Know Your Staff: EriKa Monfort, Director of the Multicultural Center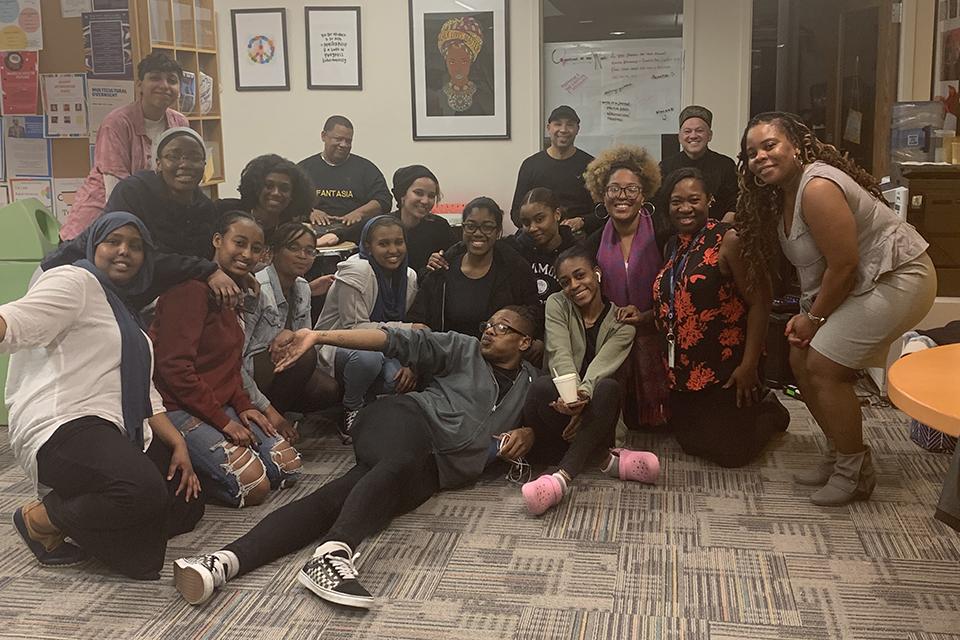 I have a desire to serve all students — but I have a special affinity for first-generation, low-income students because I can see myself in them. For me, these students are my "why" in deciding to transition to DEI work. It's where I feel I can make the most impact and which resonates with me authentically.
Where are you from?
I'm from Boston, Massachusetts, and my family is from Haiti and the Dominican Republic.
Where did you attend college?
I attended Bridgewater State University for my undergraduate career. While there, I switched majors a few times and ultimately majored in communication studies with a minor in psychology. 
I obtained my master's degree in 2016 from Boston University in educational leadership and policy studies with a concentration in higher education.
Tell us about your role at Simmons.
As the Director of the Multicultural Center, I strive to build a welcoming, inclusive and supportive environment in the Center and across the University. This is accomplished through various ways: promoting the success of students from diverse populations (including contributing to college-wide strategies that support the retention and persistence of historically marginalized identities on campus), and providing educational programming, training/workshops, and activities that promote multicultural awareness and inclusion. 
In my role, I'm a key partner in developing and continuing the legacy of Simmons University's Multicultural Center — a place that serves as a social space, resource, activity center, and location for advocacy and mentorship with staff. 
What inspired you to work in diversity, equity and inclusion (DEI)?
My professional career started in residence life. I was a former resident assistant, heavily involved on campus, from greek life to student employment to homecoming committee. I loved that involvement and soon discovered the field of student affairs. I was sure that I was "ResLife for Life," however, I wanted to make more of an impact, especially giving back to a city that gave so much to me. 
My higher education experience has helped create both the structures and processes that address the challenges inherent in a culturally and functionally diverse organization. I have a desire to serve all students — but I have a special affinity for first-generation, low-income students because I can see myself in them. For me, these students are my "why" in deciding to transition to DEI work. It's where I feel I can make the most impact and which resonates with me authentically. I found my niche and passion, which I endeavor to build my career advocating for and encouraging others to see the benefits of diversity and inclusion as a moral, economic, and social good. 
What services does your office provide and how can students benefit from utilizing your office?
The Multicultural Center offers students (undergraduate and graduate), faculty, and staff advocacy, programming, and resources related to diversity, equity, and inclusion. This includes training and workshops in partnership with the Office of Organizational, Culture, Inclusion & Equity (OCIE) and external partners — for example, the recent Unconscious Bias training: "Understanding Bias to Unleash Potential" with Franklin Covey. 
We also offer student employment opportunities at the start of each academic year and assess per semester upon open positions. 
As a Center, we acknowledge that individuals are made up of a multiplicity of identities that shape their experiences. We aim to provide the space and education necessary to explore the intersections of who they are. We also encourage and engage in collaborations while welcoming community members to join us in creating solutions where the gaps may lie.
What's your favorite part of this position?
My favorite part of being the Director of the Multicultural Center is building relationships and stronger bonds through collaboration. It's beautiful to see great things happen when we come together. It may sound cliché, but experiencing and getting through this pandemic together has really allowed us to reach another level in our connection as humans and common ground among differences to build collective strength.
Can you tell us about the programming the Multicultural Center has planned for Black History Month?
The importance of representation is not a new phenomenon, especially in regards to the impact on students of color. What our young people see around them shapes their expectations for themselves, for each other, and what they imagine to be possible. This February, join the Multicultural Center in celebrating Black History Month 2021: "See It, Be It, Slay It" Edition, touching on elements of belonging, multi-layered perspectives, Black excellence, music and social justice, and soul and sound healing. It is our hope that through attending these events, students will see themselves in the faces of leadership and excellence, forever igniting their flames to "Being It & Slaying It!" Check out our line-up of events!
If we visited your home office, what would we see?
My fold-out beach chair and tray table near the lovely balcony sliding door for that amazing natural light! 
What's the last book you read?
The Undocumented Americans by Karla Cornejo Villavicencio.
Is there a TV show and/or podcast you're currently binging?
I am a huge crime buff and listen to the following crime podcasts: Crime Junkie, True Crime Garage and Supernatural by Ashley Flowers (more mysterious). African American podcasts that I very much enjoy are Hood X Holistic and Black Girls Heal.
Shows on my list to get to/catch up on are: Euphoria, This is Us and Insecure. One show that stays on repeat is Family Guy.
Are there any social media accounts you've been following lately?
No, I'm an old soul and do not have any personal social media accounts other than LinkedIn and Snapchat. 
Do you have any advice or words of encouragement for students this semester?
Protect Your Peace!
Most of the time, there is a lot that is outside of our control. However, one thing we can control that is more precious than ever is preservation of self. In the same instance, as you are navigating through this life stage, allow yourself permission to be vulnerable. Observe, learn, engage in order to understand your needs, your growth and to find what serves you!
Tell us a fun fact about yourself!
I don't drink juice (only can tolerate orange juice: individual bottle or cup). I'm not really sure why, I stopped drinking juice in the third grade and until this day, it is a mystery! I also won Homecoming Queen in college at Bridgewater State University in 2013.