Student Story
The Bonner Community Leaders Program at Simmons University is a unique opportunity for students who want to combine a strong commitment to service with personal growth, teamwork, leadership development, and scholarship. This fall, Simmons announced a new cohort of 11 Bonner Leaders. We spoke with three of them.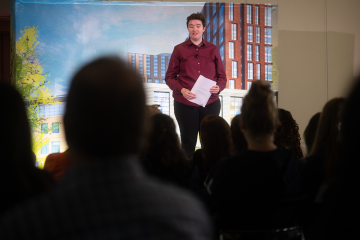 Campus & Community
During Simmons' 2023 Alumnae/i, Family, and Friends Weekend, a series of conversations focused on building the future of the University. This dynamic conversation explored issues of belonging, traditions, and the preservation of history.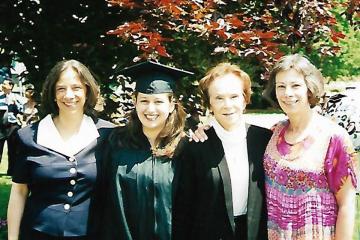 Alumnae/i Feature
An interview with Peggy (Florence) Adelson Saslow, Class of 1944, who has supported Simmons and fellow alumnae/i with generous gifts of her time, effort, and funds, and began a multi-generational tradition of Simmons graduates within her own family.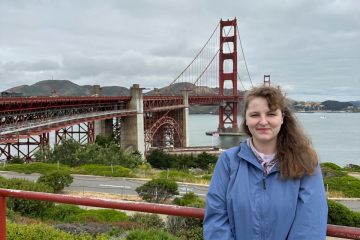 Campus & Community
"The Alumni Association offers a lot of support to students and graduates, especially the younger graduates," says Madison Gretzky '16. Before the dawn of social media (and Simmons Network ) the Alumnae/i Association's role was to keep alumnae/i in touch...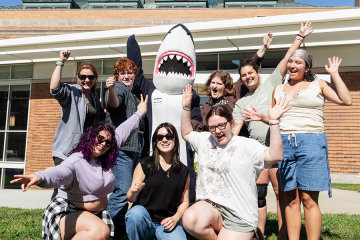 Campus & Community
This year's Orientation Captains and Leaders exude a palpable enthusiasm as they help their fellow students transition into on-campus life. Two of the Leaders, Shayla Melanson and Margaret ("Maggie") Wettergren, spoke with us about their role at orientation and their love for Simmons.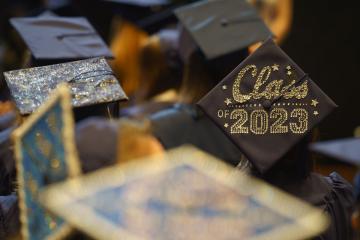 Campus & Community
On Friday, May 19, 2023, Simmons University celebrated the 118th Commencement Ceremony at the MGM Music Hall at Fenway. The many accomplishments of the Class of 2023 were celebrated at the annual undergraduate and graduate ceremonies. Simmons awarded 400 baccalaureate...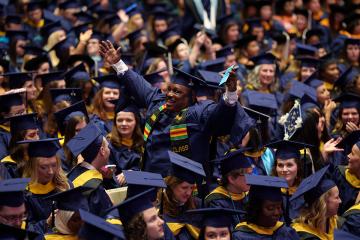 Campus & Community
On Friday, May 19, Simmons University Graduate students processed into the MGM Music Hall at Fenway. In the first commencement ceremony to take place at the MGM, graduates filed in with triumphant smiles. Some graduates' mortar boards were decorated with...
Alumnae/i Feature
From Friday, April 28 to Sunday, April 30, the African American Alumni Association (AAAA) held the Black Alumnae/i Symposium, "The Power of Our Presence: Our Stories of Resistance, Resilience, and Restoration," on the Simmons campus. The celebration began on Friday...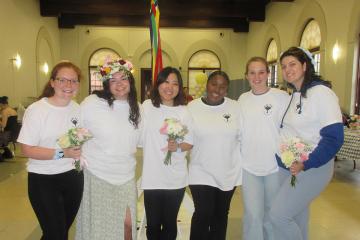 Campus & Community
On April 30, Simmons students gathered at the residential campus to celebrate May Day, a longstanding tradition at Simmons. Attendees enjoyed complimentary food and gifts, live performances, and more. While the event has shifted and evolved over the years, it continues to honor the unique and supportive community at Simmons.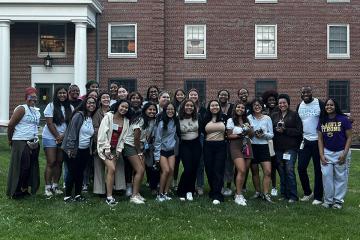 Campus & Community
Last summer, the Multicultural Center , in partnership with the Office of Residence Life , launched the Bridge Pilot Program. The Bridge Pilot is a free transition program that enables new BIPOC students to participate, connect, learn, and grow with...