International Student Services
As an international student at Simmons, you're joining a dynamic community of people from over 34 countries. The Center for Global Education, located in the Center for Student Success, oversees all international student services, study abroad opportunities and university exchange partnerships, and many initiatives to help globalize your Simmons experience.
Welcome to Simmons University!
During your time here at Simmons you will have a number of opportunities to challenge yourself personally and academically, to develop friendships with people from a variety of backgrounds, and to experience Boston. As you will soon discover, studying abroad provides as much opportunity for learning outside the classroom as you will learn in the classroom!
The Center for Global Education (CGE) supports F-1 international students on questions of immigration and compliance, and serves all international students in questions of adjustment to U.S. academic and social environment. We understand that coming to live in a new country or even a new state can be challenging! CGE  staff is always available to advise students on whatever questions or concerns they may have about coming to the U.S, Boston or Simmons!
When you travel into the U.S., you will need to present the following documents at the U.S. port of entry:
Valid passport
Valid F-1 Visa (except for passport holders from Canada and Bermuda)
Valid Form I-20 ( with a valid travel signature after the initial entry)
Proof of I-901 (SEVIS) fee payment
First time students may enter the U.S. up to 30 days prior to the start date listed on the Form I-20.
Your Form I-20 is the certificate of eligibility issued by Simmons University and consists of three pages: the student information page, the endorsement page, and the instructions page. The student information page includes information about Simmons and the program you have been admitted to. Your SEVIS ID number (which begins with N) is printed at the top of the page. 
If you are entering the U.S. to attend school for the first time, the Custom and Border Control (CBP) official at the U.S. port of entry will review your Form I-20 and place an entry stamp in your passport. This stamp indicates that you have been inspected for admission into the U.S. and have been authorized to attend the school whose name appears on your Form I-20. You must attend the school that issued you the Form I-20.
The signature on page 2 of your Form I-20 is valid for 12 months (or six months if you are on USCIS-approved Post-Completion Optional Practical Training). While travel signatures are valid for 12 months, if you intend to apply for a new F-1 visa, we recommend that your signature be less than six months old. 
It takes one week to process a travel signature request. If you intend to travel outside the U.S you may request a travel signature from the CGE via e-mail. You will be required to drop off your Form I-20 for up to one week, and pick it up once signed. You may use that signature for unlimited entries to the U.S. during the specified time period.
The Form I-20 must be accurate and valid throughout your enrollment and you are responsible for the accuracy of this document. Check the Form I-20 to make sure that all the dates, program and enrollment information are correct. Be sure that you do not allow your Form I-20 to expire prior to completion of your academic program. Speak with the CGE if you see any incorrect information on your I-20 or if you need to request an extension of the document.
Note: each dependent (child or spouse) who accompanies you to the U.S. must have an individual Form I-20 (indicated by the class "F-2" on page one of the form).
If you are an admitted students, the first step in attaining an I-20 visa is to complete the International Student Supplement Form with all of the required documents:
Entry visas are issued by the Department of State at U.S embassies or consulates throughout the world. Students who are not U.S. citizens or permanent residents of the United States must obtain an F-1 student visa in order to attend Simmons University. 
The visa stamp on your passport is your permission to enter the U.S. It indicates the number of times you may enter the U.S. and the time period for which this permission is valid. You cannot apply for a new visa while you are in the U.S. If you leave the U.S. and want to re-enter, you must have a valid visa. The visa in your passport does not have to be valid while you are in the U.S.
Entering students who have questions about their F-1 visa please contact the CGE directly.
As an international student, you are required to be enrolled full-time at Simmons for at least two semesters per calendar year. This means you must register for and earn grades for at least 12 required credits as an undergraduate student and 8 credits as a graduate student each semester in order to maintain your F-1 status.
The only exception to this rule is being authorized for part-time enrollment by the  CGE. To be authorized for part-time enrollment, you must meet with an international advisor at the CGE. Students may not drop below full time enrollment prior to consulting with the CGE.
In your final semester, you must be registered for at least one required course.
 
Clinical, internship, fieldwork or any similar enrollment must be reported to the U.S. Department of Homeland Security and authorized in form of Curricular Optional Training(CPT)  on page 3 of a student's Form I-20. It is your responsibility to inform the CGE as early as possible of any internship plans you may have. Failure to do so will result in violation of your F-1 status.
For more information on CPT please contact CGE directly. 
Please note that a year or more of over 20 hour (full time) CPT makes students ineligible for post- graduation employment authorisation (Optional Practical Training or OPT)
You may work on campus through the student employment program. During non-vacation semesters, students may not work more than 20 hours per week on campus. This employment does not need to be reported to CGE.
International students may not work off-campus without permission from the U.S. government. There are limited employment options available in the form of pre-completion Optional Practical Training authorization, which subtracts from students post- completion OPT.
If you would like to further discuss employment questions, please contact CGE directly.
F-1 international students may perform unpaid civic, charitable, or humanitarian service for an organization as a volunteer.
There are a few guidelines to help students determine if the service they wish to perform is an appropriate volunteer opportunity. In order for the experience to be eligible, all of the following statements must be true:
I am performing a service for civic, charitable, or humanitarian reasons.
The services I am performing are primarily for the benefit of the organization, not primarily for my professional or personal benefit.
I am not receiving any compensation (salary, stipend, etc.) or anything of value (for instance, housing) in exchange for volunteering.
I am performing the services without promise, expectation of future employment, deferred payment, or other tangible benefit.
I do not hold a role that is usually a paid position and am not displacing a U.S. worker through my volunteer services.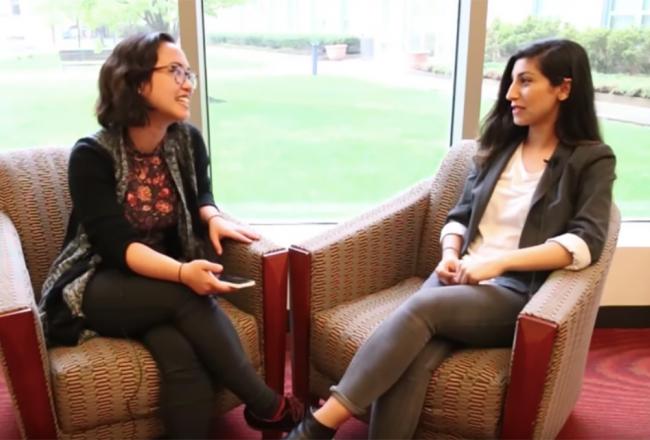 Frequently Asked Questions
Frankie, a Simmons graduate student, and Hanouf, a Simmons undergrad, give us insight on what it is like to be an international student at Simmons University.
Center for Global Education
(617) 521-2206

Monday - Friday, 8:30 a.m.- 4:30 p.m.

Lefavour Hall, Ground Floor