Department of Art and Music
Welcome to the Department of Art and Music, where students pursue a variety of majors and activities, and make regular use of the opportunities presented by the superb cultural atmosphere of Boston.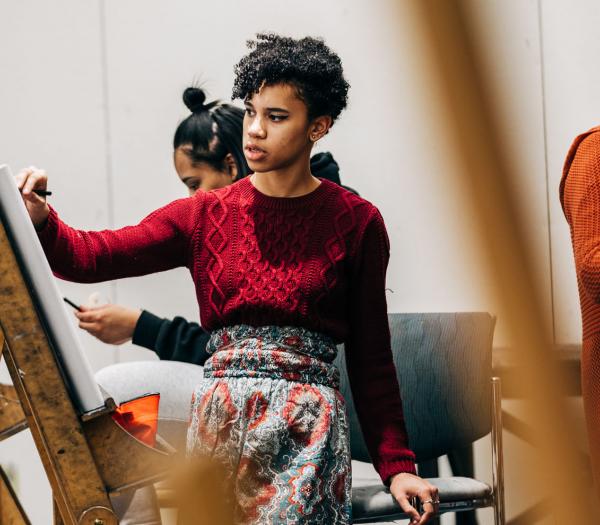 Experience
Our curriculum and internship programs prepare students to go on to careers in art and music administration, studio art, art history, as well as many graduate programs in academic and professional fields.
We are happy to announce the new Student Portfolio website which showcases student work from all areas of the Department of Art and Music.
Students who major in art may choose to concentrate in either art history or studio art. Students may select studio courses such as drawing, painting, photography and printmaking, among others. Art history courses include the history of photography, women and art, Renaissance art, Contemporary art, Asian art and a seminar on the Isabella Stewart Gardner Museum.
Music majors may choose to emphasize either music history or theory and practice.
Arts Administration offers the opportunity to integrate art or music with course work and internships in one of three professional fields: communications, marketing or management.
World Class
Boston area museums and cultural organizations serve as your classroom. Students at Simmons are challenged to consider their own creative production and that of others in a cultural and social context through their study of art and music history. Simmons' location in the heart of Boston's cultural district provides unique opportunities for both study and work as part of the art and music curriculum.
The collections of the Museum of Fine Arts and the Isabella Stewart Gardner Museum are regularly incorporated into the course work of both art history and studio courses. Simmons students automatically receive free admission to these museums so that they may take advantage of them often to do research, draw and learn more about the collections. The Trustman Art Gallery, on the main campus, has earned a reputation as one of the finest venues in the area featuring contemporary work by Boston-area artists. Gallery talks and lectures with these artists are a regular part of the academic calendar.
Qualified music students may also arrange to pursue their musical studies at the New England Conservatory, one of the country's finest music schools. In addition, students in music courses and arts administration courses study the Boston Symphony Orchestra,  the Boston Ballet and other musical ensembles,  attending performances as part of courses and meeting with individuals from those organizations.
Experience
Internships at local arts and cultural organizations give students experience in their field. Students in the Department of Art and Music fulfill independent learning and internship requirements in a variety of ways, including recent placements in the American Paintings department and the Islamic department of the Museum of Fine Arts, the Handel and Haydn Society, Art New England, The Isabella Stewart Gardner Museum, as well as galleries and community arts organizations. 
Recent alumnae have gone to graduate school in museum studies, law, business, education and psychology. Recent alumnae currently hold positions with the following organizations:
Professor of Art History
Objects Conservator, Isabella Stewart Gardner Museum 
Visual Artist, Broad Institute, MIT, Artist-in-Residence
Curatorial Coordinator, Portland Museum of Art 
Gallery Director, Pace MacGill, NY
Public Relations Associate, Boston Ballet
Defense Attorney, Worcester, MA 
We are committed to providing women the breadth of education and the skills they need to be successful leaders in whatever professional field they select.
Awards
The Alicia Craig Faxon Award in Art History
To honor an outstanding senior in art history.
The Joshua D. Oppenheim Award
To honor a senior who demonstrates outstanding creative potential in the field of writing, studio art, art history, curatorial practice, photography, or filmmaking.
The Julia Myerson Trustman Fellowship
To honor an outstanding senior in the field of art for the purpose of creative work, study, research, or travel.
The Robert Gronquist Memorial Award in Music 
To honor an outstanding senior in music.
The Thomas J. Wallace Memorial Award in Studio Art
To honor an outstanding senior in studio art.
The Heather Christine Hekman Award in Photography
To honor a graduating senior who demonstrates exceptional creative potential in the field of art photography. 
Learn More About The Department of Art and Music