Diane Grossman
Interim Dean, Gwen Ifill College of Media, Arts, and Humanities and Director of the Honors Program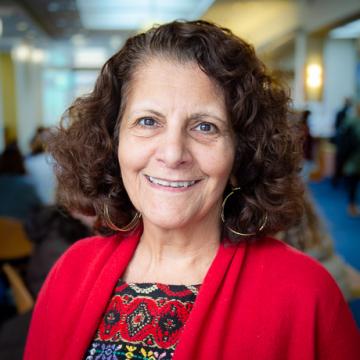 Education
Ph.D., New York University
About Me
Diane Grossman received her Ph.D. in Philosophy from New York University, where she was an Ida Parker Bowne Scholar. She is a Professor of Women's & Gender Studies and Philosophy, Chair of the Philosophy Department, and Director of the Honors Program. Grossman has served Simmons as Chair of both departments, as Director of Academic Advising, and as Associate Dean and Dean of the College of Arts and Sciences. She is the author of Existentialism and the Philosophical Tradition, Looking at Gay and Lesbian Life, and numerous articles and essays on ethics, feminist theory, and cultural studies. Her areas of specialization are Continental philosophy, feminist theory and applied ethics.
What I Teach
PHIL 120 Introduction to Philosophy: The Big Questions
PHIL 130 Ethics
PHIL 131 Biomedical Ethics
PHIL 232 Theories of Justice
PHIL 242 Making of the Modern Mind
PHIL 245 Existentialism
PHIL 332 Law and Philosophy
PHIL 390 Seminar
WGST 111 Introduction to Gay, Lesbian, Bisexual, and Transgender Studies
WGST 211 Gender and Sexuality
WGST 354 Feminist Theories
WGST 380 Gender and Queer Theory
GCS 403 Cultural Theory
Research/Creative Activities
Dreaming Big: What's Gender Got to Do With It? Phase II
Dreaming Big II expands upon a project begun two years ago that studied middle school girls' and boys' attitudes toward careers and their futures, including adult influences, the significance of gendered messaging, and differences between girls and boys and between girls and Girl Scout girls.