Student Story
Madison Poshkus '22, '23MPP Completes Barbara Lee Foundation Fellowship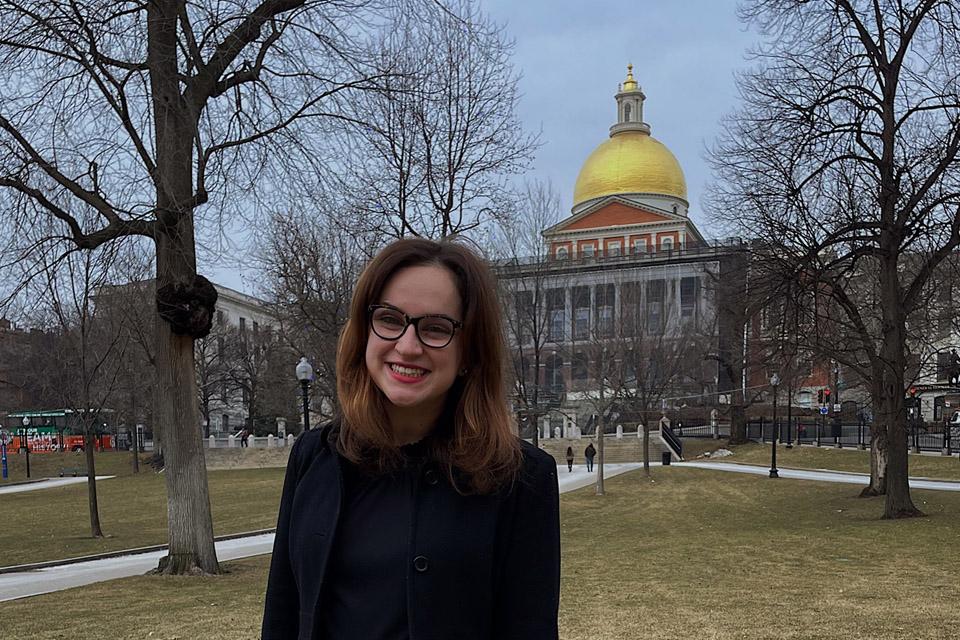 During her senior year as a Political Science major at Simmons, Madison Poshkus '21 '23MPP worked as an intern at the Massachusetts State House as part of Simmons' Barbara Lee Fellowship program. Sponsored by the Barbara Lee Foundation, the Fellowship provides a Simmons student in their junior or senior year a paid internship supporting a female legislator. In this role, Poshkus cultivated her practical experience in the arena of public policy, and is now pursuing a master's in Public Policy at Simmons.
What motivated you to apply for this internship?
When I came to Simmons as a first-year student in 2019, I met with my academic advisor for the honors program, Professor Diane Grossman. At our very first meeting, she said that someday I would be a great fit for the Barbara Lee Fellowship program. Professor Grossman told me that it allowed Simmons students to work at the Massachusetts State House before graduation and do some really important constituent service and policy work with a female representative. I was so excited to hear about this. The fellowship became my goal for my junior year, and I started the application process the fall of my third year at Simmons.
What kind of duties did you perform during your internship?
I worked for the office of Representative Natalie Higgins of the city of Leominster, which is the 4th Worcester state congressional district. I felt really lucky to be Higgins' intern. When she was in college she developed very close relationships with her supervisors as an intern, so it was important to her that her interns had the best experience possible. I met with Representative Higgins every single day I went to work, either over Zoom or in-person.
The culmination of the Barbara Lee program is a 20-page final project. I wrote about the Student Opportunity Act, a 2019 Massachusetts session law, which was aimed to remedy the distribution of educational funding in the Commonwealth. I am very interested in educational funding policy, and making sure that students across the commonwealth all have an equal, equitable playing field in terms of funding.
As an intern, I also got to attend meetings and briefings, report notes back to the office, fact check, make social media graphics, and preview early drafts of legislation.
My experiences demonstrated what Simmons teaches its political science students, which is that big change happens at the local level. At Simmons we learn that the United States Congress is not working for the majority of us, and that change is not really happening there. But we, as Simmons students and powerful young women, trans people, and non-binary people, can go to local government to help make the changes that we are passionate about making. That is where change is going to be, especially for people of our generation.
How did Simmons prepare you for this opportunity?
One of the things I love about Simmons is that they often require their students to do internships, which gives us real world learning. As a political science major, you are talking about internships with your advisor from the first day you arrive.
Many of the political science courses I took on the public policy trajectory gave me real world skills. For example, in my introductory public policy course taught by Professor Leanne Doherty, I learned how to write policy memos, which is a very important skill.
If you are interested in the Barbara Lee Fellowship, I also recommend the Politics Unplugged course taught by Professor Kristina Pechulis. This is one of the most practically applicable classes I've taken at Simmons, because it teaches you all of the public policy writing forms and gives real world tips on how to be a good intern. You also learn how to speak adeptly about state and local policy.
What are your professional aspirations after Simmons?
I hope to return to the State House, whether as a legislative aid or a member of staff. Someday I might aspire to be an elected official myself. At Simmons I have spent a lot of time learning about educational policy. I am very interested in helping K-12 schools obtain proper funding. I am very passionate about making change in school and giving kids the chance to succeed. It is also possible that I may attend law school and be a lawyer.