Campus & Community
Simmons Honors White House Correspondent April Ryan at Ifill Forum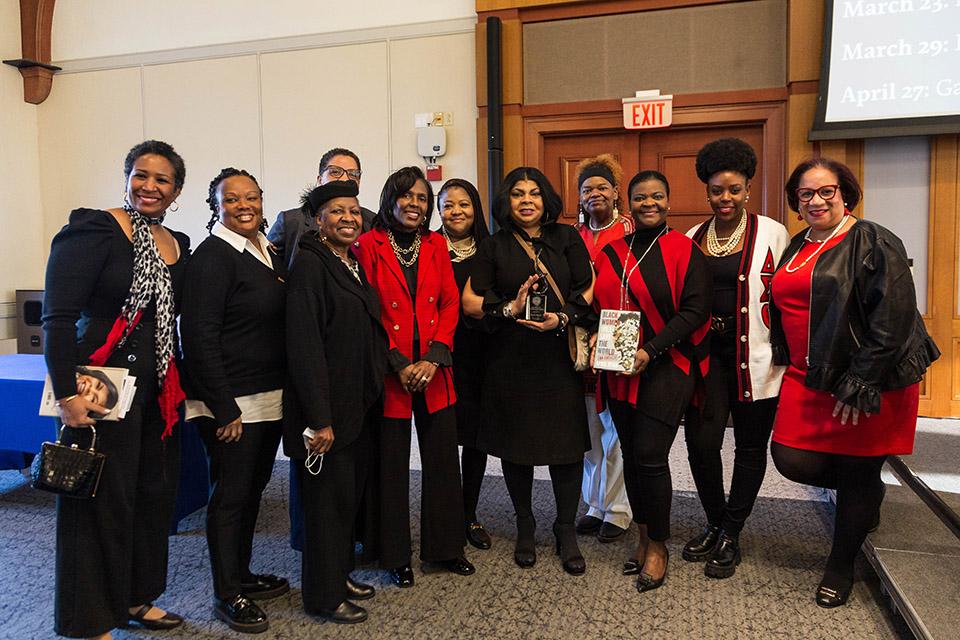 On the afternoon of February 11, the Gwen Ifill College of Media, Arts, and Humanities hosted its fourth Ifill Forum. This event honors the legacy of pioneering journalist Gwen Ifill '77, '93HD by bringing together "important national voices for a public conversation about issues of the day," said Simmons University President Lynn Perry Wooten.
White House Correspondent April Ryan was this year's invited guest. In her talk, "Leadership and Democracy: The Enduring Power of Black Women," Ryan memorialized historic Black women in the media and recounted how she overcame personal struggles. NBC News' Chief Education Correspondent Rehema Ellis '74, '00HD, a past recipient of the Simmons Lifetime Achievement Award, moderated the discussion.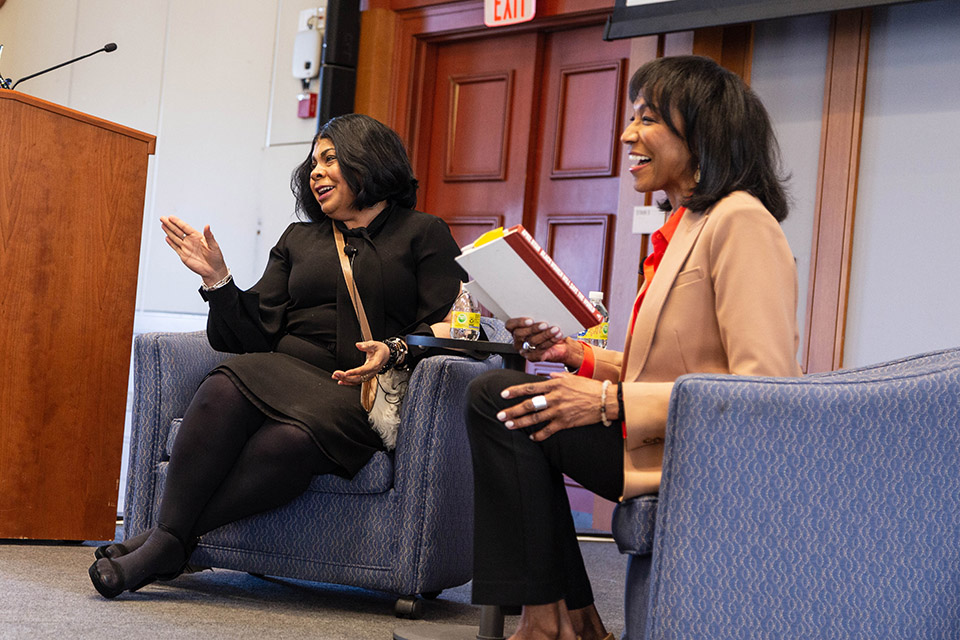 In her opening remarks, Interim Dean of the Ifill College Diane Grossman reflected on Ifill's "unbelievably buoyant spirit." Grossman remembered Ifill as "an innovator and a trailblazer. As a journalist, she had a remarkable talent for being respectful and at the same time asking the tough questions." Ifill was acutely aware of the importance of stories and storytelling. Above all else, she knew that it was important to tell the stories of those who have not been heard.
This was the first Ifill Forum that President Wooten was able to attend in-person since her tenure as University President. In her remarks, she noted that the Ifill College, which opened in 2018, is one of only three colleges in the nation named after a Black woman.
President Wooten bestowed the 2023 Gwen Ifill Next Generation Award onto Ryan, who is the only Black female reporter covering urban issues from the White House. Like Ifill, Ryan tells the stories of people who are otherwise not being heard. "This award recognizes a leader who is committed to carrying on Gwen Ifill's legacy, and her work of fostering civic dialogue and informed citizenship," declared Wooten. "I cannot think of a more fitting recipient than April Ryan, whose work as a journalist, a trailblazing Black woman, and a leader emblematizes the spirit of this award."
Ryan began her talk by expressing gratitude toward Delta Sigma Theta Sorority, Inc., a historically African American sorority of college-educated women committed to sisterhood, service, scholarship, and social action, to which Ryan, Ifill, and Wooten belong.
In her remarks, Ryan emphasized her humble beginnings in Baltimore, which she described as "a place of hurt and pain, but also of hope." As a young girl, she listened to talk radio and watched the news on television. Ryan was inspired by Black women who could command a space, and particularly a space that traditionally excluded women of color. She adored luminaries like Gwen Ifill, Rehema Ellis, and Oprah Winfrey. "They had amazing poise and command, and told stories that impacted me and everyone around me."
"I was a kid who grew up with a dis-ease," said Ryan, describing an inner angst that impelled her to do better and prove to the world that she could transcend her circumstances and become successful. Ryan is thankful for Ifill, who became one of her friends, and for others like her, for setting the standard for the next generation of Black women. "This means so much to me because Gwen Ifill was my shero."
As a Black woman in a white man's world, Ryan has faced many challenges. Working as a White House reporter, she endured hate mail, bomb threats, and visits from the FBI. During these moments, Ryan reflected on the women she idolized. Instead of giving up, she spoke up, especially on behalf of communities that are under-served. "Who knew that this kid from Baltimore, Maryland, whose father was a truck driver…would grow up to question five American Presidents?"
Ryan imparted advice to the next generation of journalists. "We are now in a different time; reporters are now brought into the story and we are viewed in a different way. You may be cute and look great on TikTok, but when it comes time to tell that story, too many people's lives are in the balance and the stakes are too high to make it about you. Once again, tell the story."
During their discussion, Rehema Ellis asked Ryan, whom she considers a superhero, about her superpower. "For Black women, our superpower is the fact that we embrace everyone," responded Ryan. "We love and uplift. We are nurturers by nature."
Ellis also asked Ryan about her concept of faith, which appears frequently in Ryan's most recent book, Black Women will Save the World: An Anthem, a celebration of Black women's resilience and powerful impact on democracy. Ryan explained that for generations of Black women and their ancestors, faith helped them overcome otherwise insurmountable obstacles. Moreover, the Black Church lent crucial support to the Civil Rights Movement.
Ryan and Ellis discussed the need for allies. Ryan said, "everyone in this room who is not a Black woman is an ally. This is a safe space and we are having a civil conversation. You may agree or disagree, but we are in a space to learn and be better, and that's what I love."
As the discussion progressed, members of the audience asked Ryan about the enduring relevance of journalism, conquering imposter syndrome, and de-stigmatizing mental health.
In her closing remarks, Dean Grossman told Ryan, "you left us with an intense sense of hope that we need so desperately these days."
Following the Q & A, Ryan signed copies of her new book for in-person attendees. Among the attendees were Simmons students, faculty, staff, alumnae/i, and members of Delta Sigma Theta Sorority, Inc. Over 100 people attended the Ifill Forum virtually.