Gwen Ifill Next Generation Award
The Gwen Ifill Next Generation Award honors alumna Gwen Ifill's commitment to professional excellence, community and mentoring. It recognizes a professional who exhibits the promise to carry on the work of fostering civic dialogue and an informed, diverse citizenry.
The 2023 award recipient is White House Correspondent April Ryan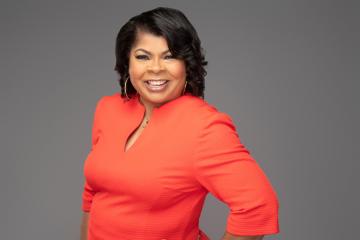 White House Correspondent April Ryan has a unique vantage point as the only black female reporter covering urban issues from the White House – a position she has held since the Clinton era. Her position as a White House Correspondent has afforded her unusual insight into the racial sensitivities, issues, and attendant political struggles of our nation's past presidents.
April can be seen on CNN. She is also the Washington D.C Bureau Chief on TheGrio. She has been featured in Essence, Vogue, Cosmopolitan, and Elle magazines – to name a few.
April Ryan has served on the board of the prestigious White House Correspondents Association, one of only three African Americans in the Association's over 100-year history to serve on that board. She is also an esteemed member of the National Press Club. In 2015, Ms. Ryan was nominated for an NAACP Image Award (Outstanding Literary Work - Debut Author) for her first book. In 2016, the National Council of Negro Women gave her their Mary McCloud Bethune Trailblazer Award. 
In 2019, April Ryan became an honorary member of Delta Sigma Theta Sorority, and was recognized as the 2019 Freedom of the Press Award Winner by the Reporters Committee for Freedom of the Press. April was nominated in 2021 with the NAACP Image Award for Social Justice Impact.
April Ryan is a Baltimore native and a proud Morgan State University graduate, and she gives back to this community by serving as a mentor to aspiring student journalists and assisting with developing "up and coming" broadcasters. April considers her greatest life's work raising her two daughters, Ryan and Grace – who are phenomenal young women. 
April Ryan is the author of the award-winning book, The Presidency in Black and White, where she gives readers a personal look at race relations in contemporary American politics, as seen from her own beat in the White House. Her next book, At Mama's Knee: Mothers and Race in Black and White (2016), also looks at race relations through the lessons and wisdom that mothers have given their children. Her third book, Under Fire: Reporting from the Front Lines of the Trump White House (2018), portrays "the unrelenting stress of being one of the few Black reporters on the White House beat" (Publishers Weekly). Her most recent book, Black Women will Save the World, is a celebration of Black women's resilience, powerful impact on our democratic institutions, and unheralded strength.
Previous Award Recipients
The 2021 award recipient is Robin Roberts, co-anchor of the nation's top-rated morning news program Good Morning America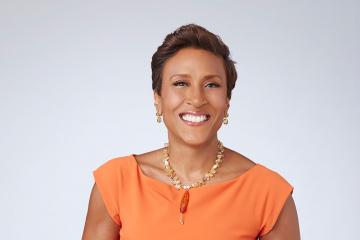 Robin Roberts is co-anchor of ABC's "Good Morning America." Under her leadership, the broadcast has won numerous Emmy Awards for Outstanding Morning Program and the 2017 People's Choice Award for Favorite Daytime TV Hosting Team.
Roberts has been honored with the Walter Cronkite Award for Excellence in Journalism, was inducted into the Broadcasting & Cable Hall of Fame as well as the Sports Broadcasting Hall of Fame, and named one of Glamour's Women of the Year. She was voted the "Most Trusted Person on Television" by a Reader's Digest poll in 2013.
Roberts founded her own production company, Rock'n Robin Productions, which creates original broadcast and digital programming for ABC and other networks, ranging from informational shows and documentaries, to live special events.
Roberts was diagnosed with breast cancer in June 2007, and five years later, she was diagnosed with MDS. Roberts underwent a bone marrow transplant, her sister Sally-Ann was a perfect match. Her story triggered an outpouring of support from across the nation. She joined forces with Be the Match to inform the public about the need for more donors, and since her diagnosis, the bone marrow registry has seen a tremendous increase.
Her battle has been recognized with awards and honors from organizations around the country, including The Susan G. Komen Foundation and The Congressional Families Cancer Prevention Program. Roberts was also honored with a George Foster Peabody Award and Gracie Award. Additionally, Roberts was recognized with the Arthur Ashe Courage Award at the ESPY's in July 2013 for the strength and courage she has displayed throughout her life and career.
Roberts was named co-anchor of "Good Moring America" in May 2005. She began contributing to the morning program in June 1995, and prior to that, she was a contributor to ESPN as a host on "SportsCenter" and contributing to "NFL PrimeTime." Roberts has worked in broadcasting for more than 30 years.
Roberts graduated cum laude from Southeastern Louisiana University with a Bachelor of Arts degree in communications. She was a standout performer on the women's basketball team, ending her career as one of the school's all-time leading scorers and rebounder. In 2012, Roberts was named an inductee to the Women's Basketball Hall of Fame.
Roberts is the author of From the Heart: 7 Rules to Live By and her memoir, "Everybody's Got Something," in which she tells the story of her battle against a life-threatening illness, learning life's hardest lessons, and her inspiring return to the GMA anchor desk. 
Roberts is a native of the Mississippi Gulf Coast and currently resides in New York City. Follow Robin on Twitter: @RobinRoberts.
The 2020 award recipient was Ava DuVernay, filmmaker and founder of ARRAY.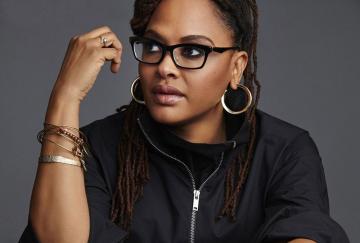 Winner of BAFTA, Peabody and Emmy Awards, Academy Award nominee Ava DuVernay's directorial work includes the Oscar-winning civil rights drama SELMA, the Oscar-nominated social justice documentary 13TH and the Disney children's adventure A WRINKLE IN TIME, which made her the highest-grossing Black woman director in American box office history. In 2019, she created, wrote, produced and directed the Emmy Award-winning limited series WHEN THEY SEE US. She is currently producing the fifth season of her acclaimed series, QUEEN SUGAR. Winner of the 2012 Sundance Best Director Prize for her second independent film MIDDLE OF NOWHERE, DuVernay amplifies the work of Black artists, people of color and women of all kinds through ARRAY, her multi-platform arts and social impact collective dedicated to narrative change.
The 2019 award recipient was Yamiche Alcindor, White House Correspondent for PBS NewsHour and a mentee of Gwen's. 
Yamiche Alcindor is the White House correspondent for PBS NewsHour and a political contributor for NBC News and MSNBC, often appearing on shows, including Morning Joe, Andrea Mitchell Reports, Hardball with Chris Matthews, and Meet the Press with Chuck Todd.
Previously, she was a national reporter for The New York Times, covering politics and social issues, and also a reporter with USA Today. Alcindor has reported extensively on the intersection of race and politics. She's covered the impact of President Donald Trump's policies on working class people and immigrants, the presidential campaign of Senator Bernie Sanders, and the legacy of President Barack Obama, as well as how police killings affect communities and children.
She was named "Emerging Journalist of the Year" in 2013 by the National Association of Black Journalists. Alcindor earned a master's degree in broadcast news and documentary filmmaking from New York University and a bachelor's degree in English, government and African American studies from Georgetown University. A native of Miami, Fla., Alcindor is married to a fellow journalist and is the daughter of Haitian immigrants who met while attending Boston College.