Announcement
Simmons and MCPHS Launch Health Humanities Minor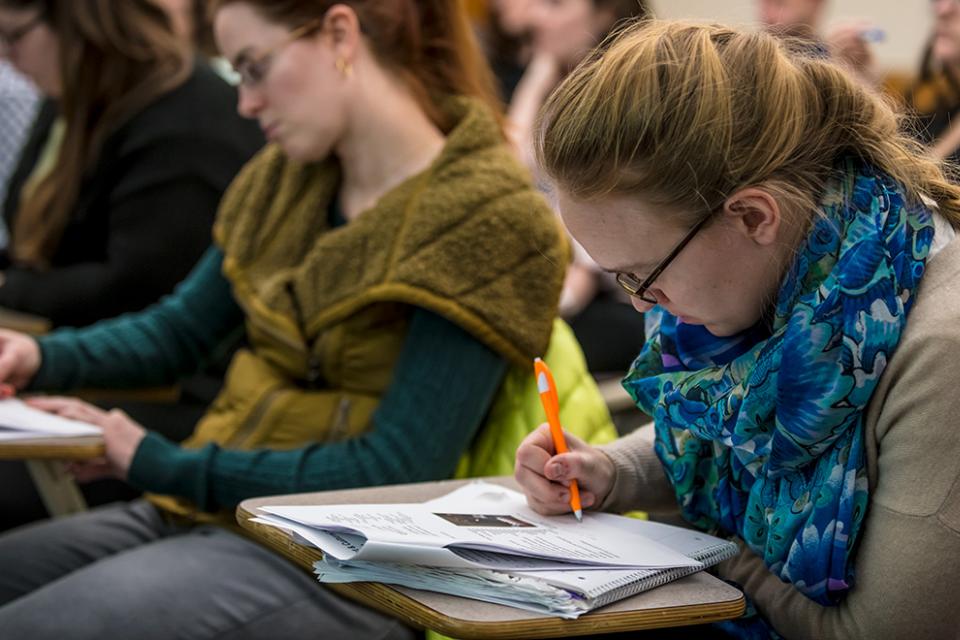 A new minor in Health Humanities offers students a broad perspective
Simmons University and the Massachusetts College of Pharmacy and Health Science (MCPHS) have created a shared program in Health Humanities, funded by a Davis Grant. The Health Humanities minor at Simmons focuses on ethical leadership practice, sensitivity to cultural impacts on health and wellness, and communication skills, helping future practitioners bridge the gap between patients and providers. The program of study includes a Capstone for independent research, and students will be encouraged to take optional internship experiences that explore the intersection of health and culture.
Simmons Professor and Chair Diane Grossman of Philosophy, Women's and Gender Studies, who led the effort on the Simmons side, sees Health Humanities as a growing trend across the country and internationally. "Medical and health humanities are increasing in demand. They are unique in their interdisciplinary approach, and they support a broad career path," Grossman stated. "This minor would be ideal for students who are pre-medical, pre-veterinary, or pre-dental. But we must also prepare students to think about health in a broader sense, for example, in terms of community-based issues, preventive medicine, and cultural notions of health and illness. This minor could also be invaluable for a student interested in law, social work or public health policy."
Thanks to the grant funding, the Colleges of the Fenway (COF) consortium began a few years ago to explore the possibility of a major or minor in Health Humanities. A committee looked at trends across the country, researched student demographics, competitive programs, and the demand for these programs. Once high demand was identified, COF members visited other institutions with health or medical humanities majors. Now, Simmons and MCPHS are the two schools in the consortium to participate, with MCPHS offering a major and Simmons a minor, which Grossman noted "offers more flexibility to our students." Simmons students are career-focused, often engaged in rigorous courses of study in nursing or biochemistry. But even those students could fit a minor into their studies. "A number of courses in the minor could double-count toward key content areas (KCAs)," said Grossman. "If a student plans ahead with good advising, they could add this minor."
The application of Health Humanities is broad, with a huge potential impact. "Medical schools are recognizing that their students have strong skills in some areas but lack so-called 'soft skills' — though I don't like that label, given that these skills are challenging and not 'soft' at all," Grossman noted. "Medical practitioners need to understand context, show empathy, and be able to communicate with people of different races, cultures, economic backgrounds, genders, and education, among other differences. Practitioners also need the ability to analyze complex issues, speak publicly, and know how to address ambiguity"
Simmons will have a unique approach to Health Humanities: "Our students are already thinking of gender and race in relation to medicine and health. These types of courses would be ideal for this minor."
Dean of the Gwen Ifill College of Media, Arts, and Humanities, Brian Norman sees this program as a way to enhance existing strengths. "The new Health Humanities interdisciplinary program draws on the expertise in Ifill College to distinguish how our graduates are prepared to bring matters of justice, ethics, and humanity to any number of careers in health-related professions. Indeed, I hope humanities knowledge can help define professional excellence in such fields."
The minor consists of five courses, with a required introductory course and a required Capstone. The remaining electives can be chosen from three categories: health narratives, health care ethics, and global health and cultural perspectives. Simmons already offers many electives within these categories, and more are on the horizon. "The minor has generated a lot of interest to offer various courses from different departments. It's a great collaboration with MCPHS, but also within Simmons," Grossman noted. In the future, the English department may offer a nonfiction writing class on narratives of health and illness; the philosophy department, which already offers Biomedical Ethics, may develop, a course on death and dying; and the history department is planning a course on the history of disease. Now that the minor is a reality, Grossman hopes to market it to nursing faculty and other faculty in pre-professional fields.
Health Humanities is important to the future of health and medicine in this country, and globally. Grossman said, "The narrative in health is the way we understand health, socially constructed ideas of health, economic factors that impact health, and the various cultural contexts. All of this constructs our ideas of disease, the aging process, and how gender is related to our understanding of health and wellness."
"In Ifill College, we have done a lot of work to make room for interdisciplinary inquiry in both our structure and our shared mission," says Dean Brian Norman. "Health Humanities is an excellent example of making deep inquiry into the humanities directly connected to the work many of our students want to do in the world, and the worlds they want to help create."