Internships
We offer juniors and seniors a variety of exciting internships. Because we're located in Boston, we can provide students opportunities at leading organizations like Harvard Medical School, The Boston Herald, WBZ, the Boston Ballet and many more.
Best of all, Simmons communications interns are in high demand. You will be able to earn university credits, make valuable networking contacts and improve your skills by doing one or more communications internships.
The internship experience is an integral part of a Simmons communications education. With the growing variety of career paths available to our graduates, getting real-life experience is essential to hone skills and develop expertise. Students work in an environment where they can observe, assess and participate in a professional setting while making an important contribution to the sponsoring organization. Simmons communications students who do internships are better prepared and hence more likely to get better jobs.
For Students
Your Simmons internships prepare you extremely well for today's job market. You can expect to develop skills in goal setting, communications, time management, critical thinking, and teamwork. Depending on the type of internship you do, could be responsible for writing and editing web content, developing and producing videos, creating designs and infographics, developing PR pitches, helping with events, measuring program impact and generating content for social media platforms. You'll increase your skills and create work that improves your portfolio and gives you an advantage over the competition when you look for a job. 
Before the Semester Begins
Students get plenty of help in finding an internship. 
First, the Communications Department has long-term relationships with several organizations, which means we can give you some terrific internship leads. 
You'll also meet one-on-one with the internship director to discuss your goals, interests and available opportunities before you begin your internship search. This meeting helps us define your interests and match you with the right internship. You'll work with our internship contacts and do your own research to reach out to potential internship sponsors, go on interviews and land that internship. All along the way, the internship director is available to help at any time. 
When you land your internship, you'll also enroll in Comm 370, an accompanying class that helps you better prepare for the job hunt. You'll work on a personal marketing plan, including a personal brand, elevator pitch, cover letter, resume, success stories and portfolios. You'll also hear from communications graduates and professionals who offer tips on everything from interviewing to negotiating pay. The classroom experience, combined with your internship field work, is an unbeatable combination.
The specifics: To earn four credits, you'll need to do 8-10 hours at the internship site and take Comm 370. To earn eight credits, you'll need to do 16-20 hours at the internship site and take Comm 370. We also work with sponsors to get their feedback on how well you are doing.
Frequently Asked Questions
Is there any cost to me as a student applying for an internship?
Yes, you do pay for the credits accrued, like any other class at Simmons.
When should I start looking for an internship?
For the fall semester, you should start in the April of the prior spring. For spring, you should start by October. For the summer, you should start by February of that year.
Where can I get leads on internships?
The internship program director has a comprehensive database of possible sites. The Career Education Center also lists internships. Sites like indeed.com, internships.com and internhub.com are also great resources for openings. 
How many places should I apply to?
You should apply to at least six sites, possibly as many as 10, to ensure that you are called in for an appropriate number of interviews.
What should I wear to an interview?
Dress professionally in business attire. 
What happens if I go to an interview and I don't hear anything?
When you leave an interview for an internship, ask the person when you will be contacted about the position. If you do not hear from the interviewer, it is appropriate for you to call that person back to inquire about the status of the internship after a week.
How long does it take to get an internship placement?
This depends entirely on the organization, your availability and the availability of current openings. 
Will I get paid for the internship?
Some internships are paid positions.
What will my schedule be like day to day?
You should establish a set schedule with your internship sponsor. It will depend on how many credits you are trying to earn.
Can I expect a job offer from my internship?
There is no guarantee of a permanent position at your site, however employers like hiring interns because they are already familiar with their work style and ethic. 
---
For Sponsors
The sponsoring organization makes a commitment to the student and the program to provide a supportive and stimulating environment. The organization benefits from the perspective, expertise and enthusiasm of highly motivated, well educated communicators.
If you are interested in becoming a Simmons Communications internship sponsor, send an email to [email protected].
Frequently Asked Questions
What are the benefits of work-based learning?
In return for knowledge and the opportunity to use it, interns are able to provide their employers with skilled work and a passion to learn. Employers can also enjoy a more positive public image by clearly investing in education  and meet civic responsibilities by playing a visible role in partnering with schools and students
How long does an internship last?
The internship usually lasts a full semester (14-15 wks), but may continue for a longer period of time if it benefits both the intern and the employer.
Will the intern get paid for the internship?
Many internships are paid positions, but they do not have to be. All our communications internships are for college credits.
How is the intern evaluated?
Where appropriate, the internship director will conduct a site visit or call the internship sponsor.
---
Program Director
Kristina Markos has been a communication-industry professional for over a decade, working in major US markets such as: Chicago, Miami, New York and Boston. She has been fortunate enough to work in agencies that focus on delivering marketing, advertising, digital communication, social media and public relations services to both professional services and consumer clients. Through her work, she has become well-versed in navigating complex and changing industry dynamics and as a result, brings these real world lessons to the classroom. These experiences help shape the way she instructs our student-run agency, Studio 5.
Public Relations
Boston Ballet
Joslin Diabetes Clinic
Boston Children's Hospital
Brigham and Women's Hospital
Dana Farber Cancer Institute
Communispace
Brodeur
Mullen
360 Public Relations
451 Marketing
Kel & Partners
Corey, Macpherson, Nash
Arnold
Callanan & Klein
Boston Ballet
Massachusetts Governor's Office
Lesley University
Save the Harbor
Isabella Stewart Garner Museum
Museum of Fine Arts
Weber Shandwick
Cone, Inc.

Publishing/Publications
Boston Herald
Boston Globe
Harvard Medical School
Gateways Publishing
Houghton Mifflin & Co.
Jerome Press Publications
Inc. Magazine
Horticulture Magazine
Appalachian Mountain Club Magazine
Office of The Attorney General

Event Planning, Promotions
Rosie's Place
WGBH Two Collection
Star 93.7 FM
Greater Boston Radio Group
Disney Radio

Broadcast/Film Production
CBS Radio & TV
New England Cable News 
WHDH TV
WCVB TV
WGBH TV
Clear Channel Communications
Boston Neighborhood Network TV
Sarah Colt Productions
Ben Loetermann Productions
Thelmaworld Productions

Design
Books By Design, Inc.
Inc. Magazine
Boston Magazine
Arts in Progress
Museum of Science
Hill Holiday
A.E. Schwartz & Associates
Harvard University Athletics
PreApps
Project Bread
Gateways

Marketing
Iron Mountain
Thompson Financial
State Street
Teradyne
Lantern Financial
Public Consulting Group
What Students Say
Our internship program is a unique blend of field experience and classroom learning that relies on best practices in career development. Students do their internship fieldwork and attend a class taught by the internship director.
How valuable are Simmons internships? Here's what the students themselves have to say:
"The internship program at Simmons is a great way to not only get experience, but also get your foot in the door at local companies."
— Emily Parry '16
Internships: Harvard Medical School, Northwestern Mutual, 360 Public Relations
"I now have concrete examples of my work to send to employers when looking for a job, and having the prestige of working at a well-known company helps my resume."
— Kellie Fitzgerald '16
Internships: Boston Ballet, Cone, Promoboxx
"The event planning side was definitely my favorite, especially working with broadcast publications such as "Good Morning America", "The Huffington Post" and "Yahoo Beauty" for press coverage. I love maintaining relationships with editors. It's like making friends and working to create genuine connections." 
— Rachel Otero, junior, PR Marcom major
Internships: Victoria's Secret, L'Oreal Paris, Boston Ballet, Arnold Worldwide
"I truly believe internships are the best thing an undergraduate student can do for him or herself. It gives you experiences you don't get from the classroom and shows employers, 'this is what I am capable of."
— Lauren Massey, '16, PR Marcom major
Internships: Harvard Medical School, Dana-Farber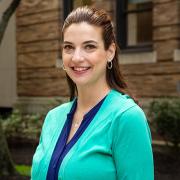 Kristina Markos
Associate Professor of Practice and Internship Director