Voices of Simmons
Remembering Jim Corcoran, Associate Professor Emeritus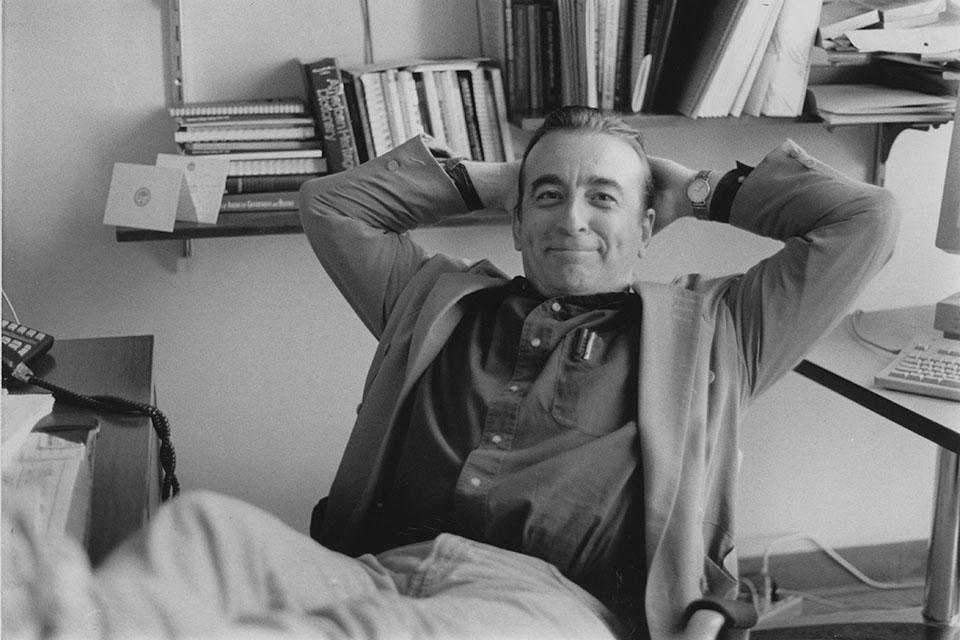 What began as a one-year stopover as a writing instructor at Simmons College…became more, much more... I loved spending time in the classroom talking about things that mattered to me and helping my students explore things that mattered to them.
— Associate Professor Emeritus Jim Corcoran
It is with great sadness I write to share that Simmons Associate Professor Emeritus Jim Corcoran passed away on October 27. A Pulitzer Prize-nominated journalist and longtime chair of the Simmons Department of Communications, Professor Corcoran devoted more than 30 years of his life to Simmons, and he leaves a lasting and powerful legacy at our institution.
While I did not have the honor of knowing Professor Corcoran personally, I have spoken to many in our community who did. In those conversations, I have been struck by his passion and commitment – not only for journalism, but also for Simmons, his students, and his colleagues. Ifill College Dean Brian Norman describes him fondly as "a good man, sharp writer, beloved teacher, and generous colleague."
During his storied career as a journalist, which included work for The Forum of Fargo-Moorhead and Newsweek, Professor Corcoran earned more than 24 state, regional, and national writing awards. He was a passionate defender of the First Amendment. He believed in asking questions – often hard questions – and in listening just as hard to the answers. Those qualities made him an excellent journalist and an equally gifted teacher.
In an email to colleagues, Professor Corcoran discussed how fortunate he was to have two fulfilling careers, and he spoke about his passion for teaching.
"What began as a one-year stopover as a writing instructor at Simmons College…became more, much more. More, as in an almost thirty-five-year career. Teaching became my life. And, I loved it. I loved spending time in the classroom talking about things that mattered to me and helping my students explore things that mattered to them."
Jim represented what was and is best about Simmons faculty...
— Professor Diane Grossman
Acting Chair of Communications Cathie Mercier, who began her career at Simmons the same year Professor Corcoran began his, recalls Professor Corcoran's love of journalism and stories.
"To talk of Jim Corcoran means to talk of telling stories. Stories about Simmons, stories about dearly loved Carolyn, about baseball, about music, and -- best of all -- stories about the stories we tell and how we tell them," she says. "Fueled by an abiding commitment to social justice, Jim practiced principled journalism. In the classroom, as the faculty advisor to The Voice student newspaper, and a passionate conscience at faculty meetings, Jim called on all to pursue truth (not just a comfortable version of it)."
Retired Communications Department Chair Ellen Grabiner celebrated Professor Corcoran with these words: "Jim was like the lion, the scarecrow and the tinman all rolled into one: his enormous heart took the lead as he courageously used his smarts for the benefit of others."
Professor Corcoran published two books on domestic terrorism, and his work on this subject remains especially relevant today. Bitter Harvest: The Birth of Paramilitary Terrorism in the Heartland received the Gustavus Myers Outstanding Book Award on the subject of human rights and the Golden Pen Award before adaptation as a TV movie. In addition, Professor Corcoran was a member of the United Nations' "Roster of Experts on Terrorism and Related Phenomena" and a recipient of the Bush Foundation Leadership Award, awarded annually to up to 20 people who are considered of "substantial standing" in their fields.
As a journalist and a writer, Professor Corcoran commanded a unique and persistent fearlessness, even when his investigations into domestic terrorism made him the target of threats. In a 1991 Simmons News article, Professor Corcoran recalled how he was once threatened by a man with an assault rifle during a book tour, and that the Ku Klux Klan targeted him in a story.
Despite the threats, in that interview Professor Corcoran spoke about the joy involved in his work, remarking how "it's nice to see that people appreciate what it is that you set out to do. That has been really delightful. I get at a loss for words in describing it. It's humbling too."
Faculty Senate President and Associate Professor Geoff Turner shares that "Jim was as kind and generous a person as I have ever met. Back when faculty colleagues ate lunch together every day, he would talk at length about teaching the first amendment and having his journalism students dig for and then write the truth. He was (deservedly) very proud of that work. He had a journalistic integrity that was as profound as it was inspiring. I guess it was part of that journalistic spirit that made him tenacious in defense of his faculty colleagues. He was absolutely devoted to the truth, his students, and supporting his faculty colleagues even (or especially) when that meant speaking truth to power."
Professor Diane Grossman, who arrived at Simmons the same year as Professor Corcoran, shares that "Jim represented what was and is best about Simmons faculty – a passion for one's subject matter, a dedication to students and their success, and a commitment to the highest standards of integrity. Jim was a journalist, but he wrote like a poet. He spoke like a man with a mission, and that mission--in one form or another--always seemed consistently to focus on inclusion. And he never wavered in his dedication and zeal to make Simmons (and the broader community) the best that it could be. Jim is irreplaceable."
Communications department Professor Bob White recalls Professor Corcoran's strong spirit, energy, and dedication: "It is extraordinary for a writer, a journalist, and a teacher to be able to harness the energy required to write and publish his books and articles, to travel and deliver his lectures, and to create and teach new and imaginative courses – let alone serve for many, many years as department chair."
On behalf of all of Professor Corcoran's colleagues, former students, and the entire Simmons community, I extend our deepest condolences to his family and friends, including his wife and Simmons alumna Carolyn. We are incredibly proud and grateful that Professor Corcoran devoted so much of his professional career to Simmons. Our institution has greatly benefited from his commitment, leadership, and passion.
A celebration of Professor Corcoran's life is being planned by his wife Carolyn for the first weekend in December, and we will share additional details on that in the coming days. In addition, Carolyn is working to endow a scholarship in Professor Corcoran's memory for undergraduate students majoring in communications, and more information about that effort and how to support it can be found here.
— Lynn Perry Wooten