Announcement
Simmons University's Gwen Ifill College of Media, Arts, and Humanities Welcomes Six New Faculty Members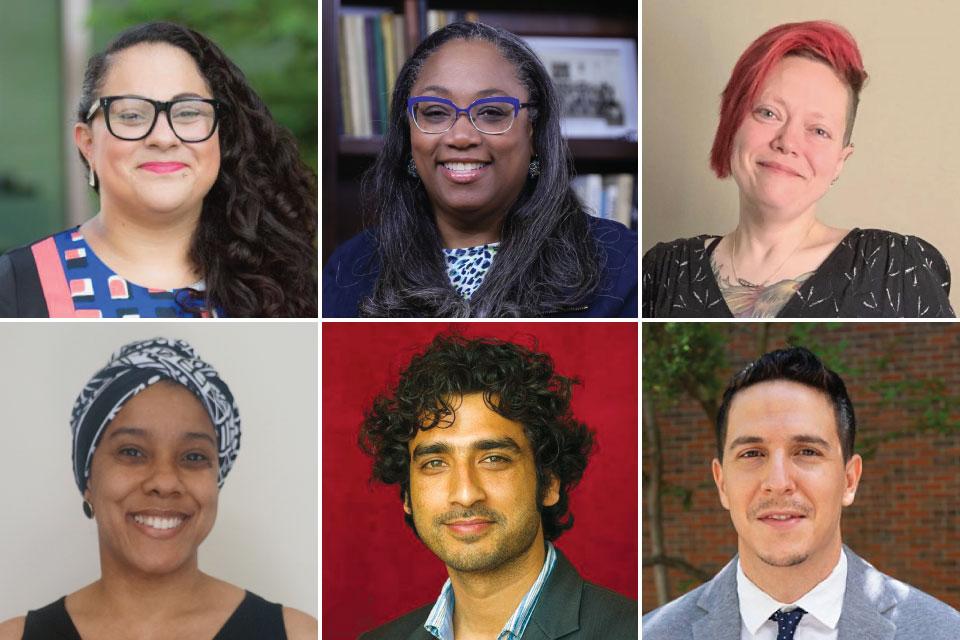 We are thrilled to welcome these talented scholars to Simmons, each of whom was drawn to our mission of turning passion into purpose and the prospect of carrying on our namesake's legacy of professional excellence, curiosity, and truth-telling.
— Dean Brian Norman
Simmons University's Gwen Ifill College of Media, Arts, and Humanities is welcoming six new faculty members in the Africana Studies, Art History, Communications, Children's Literature, and Creative Writing programs. The new faculty are an exceptionally talented and diverse group, all committed to students and mentoring. The hires are a result of strategic efforts to create a twenty-first century liberal arts education, increase faculty diversity, and support student success.
The faculty members are Tatiana M.F. Cruz, PhD, Assistant Professor and Director of Africana Studies in the new Department of Critical Race, Gender, and Cultural Studies; Traci Griffith, JD, Associate Professor of Communications and Internship Coordinator; Kat Lombard-Cook, PhD, Assistant Professor of Communications; Nicholl Montgomery, MFA, Lecturer in Children's Literature; Farooz Rather, PhD, Assistant Professor (NTT) of English; and Asiel Sepúlveda, PhD, Assistant Professor of Art History.
"We are thrilled to welcome these talented scholars to Simmons, each of whom was drawn to our mission of turning passion into purpose and the prospect of carrying on our namesake's legacy of professional excellence, curiosity, and truth-telling," said Brian Norman, Dean of the Gwen Ifill College of Media, Arts, and Humanities at Simmons University. "In Ifill College, we hire for excellence and expect diversity and mission as a result. This cohort helps us move the needle on faculty diversity and student belonging while raising the bar for excellence."
Dr. Cruz joins Simmons after serving as an assistant professor of History at Lesley University and as a Fellow for Faculty Diversity at the New England Board of Higher Education. Her research and teaching interests include African American and Latinx history, urban history, 20th century social movements, critical race/ethnic studies, oral history, and women's, gender, and feminist studies. She is currently working on a book manuscript that examines the comparative and relational history of African American and Latinx racial formation, community development, and mobilizations for racial justice in Boston in the postwar era. Dr. Cruz has held fellowships at the Institute for Citizens and Scholars, Harvard Kennedy School's Ash Center for Democratic Governance and Innovation, and Boston's College's African and African Diaspora Studies Program. Dr. Cruz holds a PhD in History from the University of Michigan. While at Simmons, she will continue to serve as a Fellow for Faculty Diversity at the New England Board of Higher Education, where she is working to develop a regional consortium around reparative justice among New England colleges and universities, along with initiatives to support BIPOC faculty.
"I'm excited to join the new Simmons Department of Critical Race, Gender, and Cultural Studies," said Dr. Cruz. "I am especially enthusiastic about leading and expanding the Africana Studies program. This fall, I'll be teaching courses on Black culture in the US and on the roots of feminism. I look forward to helping students take interdisciplinary and intersectional approaches to studying these timely topics and exploring how history has informed contemporary race and gender issues in the US."
Professor Griffith is a former correspondent and national editor for the Associated Press and now a media ethicist, community-engaged scholar, certified DEI expert, and seasoned student mentor. Her scholarship and teaching focuses on media law and ethics in a digital age. In her role at Simmons, she will also coordinate the Communications internship program. Professor Griffith comes to Simmons after serving nineteen years on the faculty at St. Michael's College in Colchester, Vermont. Professor Griffith holds a JD from Notre Dame, a M.S. in Journalism from Florida A&M University, and a BA in Political Science from DePaul. Her most recent work includes a well-received four-part series with New England News Collaborative on racism in New England. She also serves on the executive committee of the national board of the ACLU.
"Gwen Ifill was a journalistic shero of mine and I'm honored to join a Simmons communications faculty that upholds her ideals of journalistic integrity," said Professor Griffith. "There is perhaps no more critical time to be involved in the study of the media and its impact on our society and our lives and I'm excited to share my expertise as a journalist, editor, and scholar with students who care about truth and justice and are thinking about ways to carry the Ifill ideals into their own careers."
Dr. Lombard-Cook is a designer and storyteller who focuses on the intersection of verbo-visual communication as a methodology for empowering and foregrounding marginalized voices. She holds an MFA in Communication Design from the Glasgow School of Art, and a PhD in Design from the University of Edinburgh, Edinburgh College of Art, where she focused on "Analyzing and Interrogating Narrative Structures Through Comic Books." Lombard-Cook joins Simmons after serving as a visiting Assistant Professor in Communications at American International College, a majority minority institution which was chartered to educate immigrants. Kat enjoys being involved in the comics community, both as an academic and a creator. She has had her comics published  in Team Girl Comic (both online and in print).
"I'm thrilled to have the opportunity to join the Simmons community," said Dr. Lombard Cook. "I have long been inspired by women-centered education. Now, as a designer and storyteller, I'm looking forward to exploring visual communications and graphic design with students this fall."
Montgomery joins the Children's Literature program as an experienced educator, writer, reviewer, and community organizer. She is completing a PhD in Curriculum and Instruction from Boston College with a dissertation on the work of Black writer Jacqueline Woodson. Nicholl is active in the children's literature and Boston communities, including as a reviewer for Horn Book, judge for the Boston Globe/Horn Book Award, and co-organizer of a multi-generational book club with local communities and Frugal bookstore in the Roxbury neighborhood of Boston. In all her work and teaching, she incorporates critical race theory and Black queer theory to help students explore questions of race, gender, and power. Nicholl earned her MA in teaching from Northeastern, an MFA in writing from the School of the Art Institute of Chicago, and a BA in Psychology from Boston College.
"Simmons' renowned Children's Literature program has contributed so much to the field, and I'm excited to join this community," said Montgomery. "This fall I'll be bringing my experience as a writer, scholar, and activist to bear as we study the diverse readership and history of children's and YA literature."
Dr. Rather is a Kashmiri writer who is the author of the debut story collection Night of Broken Glass (HarperCollins India, 2018). He holds a PhD in creative writing from Florida State University (2020) and an MFA in creative writing from California State University (2013). In addition to his skills in creative writing, his studies have focused on postcolonial literature and the history of the novel. Farooz emphasizes ideas such as the impact of place on characterization and the ways that craft in non-Western novels rework or speak back to traditional Western forms. He was interviewed by Neha Kerpal in The Common on "Living Under Siege."
"I am delighted to have the opportunity to join my colleagues and students in Boston," said Dr. Rather. "I am a writer who loves to teach, and it is my honor to engage students in how to explore big questions—be it about war, religion, or beauty—through creative fiction and nonfiction writing and literature courses."
Dr. Sepúlveda is an art historian whose research examines the circulation, perception and use of printed images in the nineteenth-century Caribbean and the Atlantic World. His scholarship on Havana's nineteenth-century tobacco advertisements was awarded the Dahesh Museum of Art Prize (2015). In addition, he has received fellowship support from the Cuban Heritage Collection, the John Carter Brown Library and the American Antiquarian Society. Sepulveda's research has appeared in Nineteenth-Century Art Worldwide, Athanor, and the exhibition catalogue Learning to See: Renaissance and Baroque Masterworks from the Phoebe Dent Weil and Mark S. Weil Collection. He earned his PhD from Southern Methodist University and has experience in printmaking workshops at the Rhode Island School of Design and the Burning Bones Press in Houston, Texas. He also completed the Smithsonian Latino Museum Studies Program, where he developed a pilot project that presented LatinX stories using 3D digitization technology.
"Simmons is a vibrant community with access to many diverse cultural amenities," said. Dr. Sepúlveda. "I am inspired by the mission of Ifill College and excited to share my passion for the arts with students, including in a course this fall on radicals, revolutionaries and the making of modern art."