Tatiana M.F. Cruz
Assistant Professor and Interdisciplinary Program Director of Africana Studies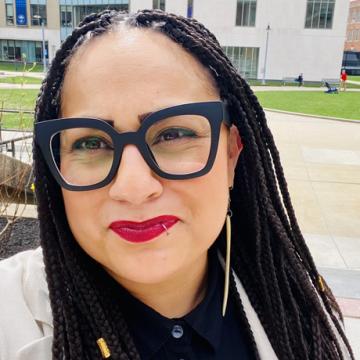 Education
Ph.D., History, University of Michigan
Graduate Certificate, African American and Diasporic Studies, University of Michigan
M.A., History, University of Michigan
B.A., History & American Studies, Williams College
About Me
I am a historian that specializes in Critical Race, Ethnic, Diaspora, and Gender Studies and leader in the field of Diversity, Equity, Inclusion, and Belonging (DEIB). I joined the Simmons faculty in 2021 and currently am an Assistant Professor and the Interdisciplinary Program Director of Africana Studies and Women's and Gender Studies.
I am also the Founding Co-Director of the North Star Collective, a regional consortium of institutions out of the New England Board of Higher Education committed to racial equity and reparative justice in higher education, particularly focused on restoring, nourishing, and uplifting faculty of color.
Research/Creative Activities
My scholarship reflects the intersections of African American, Latinx, urban, and social movement histories, oral history, as well as Critical Race, Ethnic, and Diaspora Studies and Women's and Gender Studies. My research centers on African American and Latinx social movements in the urban north. My work has been published in the Journal of Urban History and the New England Quarterly and I am currently working on a book manuscript which examines African American and Latinx identity, community, and protest in Boston. My work has been supported by the Woodrow Wilson National Fellowship Foundation, Harvard Kennedy School's Ash Center for Democratic Governance and Innovation, Boston's College's African and African Diaspora Studies Program, and the Andrew W. Mellon Foundation, among others.