Faculty Spotlight
Assistant Professor Tatiana Cruz on the Value of Africana Studies for All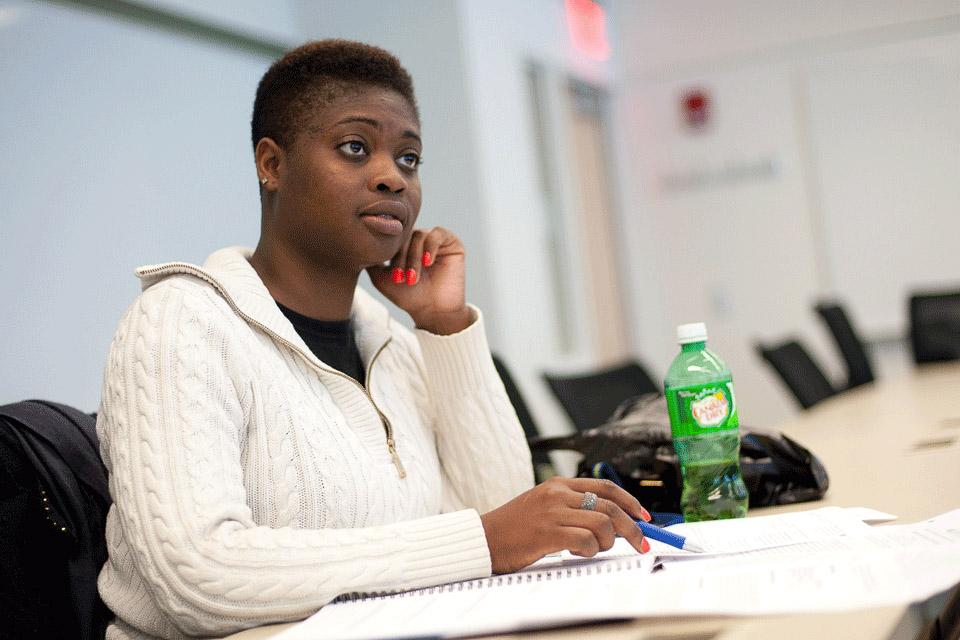 Africana Studies at Simmons is celebrating 50 years. Assistant Professor Tatiana Cruz sees it as a perfect complement to any major at Simmons, offering cultural insight that is invaluable for working in diverse communities.
Tell us about Africana Studies at Simmons
Africana Studies at Simmons is a small program with a long legacy – now celebrating 50 years. I joined Simmons in Fall of 2021, and part of my job is to evaluate and revitalize the program. I've looked into Simmons history for context and found Black History @Simmons, an online exhibition of photos that document the experience of Black students and the creation of Africana Studies in the 1970's, which has been so helpful.
Since my arrival, we've revised the major and minor and created a new program description, which will go into effect in Fall 2022. We found that the description of the program didn't really reflect the latest developments in the field or clearly articulate how the degrees would complement all majors and minors. Many think of it as a niche field, but it really speaks to what it means to work in a global market in 2022. Racial competency is necessary for any field — especially positions working with diverse communities — so we wanted to make sure that was clearly stated in the program description. We've also streamlined the program to make it easier to declare as a major and minor, and we have already seen an increase in students this year. We offer about 14 different courses in Africana Studies and then have over 30 courses in other departments such as History, Literature and Writing, Sociology, and Political Science that count as electives towards the major and minor.
You hold the New England Board of Higher Education (NEBHE) Fellowship for Faculty Diversity. Can you tell us about your work with BIPOC faculty?
I'm one of two faculty fellows with NEBHE, given the task of developing regional initiative around racial equity. I have worked with my co-fellow, Kamille Gentles-Peart of Roger Williams University, to develop the North Star Collective, a new consortium of colleges and universities centered around reparative justice, to address how DEI work in higher education has fallen short and to nourish and uplift BIPOC faculty. Thirteen institutions in New England have signed on with demonstrated commitment, including Simmons. We offer two thematic webinars with guest speakers each year open to all members of our NSC institutions, along with two roundtable discussions for leaders of racial equity work on our campuses.
One of our first initiatives of the North Star Collective is the NSC Faculty Fellowship, a program created by BIPOC faculty for BIPOC faculty. The fellowship is a semester-long fellowship that promotes healing and repair by providing a nourishing community of care, mentorship, and professional development for early-career BIPOC faculty in the humanities and social sciences. We've selected two fellows from each member institution, including Felipe Agudelo in Public Health and Jacqueline Dyer in Social Work here at Simmons. The fellowship includes a stipend, virtual writing groups, a three-day writing retreat with facilitators and community building, along with programming throughout the semester, including workshops on tenure, promotion, publishing, and work-life balance. This is the inaugural cohort of the pilot program, but we were very excited to see the immediate interest and many other institutions have reached out, interested in joining for its second year. We're building a community that didn't exist before; it's especially important for faculty in remote areas, who may be the only faculty of color in their department, or their school. We want them to feel nourished and uplifted – it's all that Kamille and I wished we had when we started our careers! We're already planning for next year, and hope to take on two more faculty from each participating institution.
What is the focus of your research?
My research centralizes the city of Boston as a major site of resistance in the long freedom struggle. I was born and raised here and never thought I would research Boston until I noticed the big hole in the scholarship for the civil rights movement. While little has been written about African American history in Boston, the Latinx community is almost entirely left out of the city's racial narrative. I am interested in the ways these communities interacted with one another and shaped one another's racial and political identities, especially during the 1960s and 1970s.
The fact is that Boston lagged behind a lot of civil rights history. Brown vs the Board of Education ended school segregation in 1954, but Boston didn't integrate until 1974. Liberal northerners liked to pretend that racism was a Southern problem, but the BIPOC communities in the north have struggled with all forms of racism, segregation, and inequities. I am especially interested in the role of poor and working-class mothers of color. While they have been depicted as not being as involved in their children's lives or even apolitical, these badass women were actually at the helm of many of these movements, organizing for change in schools, welfare offices, and beyond. I am excited to shed light on their less-known lives and stories of activism.
Advice for students?
Take a class in Africana Studies and see what you think! The minor is only five courses, and the degree is perfect for students interested in race or activism more broadly. It includes the study of people from African descent, but the courses are intersectional, showing how race interacts with women and gender studies, sociology, and history. Currently, students in my oral history class are interviewing Black alumnae/i to learn about the method of oral history and to shed light on the experiences of Black students in Simmons history. Our students in Africana Studies courses are rock stars — they have great discussions about history and culture, past and present, and are enthusiastic to apply what they learn to their lives.
Africana Studies is certainly a wonderful community for Black students to learn about themselves and their cultures, but the degree is valuable for all students, regardless of their racial/ethnic identity. All students would benefit from learning about critical race studies. You can use what you learn in whatever field you enter. If you want to work in diverse spaces you need to understand the histories and cultures in those spaces. You'll also learn critical analysis which will shape the way you see the world. I also hope the degree inspires students to be active in their communities and make change in this world - to help dismantle structural racism and all related oppressions.
Offered Fall 2022:
Electives:
CRGCS 101 - Identity and Power
HIST 214 - African Diaspora
LTWR 176 - African American Literature
LTWR 235 - Identity and Race in American Literature
POLS 215 - The Politics of Exclusion
POLS 242 - Colonial and Postcolonial Politics of Africa
SOCI 249 - Inequalities