Hazel Dick Leonard Chair
Jyoti Puri
Jyoti Puri is the Hazel Dick Leonard Chair and Professor of Sociology at Simmons University.  She is leading a Faculty Fellowship program aimed at creating a community of scholars who are researching, writing, and producing creative work related to the concept of race. The program brings together eight faculty across Simmons University to foster cutting-edge projects theorizing, analyzing, and advancing critical understandings of race across a range of historical and cultural contexts. Faculty projects include books-in-progress, articles, book chapters, and other scholarly forms.
Learn more about Jyoti Puri, see Jyoti Puri's full CV, and learn more about the Sociology Department.
Faculty Fellows
Felipe Agudelo
It's not how you say it, it's what you say: Ambient Digital Racism and Racist discourses on Twitter
Social media has been used by different actors to disseminate hate speech and racism. Racist opinions can be disguised through a language that may appear to be harmless, or colloquial however, it can be part of a rhetoric that promotes stereotypes and dislike towards communities of color. This type of racist communication is called Ambient Digital Racism (ADR). ADR may occur when an ordinary user comments, likes, or retweets a message that contains an apparent acceptable conversation about race. Nonetheless, these communications represent a new language used to disseminate a less explicit but equally intentional racist discourse. Through the use of qualitative thematic analysis this project seeks to explore how ADR is discursively constructed creating a framework for different types of racist discourse in the context of the death of George Floyd. This research will examine tweets posted during the time of the protests in three counter Black Lives matter hashtags. These hashtags include #WhiteLivesMatter, #BlueLivesMatter, and #AllLivesMatter.
Learn more about Felipe Agudelo, the Department of Public Health, and read an interview with Felipe Agudelo.
---
Sumayya Ahmed
Collecting Ourselves: A Conversation between the Archives and Memory of the Great Migration
Sumayya Ahmed's project, Collecting Ourselves: A Conversation between the Archives and Memory of the Great Migration, looks at the archival traces of Black Southerner migration to Chicago through the lens of her maternal great-grandfather who left Alabama for Chicago in the early 1930s. It seeks to put the documentary records of the Great Migration in conversation with family documents and oral histories in order to fill gaps in the family's collective memory. In doing so, the project also has to come to terms with the role of archival imagination (Gilliland and Caswell 2016) in reparative Black genealogy, where genealogy is just as much a search for meaning as it is for documents (Yakel and Torres 2007). It also has to contend with the vestiges of American chattel slavery and the extent to which policies of the Jim Crow South destabilized the autonomy of Black family and memory.
Learn more about Sumayya Ahmed, the School of Library and Information Science, and read an interview with Sumayya Ahmed.
---
Sarah L. Leonard
Visions of Difference in Early German Portrait Photography, 1840-1865
"Visions of Difference in Early German Portrait Photography" investigates the relationship between social differences and the development of early German photography from the mid 1840s through the 1860s. During this period, enterprising residents of the German States learned photographic techniques invented elsewhere. The daguerreotype method, created in 1839 by Frenchman Louis Daguerre, was taken up and quickly introduced by traveling German portrait photographers who advertised their wares for a population eager to capture and keep their image on polished silver plates. 
The resulting images quickly settled into a recognizable (and surprisingly transnational) genre. Sitters donned their best clothes and adopted standardized postures in studio spaces designed to mimic the interiors of bourgeois homes. Yet the standardization of the photographic portrait obscured a range of social, ethnic, and status differences that were at play in the production of these images. Difference marked the spaces in front of the camera -- house maids, for example, were rendered practically indistinguishable from ladies of the house. Jews, who were denied citizenship and therefore marginalized, graced portraits that were largely indistinguishable from their non-Jewish counterparts. Social and ethnic differences also marked the spaces behind the camera. The new profession of portrait photographer was open to those who could gather the necessary capital; formal training and permits were not required. Women and Jews, prohibited from joining many other professions, were disproportionately represented in the ranks of early photographers. Examined in their complexity, and with attention to their production, these seemingly standardized images reveal a great deal about how belonging and exclusion were figured by this new medium.
Learn more about Sarah L. Leonard and the Department of Critical Race, Gender and Cultural Studies.
---
Jessica Parr
Entangled Spaces, Entangled Places: Early Black Intellectuals and the Structures of Slavery in the Anglo-Atlantic World, 1760-1860
I am a historian of slavery and human rights, specializing in the intellectual history of the Early Modern Atlantic World. My current monograph project uses digital humanities methodology to explore the ways that Black antislavery activists navigated the legal, social, and cultural structures in the Anglo-Atlantic that were designed to codify and perpetuate slavery. My work for this fellowship will be on developing techniques for using text mining and geospatial analysis to define what I call "landscapes of print;" that is, metaphysical spaces tied to the printing and dissemination of materials related to Black emancipatory politics.
Learn more about Jessica Parr and the Department of History.
---
Laura Prieto
"At Least Two Races': Black and Filipina Women's Voting Rights Activism in the 1920s and 1930s
My research traces women's transnational work and activism, within and across the overseas empire that the United States established in the Caribbean and Pacific. My specific project for the Hazel Dick Leonard seminar draws comparisons and connections between Filipina and Black women's political activism in the early twentieth century U.S., putting women of color at the center of a revised history of suffrage. The project interrogates ideas about race and gender in the women's suffrage movement in the colonial Philippines, using the lens of the concurrent Black women's club movement on the mainland. Black and Filipina women had long sought voting rights in tandem, desiring to use suffrage in order to challenge American imperialism, racism, and gender inequality. Neither Black nor Filipina women experienced ratification of the Nineteenth Amendment as a victory, but rather had to redouble their strivings in the 1920s and 1930s. The rich existing scholarship on Black "race women" such as Ida B. Wells and Mary Church Terrell provides a valuable framework for better understanding Filipina contemporaries, such as Sofia Reyes de Veyra and Pilar Hidalgo Lim. Like Black women, Filipina women had to address the expectations of disenfranchised male allies, and to navigate difficult relationships with organizations dominated by white women. They used women's clubs, including the Asociación Feminista Filipina, and magazines, including the bilingual Woman's Outlook, to confront the politics of race, gender, and respectability that suffused voting rights discourse. They championed an ethos of "uplift" and carefully weighed the risks of militant action. At the same time, Filipina suffragists faced a distinct set of complex racial classifications under American colonialism. An integrative view of Black and Filipina women's suffrage activism illuminates the complicated racial and transnational dimensions of women's movements in ways that scholars have not yet considered.
Learn more about Laura Prieto and the Department of History.
---
Aaron Rosenthal
The Whole Damn System is Guilty as Hell": Black Lives Matter and the Politics of Visibility
The past five decades have been filled with simultaneous calls to shrink "big government" and establish "law and order" through punitive policing. These contradictory desires have fueled an epistemology of ignorance among white Americans in which the connection between the police and government is invisible. In contrast, the police became the most visible manifestation of government during this same time period for Black Americans. Yet the neoliberal logic underlying this growing visibility has allowed instances of police violence to be understood as a consequence of individual behavior rather than systemic policy choice. This project examines how the Black Lives Matter (BLM) social movement is altering these understandings through the politics of visibility. Using tactics like protests and social media campaigns, BLM raises the conspicuousness of police violence carried out against Black Americans, while ensuring that such violence is clearly connected to public policy and state authority. For whites, these tactics recover the connection between the police and government, helping to undo an epistemology of ignorance. Among Black Americans, BLM contextualizes police violence within a collective grievance and then provides a political voice to address that grievance. In analyzing this transformation, my project focuses on the particular effectiveness of the politics of visibility during the COVID-19 lockdown, arguing that this environment ensured more people would see highly publicized instances of police abuse. I suggest that the resulting shift in public opinion on issues of policing and race opens up new opportunities for criminal justice reform, but also express caution due to the limited timeframe during which this shift in opinion might endure.
Learn more about Aaron Rosenthal, the Department of Political Science and International Relations, and read an interview with Aaron Rosenthal.
---
Saher Selod, (along with Dr. Steve Garner, Inaash Islam)
21st Century Racism: The Racialization of Muslims Globally
There is a rise in the global racialization of Muslims. Muslims in the UK, the United States, China and India are experiencing increased discrimination, violence and surveillance that is perpetuated by the state and their fellow citizens. There has been a marked increase in hate crimes and violence against Muslims. The rhetoric against Muslims and Islam has become increasingly vitriolic in political and public discourse. The rise in right wing nationalists has been a popular trend in many European countries like France, England, Italy, and Poland since the early 2000s. The election of Donald Trump as the 45th American President reflects a similar trajectory in the United States. While campaigning for President, Donald Trump called for a ban on Muslims in the United States, promised to create a registry of Muslims, and even suggested forcing Muslims to wear an identification card. Although many liberals claimed these statements were unjust and racist, we argue that anti-Muslim racism has been socially accepted in the United States and Europe resulting in the rise in popularity of overtly Islamophobic politicians like Trump. In this book, we show how the United States' Global War on Terror has influenced policies toward Muslims elsewhere, like China and India. Muslims in India have been targeted through citizenship laws in response to a rise in nationalism. In China, Uyghur Muslims have been placed in detention camps. It is clear that the fear of terrorism and immigration and the Global War on Terror has played a major role in the acceleration of the racialization of Muslims across the world. This book uncovers the processes of the global racialization of Muslims.
Learn more about Saher Selod and the Department of Sociology and read an interview with Saher Selod.
---
Lena Zuckerwise
Prisons, Resistance, and Black Carceral Political Thought
My project is part of a longer book project that explores Black political rebellion in the captive spheres of slavery and incarceration in the United States. I argue that while the well-worn constructs of democratic theory are limited in their ability to fully address Black captive resistance, Hannah Arendt's concept of "world" is more capable of doing so. 
I begin with an interrogation of the familiar rhetorical catchphrase "prison labor is slavery," a popular refrain in activist circles and also, as I suggest, productively misguided. Prison labor, though heavily exploited, is a fairly minimal part of the US economy, whereas slavery, as the historian Edward Baptist explains in The Half Has Never Been Told, enabled the transformation of the US from a small-scale agrarian economy into a global economic superpower (New York: Basic Books, 2014). Prisoners might have jobs, but bondpeople were, fundamentally, workers. At stake in the inaccuracy of the rallying cry is an understated account of the centrality of slavery to the US economy and a hampered ability to imagine alternatives to the police, prisons, and the carceral state as a whole. Instead, I propose that resistance, not labor, unites the lived political experiences of enslaved and incarcerated people. That said, the historical connections between slavery and the carceral state are vast and the second section of this chapter is dedicated to their explication. I trace the development of the prison from convict leasing in the decades following Emancipation to the rise of private prisons in the 1980s to underscore its rootedness in chattel slavery. The final section draws on the work of incarcerated intellectuals and activists in the 1960s and 70s to showcase what I call "Black carceral political thought." It is in this body of work by imprisoned authors that theories of Black captivity are most thoroughly articulated.
Learn more about Lena Zuckerwise, the Department of Political Science and International Relations, and read an interview with Lena Zuckerwise.
Recent Interviews with Faculty Fellows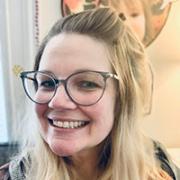 Taylor Eubanks
Hazel Dick Leonard Administrative Assistant