Hazel Dick Leonard Faculty Fellowship
Hazel Dick Leonard Chair
Jyoti Puri
Jyoti Puri is the Hazel Dick Leonard Chair and Professor of Sociology at Simmons University. She is leading a Faculty Fellowship program aimed at creating a community of scholars who are researching, writing, and producing creative work related to the concept of race. The program brings together ten faculty across Simmons University to foster cutting-edge projects theorizing, analyzing, and advancing critical understandings of race across a range of historical and cultural contexts. Faculty projects include books-in-progress, articles, book chapters, and other scholarly forms.
Learn more about Jyoti Puri, see Jyoti Puri's full CV, and learn more about the Sociology Department.
Faculty Fellows
Naresh Agarwal
Happiness: Theoretical model and relationship with information
Research in information-seeking behavior has looked at the way a person goes about looking for information when faced with a need for information. However, the relationship between happiness and information and how this information impacts happiness is often left out of the picture. Also, higher education in the field has not explored happiness as a learning outcome even though empirical research in psychology has shown that up to 40% of our happiness is within our power to change. In this book project, I will examine the concept of happiness and also how it relates to information. Through a listing of my 8 commandments in life, a preliminary attempt will be made to highlight the possible inter-relationships between happiness and information. Thus, the research questions are – "How can we conceptualize happiness?, What is the relationship between information and happiness? Is there a place for happiness in information science? Is there a place for happiness in information science education?" The book will explore each of the commandments in-depth and arrive at theoretical models linking the concepts of information and happiness. By recognizing happiness as a construct and taking up the teaching and learning of happiness, we should be able to bring about transformative learning.
Learn more about Naresh Agarwal and the School of Library and Information Science, and read an interview with Naresh Agarwal.
---
Abel Djassi Amado
Language and Politics in a Creole Island State: Cabo Verde in a Comparative Perspective
The book project tentatively titled "Language and Politics in a Creole Island State: Cabo Verde in a Comparative Perspective" uses a case-study method to extrapolate a new theory of political behavior in creole societies. The book argues that understanding politics requires paying close attention to language policy and use since political life is embedded in the "language-politics nexus." Through an in-depth analysis of institutions, interactions, and behaviors, the book enlarges the literature on the links between language and politics in postcolonial creole island-states. Consequently, I advance a new theoretical perspective on the state and political participation anchored on language policy and practices as critical factors influencing and shaping democratic outcomes. Creole societies are characterized by diglossia, power asymmetry between the two languages found in the polity: while the Creole language is widely used in everyday and informal social life, the language of prestige, power, and politics is the European language inherited from colonial experience (Portuguese in the case of Cabo Verde). Against this backdrop, my book introduces the concept of state illegibility: the fact that the state's operations, procedures, and processes are hardly grasped by the majority of the people who have rudimentary to no mastery of the language used in official and formal political businesses. State illegibility, as such, constitutes an analytical tool to comprehend decreasing political accountability and decreasing political participation. As creole societies create unique language-politics nexus, the book also analyzes the conflict over legitimizing the creole language as the state's official language, its use in education, and the influence of diasporic communities in language planning and policies.
Learn more about Abel Djassi Amado and the Department of Political Science and International Relations.
---
Tatiana Cruz
"There's Very Little Love Shown to a Welfare Mother": African American and Latina Motherwork in Boston's Welfare Rights Movement
My research examines the comparative and relational history of African American and Latinx racial and political identity formation, community development, and mobilizations for racial justice in postwar Boston. For the Hazel Dick Leonard fellowship, I am working on a piece that examines how African American and Latina women on Aid to Families with Dependent Children (AFDC), or "welfare mothers" as they were mostly called, formed Mothers for Adequate Welfare (MAW) and developed a grassroots movement for welfare reform in the city. The project utilizes a feminist lens to interrogate the growing collective political consciousness that developed among organizers at the intersection of their shared ethnoracial, class, and gender oppressions and experiences as mothers.
Learn more about Tatiana Cruz and the Department of Critical Race, Gender and Cultural Studies, and read an interview with Tatiana Cruz.
---
Traci Griffith
Harnessing social media and digital platforms
The aim of my project, should it be selected, is to research, write, host and produce a series of public affairs radio programs/podcasts. The series will focus on the technological revolution underway in the production and delivery of media content and the media literacy necessary for understanding that content.
There are numerous platforms, most Americans visit social networks, photo sharing sites, micro-blogging platforms and IM services. Recent surveys show that the average American uses these platforms between 30 minutes to two hours daily, while 12% of U.S. users spend more than 4 hours per day on social networks. Research shows that the isolation of the Coronavirus pandemic increased this usage exponentially with the social sites being the only method of interaction available during isolation. The timing of this analysis will be of interest to many.
One episode will consider how consumers are making use of the new platforms. Another will look into the addictive nature of the new technology. Another will delve into the creators and their methodology. Another will discuss media literacy and how to understand and make the most of the technological features.
The breakdown of the podcast series will specifically focus on new media technology and platforms and the methodology behind their creation. There will be specific analysis of niche social media sites such as Flixter, Twitch, Gaia Online as well as more traditional sites such as Instagram and Tumblr. In addition, the series will address the psychological aspect of media consumption and how to combat the addictive nature to utilize the technology in a healthy and productive way.
Learn more about Traci Griffith and the Department of Communications.
---
Renada Goldberg
The Borderlands Between Resilience and Epistemic Injustice: Examining Attitudes of Resilience in Social Work Practice
Resilience is often described as one's endurance against significant adversity and the promotion of protective factors amid significant risk factors. Resilience relies on a framing of strength that positions the onus of positive adaptation on the individual which may place additional burdens onto those with marginalized identities and experiences. Left unchecked, resilience in its current scholarly composition may lead helping professionals to reward testimonial and hermeneutical injustice for the sake of resilience in a stratified and disadvantaging societal system. This project proposes a qualitative inquiry research design to interview social work educators, recent MSW graduates, and experienced MSW practitioners on their understanding and application of resilience in their social work teaching methods and practice. This project is a critique of current resilience conceptualizations and research using an epistemic justice lens and serves as a catalyst for reframing resilience in the scholarly discourse. Specific to social work, my goal for this project is to examine the ways in which the profession's cornerstones of strengths-perspective and resilience are taught and practiced that either combat epistemic injustice or exacerbates clients' and community systems' credibility and sense of meaning-making of their lived experiences.
Learn more about Renada Goldberg and the School of Social Work.
---
Hugo Kamya
Narrative Practices as Tapestry: Building community through community stories
People are full of stories. I find myself at a cross-road of many stories that shape who I am and where I am. My story has been woven together by the threads of others. I am a tapestry of stories. Stories of home. Stories of identity. Stories of chance encounters. Stories that those people I encounter have trusted me to hold with threads woven together across person, place and time. An intricate, indescribable tapestry.
There are indeed many stories to people's lives. The Nigerian writer, Chimamanda Adichie says: "Stories are defined by how they are told, who tells them, when they are told, how many stories are told and are all dependent on power." We are all story tellers and story listeners. Cultures all over the world tell stories, and use them for different purposes. Stories engage people in their day to day lives. Stories build healing spaces. Stories explore issues of power and powerlessness. Some are folklore and tales; others communicate certain truths or malign or find fault with certain peoples and groups. As a therapist, I use stories to develop spaces for healing. Therapy is itself a story that opens up opportunities for further understanding. In this project, I plan to explore stories that have been told/voiced and stories that have been ignored exploring issues of power and powerlessness, asking questions about how a story gets told? Who tells it? Who sanctions it? Drawing from story and story metaphor I will explore how stories communicate certain truths and build community. As part of this fellowship with colleagues, I hope to develop this work into a book project.
Learn more about Hugo Kamya and the School of Social Work, and read an interview with Hugo Kamya.
---
Farooz Rather
The Derby Shoe: A Novel-in-Progress
I am currently working on my second novel, The Derby Shoe, in which I follow a Kashmiri flâneur who is adrift in New Delhi. Traumatized by the recurring memories of being wounded in a fierce gunbattle, he hits it off with a struggling, ultraliberal poet from San Francisco at a publishing party. Later, he will travel to California with the hope of finding love. Through my protagonist's evolving world view, I engage with the idea of the American dream, registering experiences of migration and provincialism in small town America. During the course of HDL fellowship, I wish to connect with my colleagues and learn about their current projects. And while exchanging ideas and perspectives about the shifting American political landscape, I am hopeful to learn from them about the ideas that I'm in the process of exploring in/through my own novel.
Learn more about Farooz Rather and the Department of Literature and Writing, and read an interview with Farooz Rather.
---
Vanessa Robinson-Dooley
"Healthy Together": Generating Scholarship of the Findings, Process and Future Projects
"Healthy Together" is a multi-year, R15 National Institute of Health (NIH) grant that I am currently a Co-Investigator (Co-PI) on with colleagues from Kennesaw State University (Georgia). The focus our work is to develop a culturally sensitive self-management curriculum to bridge the gap in serving African American men whom are disproportionately affected by chronic conditions, especially coping with multiple morbidities. Low-income African American men also experience additional burdens to health related to cultural beliefs and practices about health, knowledge and perceptions regarding chronic conditions, and lack of support systems, creating even greater health inequalities. The specific aims for the study included conducting focus groups with low-income African American men, health care providers and family support systems to identify opportunities and challenges regarding managing health and healthcare as well as key elements influencing participation and engagement; development of an innovative peer-led chronic disease self-management and support curriculum, and implementing and evaluating a non-experimental pilot study for this self-management and support intervention. We hope to extend this work to exploring self-management of behavioral health issues with this population, use of technology, and consider the impact of COVID on the experiences of African American men.
Learn more about Vanessa Robinson-Dooley and the School of Social Work, and read an interview with Vanessa Robinson-Dooley.
---
Devashish Tiwari
Development and item analysis of the modified dizziness handicap inventory (DHI-CA) in children and adolescents post-concussion.
Incidence of concussion in children has demonstrated a 60% rise since 2007 and is now a significant health concern. Up to 80% of individuals report having dizziness post-concussion. Dizziness post-concussion negatively affects academic performance, participation in sports, activities of daily living, and psychological state and overall quality of life. Patient-reported outcome measures (PROM) identify patient perception of specific functional limitations and are crucial to design targeted intervention strategies and evaluate their effectiveness. The Dizziness Handicap Inventory – Children and Adolescent (DHI-CA) is a recently developed PROM. Previous studies highlighted potential structural limitations in the DHI-CA and recommended further exploration. Item response theory (IRT) greatly improves PROM due to its rigor and interpretational advantages not offered by traditional analysis. This study aims to validate the modified version of the DHI-CA in children and adolescents post-concussion using IRT.
Learn more about Devashish Tiwari and the Department of Physical Therapy, and read an interview with Devashish Tiwari.
---
Meenakshi Verma-Agrawal
American Dream or American Nightmare?
The American Dream is a stock story told around the world. For many immigrants to the United States, the American Dream soon turns into a generational nightmare. Why? America is considered the land of opportunity and a place where you can achieve anything with hard work and determination. The 'immigrant health paradox' which has been well established in many immigrant receiving countries: after adjusting for socioeconomic status, the foreign born generally have lower mortality than the native born, however this initial advantage disappears with increasing time in the receiving country and across generations. Each generation that arrives, not only delivers opportunities, but also delivers poorer health outcomes. The immigrant paradox is well-documented across sectors and across countries, not just the US. However, the narrative of the American dream is so pervasive that many migrants do not realize the detrimental effects of migration go beyond health, education and social outcomes. The loss extends to social capital, knowledge of systems, family support, traditional foods and language. Looking at racism as a system of advantage, the model minority myth puts migrants in a precarious situation because of what they have fled and what becomes of their migration journey. I plan to write a scholarly article that will explore each of these losses and describe how racialization impacts migrants and the American dream is actually a nightmare for generations to come.
Learn more about Meenakshi Verma-Agrawal and the Department of Public Health, and read an interview with Meenakshi Verma-Agrawal.
Felipe Agudelo
It's not how you say it, it's what you say: Ambient Digital Racism and Racist discourses on Twitter
Social media has been used by different actors to disseminate hate speech and racism. Racist opinions can be disguised through a language that may appear to be harmless, or colloquial however, it can be part of a rhetoric that promotes stereotypes and dislike towards communities of color. This type of racist communication is called Ambient Digital Racism (ADR). ADR may occur when an ordinary user comments, likes, or retweets a message that contains an apparent acceptable conversation about race. Nonetheless, these communications represent a new language used to disseminate a less explicit but equally intentional racist discourse. Through the use of qualitative thematic analysis this project seeks to explore how ADR is discursively constructed creating a framework for different types of racist discourse in the context of the death of George Floyd. This research will examine tweets posted during the time of the protests in three counter Black Lives matter hashtags. These hashtags include #WhiteLivesMatter, #BlueLivesMatter, and #AllLivesMatter.
Learn more about Felipe Agudelo, the Department of Public Health, and read an interview with Felipe Agudelo.
---
Sumayya Ahmed
Collecting Ourselves: A Conversation between the Archives and Memory of the Great Migration
Sumayya Ahmed's project, Collecting Ourselves: A Conversation between the Archives and Memory of the Great Migration, looks at the archival traces of Black Southerner migration to Chicago through the lens of her maternal great-grandfather who left Alabama for Chicago in the early 1930s. It seeks to put the documentary records of the Great Migration in conversation with family documents and oral histories in order to fill gaps in the family's collective memory. In doing so, the project also has to come to terms with the role of archival imagination (Gilliland and Caswell 2016) in reparative Black genealogy, where genealogy is just as much a search for meaning as it is for documents (Yakel and Torres 2007). It also has to contend with the vestiges of American chattel slavery and the extent to which policies of the Jim Crow South destabilized the autonomy of Black family and memory.
Learn more about Sumayya Ahmed, the School of Library and Information Science, and read an interview with Sumayya Ahmed.
---
Sarah L. Leonard
Visions of Difference in Early German Portrait Photography, 1840-1865
"Visions of Difference in Early German Portrait Photography" investigates the relationship between social differences and the development of early German photography from the mid 1840s through the 1860s. During this period, enterprising residents of the German States learned photographic techniques invented elsewhere. The daguerreotype method, created in 1839 by Frenchman Louis Daguerre, was taken up and quickly introduced by traveling German portrait photographers who advertised their wares for a population eager to capture and keep their image on polished silver plates.
The resulting images quickly settled into a recognizable (and surprisingly transnational) genre. Sitters donned their best clothes and adopted standardized postures in studio spaces designed to mimic the interiors of bourgeois homes. Yet the standardization of the photographic portrait obscured a range of social, ethnic, and status differences that were at play in the production of these images. Difference marked the spaces in front of the camera -- house maids, for example, were rendered practically indistinguishable from ladies of the house. Jews, who were denied citizenship and therefore marginalized, graced portraits that were largely indistinguishable from their non-Jewish counterparts. Social and ethnic differences also marked the spaces behind the camera. The new profession of portrait photographer was open to those who could gather the necessary capital; formal training and permits were not required. Women and Jews, prohibited from joining many other professions, were disproportionately represented in the ranks of early photographers. Examined in their complexity, and with attention to their production, these seemingly standardized images reveal a great deal about how belonging and exclusion were figured by this new medium.
Learn more about Sarah L. Leonard and the Department of Critical Race, Gender and Cultural Studies.
---
Jessica Parr
Entangled Spaces, Entangled Places: Early Black Intellectuals and the Structures of Slavery in the Anglo-Atlantic World, 1760-1860
I am a historian of slavery and human rights, specializing in the intellectual history of the Early Modern Atlantic World. My current monograph project uses digital humanities methodology to explore the ways that Black antislavery activists navigated the legal, social, and cultural structures in the Anglo-Atlantic that were designed to codify and perpetuate slavery. My work for this fellowship will be on developing techniques for using text mining and geospatial analysis to define what I call "landscapes of print;" that is, metaphysical spaces tied to the printing and dissemination of materials related to Black emancipatory politics.
Learn more about Jessica Parr and the Department of History.
---
Laura Prieto
"At Least Two Races": Black and Filipina Women's Voting Rights Activism in the 1920s and 1930s
My research traces women's transnational work and activism, within and across the overseas empire that the United States established in the Caribbean and Pacific. My specific project for the Hazel Dick Leonard seminar draws comparisons and connections between Filipina and Black women's political activism in the early twentieth century U.S., putting women of color at the center of a revised history of suffrage. The project interrogates ideas about race and gender in the women's suffrage movement in the colonial Philippines, using the lens of the concurrent Black women's club movement on the mainland. Black and Filipina women had long sought voting rights in tandem, desiring to use suffrage in order to challenge American imperialism, racism, and gender inequality. Neither Black nor Filipina women experienced ratification of the Nineteenth Amendment as a victory, but rather had to redouble their strivings in the 1920s and 1930s. The rich existing scholarship on Black "race women" such as Ida B. Wells and Mary Church Terrell provides a valuable framework for better understanding Filipina contemporaries, such as Sofia Reyes de Veyra and Pilar Hidalgo Lim. Like Black women, Filipina women had to address the expectations of disenfranchised male allies, and to navigate difficult relationships with organizations dominated by white women. They used women's clubs, including the Asociación Feminista Filipina, and magazines, including the bilingual Woman's Outlook, to confront the politics of race, gender, and respectability that suffused voting rights discourse. They championed an ethos of "uplift" and carefully weighed the risks of militant action. At the same time, Filipina suffragists faced a distinct set of complex racial classifications under American colonialism. An integrative view of Black and Filipina women's suffrage activism illuminates the complicated racial and transnational dimensions of women's movements in ways that scholars have not yet considered.
Learn more about Laura Prieto and the Department of History.
---
Aaron Rosenthal
The Whole Damn System is Guilty as Hell": Black Lives Matter and the Politics of Visibility
The past five decades have been filled with simultaneous calls to shrink "big government" and establish "law and order" through punitive policing. These contradictory desires have fueled an epistemology of ignorance among white Americans in which the connection between the police and government is invisible. In contrast, the police became the most visible manifestation of government during this same time period for Black Americans. Yet the neoliberal logic underlying this growing visibility has allowed instances of police violence to be understood as a consequence of individual behavior rather than systemic policy choice. This project examines how the Black Lives Matter (BLM) social movement is altering these understandings through the politics of visibility. Using tactics like protests and social media campaigns, BLM raises the conspicuousness of police violence carried out against Black Americans, while ensuring that such violence is clearly connected to public policy and state authority. For whites, these tactics recover the connection between the police and government, helping to undo an epistemology of ignorance. Among Black Americans, BLM contextualizes police violence within a collective grievance and then provides a political voice to address that grievance. In analyzing this transformation, my project focuses on the particular effectiveness of the politics of visibility during the COVID-19 lockdown, arguing that this environment ensured more people would see highly publicized instances of police abuse. I suggest that the resulting shift in public opinion on issues of policing and race opens up new opportunities for criminal justice reform, but also express caution due to the limited timeframe during which this shift in opinion might endure.
Learn more about Aaron Rosenthal, the Department of Political Science and International Relations, and read an interview with Aaron Rosenthal.
---
Saher Selod, (along with Dr. Steve Garner, Inaash Islam)
21st Century Racism: The Racialization of Muslims Globally
There is a rise in the global racialization of Muslims. Muslims in the UK, the United States, China and India are experiencing increased discrimination, violence and surveillance that is perpetuated by the state and their fellow citizens. There has been a marked increase in hate crimes and violence against Muslims. The rhetoric against Muslims and Islam has become increasingly vitriolic in political and public discourse. The rise in right wing nationalists has been a popular trend in many European countries like France, England, Italy, and Poland since the early 2000s. The election of Donald Trump as the 45th American President reflects a similar trajectory in the United States. While campaigning for President, Donald Trump called for a ban on Muslims in the United States, promised to create a registry of Muslims, and even suggested forcing Muslims to wear an identification card. Although many liberals claimed these statements were unjust and racist, we argue that anti-Muslim racism has been socially accepted in the United States and Europe resulting in the rise in popularity of overtly Islamophobic politicians like Trump. In this book, we show how the United States' Global War on Terror has influenced policies toward Muslims elsewhere, like China and India. Muslims in India have been targeted through citizenship laws in response to a rise in nationalism. In China, Uyghur Muslims have been placed in detention camps. It is clear that the fear of terrorism and immigration and the Global War on Terror has played a major role in the acceleration of the racialization of Muslims across the world. This book uncovers the processes of the global racialization of Muslims.
Learn more about Saher Selod and the Department of Sociology and read an interview with Saher Selod.
---
Lena Zuckerwise
Prisons, Resistance, and Black Carceral Political Thought
My project is part of a longer book project that explores Black political rebellion in the captive spheres of slavery and incarceration in the United States. I argue that while the well-worn constructs of democratic theory are limited in their ability to fully address Black captive resistance, Hannah Arendt's concept of "world" is more capable of doing so.
I begin with an interrogation of the familiar rhetorical catchphrase "prison labor is slavery," a popular refrain in activist circles and also, as I suggest, productively misguided. Prison labor, though heavily exploited, is a fairly minimal part of the US economy, whereas slavery, as the historian Edward Baptist explains in The Half Has Never Been Told, enabled the transformation of the US from a small-scale agrarian economy into a global economic superpower (New York: Basic Books, 2014). Prisoners might have jobs, but bondpeople were, fundamentally, workers. At stake in the inaccuracy of the rallying cry is an understated account of the centrality of slavery to the US economy and a hampered ability to imagine alternatives to the police, prisons, and the carceral state as a whole. Instead, I propose that resistance, not labor, unites the lived political experiences of enslaved and incarcerated people. That said, the historical connections between slavery and the carceral state are vast and the second section of this chapter is dedicated to their explication. I trace the development of the prison from convict leasing in the decades following Emancipation to the rise of private prisons in the 1980s to underscore its rootedness in chattel slavery. The final section draws on the work of incarcerated intellectuals and activists in the 1960s and 70s to showcase what I call "Black carceral political thought." It is in this body of work by imprisoned authors that theories of Black captivity are most thoroughly articulated.
Learn more about Lena Zuckerwise, the Department of Political Science and International Relations, and read an interview with Lena Zuckerwise.
Recent Interviews with Faculty Fellows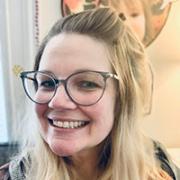 Taylor Eubanks
Hazel Dick Leonard Administrative Assistant