Department of Chemistry and Physics
In the Department of Chemistry & Physics we educate students to become research-empowered, global citizens, with the skills and experience to thrive in their careers.
Studying Chemistry & Physics at Simmons University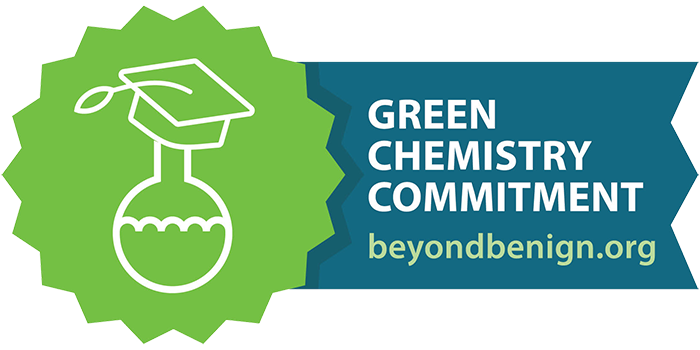 Our research-focused curriculum emphasizes hands-on preparation, starting freshman year, while courses and labs foster competence, teamwork, problem-solving, and interdisciplinary collaboration, in a women-centered learning environment.
As a small, teaching-focused university, we offer students extensive contact with modern equipment and abundant research opportunities. Our location in one of the world's highest-density scientific centers, and our department's strong reputation creates excellent training and internship opportunities.
Our department is at the forefront of "green chemistry," and is known for innovative approaches in science education. As part of Simmons University, we are proud to continue its historic mission in women-centered education and leadership, and to embody Simmons' vision of "transformative learning that links passion with lifelong purpose."
Programs in this department
Highlights of Chemistry & Physics at Simmons
Simmons is a nationally recognized leader in green chemistry, focused on reducing or eliminating hazardous substances in favor of safer, less wasteful alternatives.
Our faculty are known for their contributions to 21st century science education.
Students have published with faculty in leading publications such as Nature and Science, and present at regional and national conferences.
Graduates are pursing many exciting career and educational paths. In a recent survey, 30% of respondents held industrial or clinical research positions, 34% had completed or were enrolled in medical or professional schools, and 16% were completing doctorates.
At Simmons we have more graduates in chemistry, biochemistry, and physics majors than students who declare those majors at the beginning, which is the opposite of what one sees at most institutions.

- Rich Gurney, Professor of Chemistry & Physics and Department Chair
A research-centered curriculum to empower future scientists
Simmons is making major investments in our campus to provide students with optimized spaces for interdisciplinary teaching, research, and collaborative learning in the sciences.
Research experiences include the Build-Your-Science-Toolkit Program, Simmons Mentored Assistantships in Research Training, and senior capstone projects. Student research at Simmons reflects a high level of innovative, independent work and intellectual rigor unusual for undergraduate programs.
In the Engineering 3+2 dual-degree program, launching in Fall 2021, students complete 3 years at Simmons, followed by two at Columbia University, to earn a B.S. from Simmons and a B.S. in engineering from Columbia.
Recent internship sites include Novartis Institute of Biomedical Research, Broad Institute, Harvard Institutes of Medicine, and Warner-Babcock Institute for Green Chemistry, as well as internships and fellowships at Harvard, MIT, and CalTech.
Undergraduates help maintain all research instruments and serve as Instrumental Teaching Assistants to underclass women.
Careers
Our graduates are in high demand with employers, and are regularly accepted into competitive graduate and research positions, including Cornell, Boston University School of Medicine, and the Broad Institute (Harvard/MIT). Alumni careers include: head of a federal laboratory, Navy flight surgeon, police forensic chemist, and director of an international biotech research institute.
Faculty highlights
11 full-time faculty, distinguished for their teaching, mentoring, and innovative research.
Faculty research includes: electron and scanning probe microscopy, organic photovoltaics; signal processing, analysis and simulation, ultrasound; environmental analytical chemistry; ultrasound for biomedical imaging, sensing, and therapy; systems and synthetic biology approaches in viral biology; organic synthesis and methodology, green polymer chemistry, asymmetric synthesis; organic materials and spectral interpretation, green chemistry, bioinspired polymeric materials; genome engineering, science of teaching and learning, healthcare management in public-private partnerships; nanochemistry, molecular imaging for early detection and targeted drug-delivery; biophysics, biomedical engineering, nanotechnology, and neuroscience; semiconductor photocatalysis, inorganic and hydrothermal syntheses, reaction kinetics.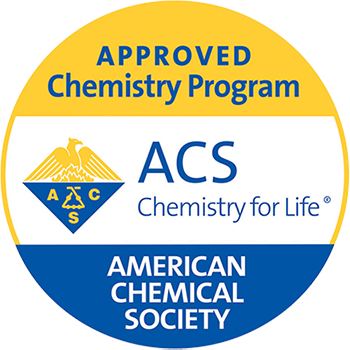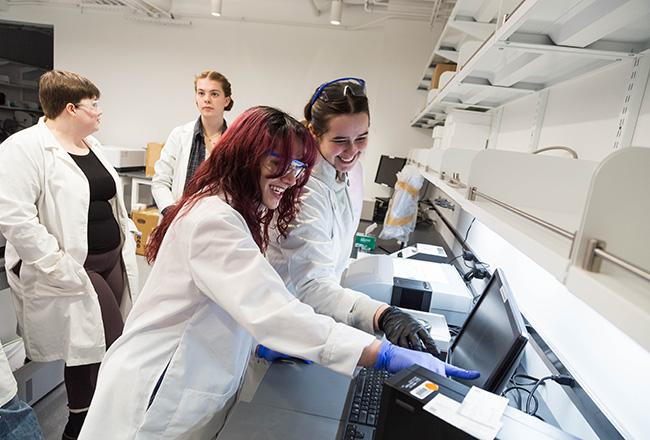 Meet Dean Sharp-McHenry
"My vision for CNBHS is to create a collaborative culture of inclusive excellence that fosters inquisitive inquiry among science and health professionals which ignites intellectual curiosity focused on solving problems through research, education, and innovation." Learn more about Dr. Lepaine Sharp-McHenry, Dean of the College of Natural, Behavioral, and Health Sciences.
Meet the Dean