Shreya Bhattacharyya
Associate Teaching Professor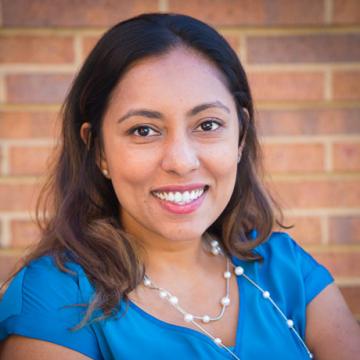 License/Certifications:
About Me
Shreya Bhattacharyya (Dr. B) is an Assistant Teaching Professor at Simmons University where she teaches General Chemistry and Analytical Chemistry. Her research background focused on analytical chemistry and microscopy at the nanoscale-using electron microscopes and atomic force microscopes. Her current research work focuses on food spoilage and studying the complex cannabinoid system. Her pedagogical research focus is on belonging and how it affects student performance and well-being in STEM. Shreya is also a PLAN advisor and the faculty advisor for the ACS student's chapter and is actively involved in science outreach. She is a member of the 3+2 engineering committee at Simmons University.
When Dr. B is not teaching or studying chemistry, she enjoys spending time with her family. She coaches preschool soccer, likes running, hot yoga and lifting weights. She enjoying hiking and skiing as well. She is passionate about energy conservation, environmental pollutants and clean energy sources.
What I Teach
CHEM 111 (Lecture and Labs): General Chemistry (Inorganic) 
CHEM 216 (Lecture and Labs): Quantitative Analysis (General Chemistry II)
CHEM/PHYS 310: Imaging of Materials 
CHEM 355: Senior Thesis
Research/Special Projects
Surface coatings and edible macromolecular self assembly in the context of preventing food spoilage, surface analysis using spanning probe microscopy, particle and surface analysis using electron microscopy, quantification, purification and analysis of the cannabinoid system and its components using chromatography and spectroscopy.