Campus & Community
Honoring 50 Years of the Park Science Center and Celebrating a New Era at Simmons University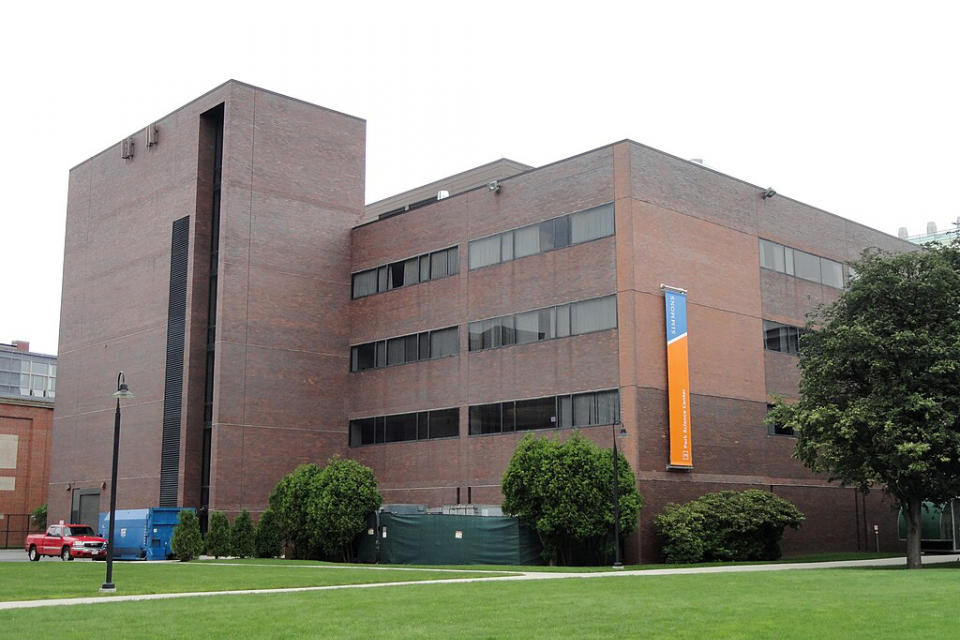 At the time it was built in the early 1970's, the Park Science building served as a symbol of progress and achievement in women's-centered education. It challenged gender norms and societal expectations while promoting inclusivity and diversity in academia. As the demolition of this storied building takes place to pave the way for a new Living and Learning Center, it is important to recognize the history and impact the Park Science building has had on empowering women in STEM fields, as well as its significant place in Simmons history.
Previous Simmons University President William E Park (1955-1970) began the pre-planning of the Park Science building in the 1950's, a time when women's education defied traditional expectations for women's roles. The Science Center's construction progressed during the 1960s, a time of societal change and social justice movements. President Park was awarded grants by the National Science Foundation grant and the James Flack Norris Fund, and the Park Science building officially opened in the summer of 1972 – housing Biology, Chemistry, Physics, Psychology, Mathematics, and more. Simmons University officially named the new science building the Park Science Center on April 10, 1974.
Despite its numerous positive features, including being fully handicap accessible (not common in 1972) and housing a Science Library that served as a meeting place for STEM faculty, the Park Science Center also faced some challenges. The heating and ventilation system did not perform optimally, necessitating frequent adjustments to ensure a comfortable working environment. Despite these hurdles, the building's design succeeded in fostering an open and collaborative atmosphere among the STEM community, as chairs of different departments were provided with pass keys, encouraging interactions and shared spaces.
Over the years, advancements in technology brought significant changes, such as the introduction of computers and dedicated computer classrooms. Through its evolution, the Park Science Center has played an integral role in fostering collaboration, innovation, and scholarly achievement within STEM at Simmons University.
Emeritus Professor in Chemistry, Dr. Peter Bowers came to Simmons University in 1968 when the Chemistry department was still spread out around the Main college building, with limited space. The Park Science Center gave the Chemistry and Physics Department their own floor. Dr. Bowers, who retired in 2002, described the opening of the Park Science Center as a "manna from heaven." Dr. Bowers mentions how Emeritus Professor Len Soltzberg was known as "Mr. Computer" as he introduced computer usage to the department, a transformation that began around the opening of the Science Center.
Stacey Pazar Huth '87 retains a closer connection with the building, as her father, Emmanuel Pazar, was the general superintendent of construction when it was built. Huth recounts that her father requested the excavators stop many times when building the science center so that the old medicinal bottles could be saved. Her family remains in possession of these medicinal bottles to this day. As the demolition of the Park Science commences, Stacey and her family plan to save bricks from the building to finish a fireplace started by her father Emmanuel Pazar before his passing in 1979. Preserving these bricks will not only honor her father's memory but also serve as a tangible reminder of the Park Science Center's enduring impact on their lives and family history.
As Simmons University embarked on the One Simmons project and the redevelopment of the Park Science Center, a resounding commitment to sustainability echoed through each phase of the project. In alignment with the City of Boston's dedication to eco-conscious practices, the university initiated a comprehensive sustainability plan, ensuring that the demolition process left a positive footprint. In June of 2021, Elkus Manfredi Architects inquired about participating in the City of Boston's Deconstruction Initiative, which marked the inception of a two-year long collaboration among Simmons University staff, Elkus Manfredi Architects, the City of Boston, Skanska, and RecyclingWorks.
In May 2022, Simmons began asset removal. In September 2022, RecyclingWorks, Elkus Manfredi Architects, the City of Boston, RecyclingWorks, and the Carbon Leadership Forum documented assets and created a Waste Management Plan. In Oct-Nov 2022, reuse organizations proposed reclamation. By Jan 2023, approved organizations offered no-cost services, volunteers aided removal and nonprofits, educators, and artists extracted key assets. By upcycling these resources, these organizations played a crucial role in ensuring that reusable items found new homes and purposes, aligning with the sustainability goals of the Park Science Center demolition project.
This concerted effort yielded remarkable results. Over 12.2 tons of diverse materials were recovered, including more than 125 furniture pieces, lab tables, chairs, stools, cabinetry, and equipment such as microscopes and computer tables. Additionally, the project donated 300 pounds of glassware, encompassing beakers, test tubes, flasks, specimen containers, and petri dishes.
As part of its sustainable demolition efforts, Simmons University, in collaboration with Skanska, aimed to achieve Leadership in Energy and Environmental Design (LEED) certification and set a target diversion rate of 75% for construction and demolition waste. While substances like asbestos, due to their toxic nature, couldn't be recycled, fluorescent lamps, mercury thermostats, air conditioners, and smoke detectors were carefully diverted from landfills to recycling facilities. This green demolition project serves as an inspiring example of how a conscientious approach to demolition can not only reduce environmental impact but also yield substantial benefits for the community and institutions alike.
Today, we celebrate the legacy of the Park Science building at Simmons University, which has challenged societal norms and fostered inclusivity in STEM fields. President Park's vision for modern scientific learning for women paved the way for Simmons to nurture excellence in Biology, Chemistry, Physics, and Mathematics. The Park Science Center's journey, from adversity to empowerment, reflected progress and a commitment to a brighter future in women's STEM education and environmental stewardship.
This important legacy continues to be felt today under the leadership of President Lynn Perry Wooten. Simmons students now enjoy a new, state-of-the-art health sciences center and library, which opened in 2022. The new science space features a 30-bed simulation center, world class learning labs, and innovative technologies. It reflects the strategic direction of Simmons and is providing new opportunities for student learning and advancement in the STEM and health professions. More than 55 percent of Simmons students are currently studying in these fields, a powerful testament to Simmons' longstanding commitment to leadership in the health and STEM professions.