Jumpstart advances equitable learning outcomes for young children in underserved communities by recruiting and supporting caring adults to deliver high-quality programming to children and drive systems change through teaching, advocacy, and leadership. Simmons students serve preschool classrooms in the surrounding Boston neighborhoods in teams to support children's language, literacy, and social-emotional development. Hear more about Jumpstart through the words of Simmons students, teachers, and families.
You can learn more about Jumpstart (and apply online) by visiting the Jumpstart website.
Jumpstart at Simmons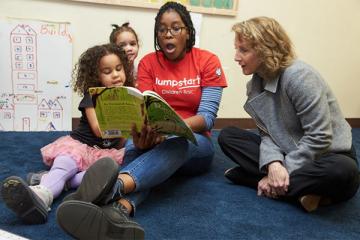 Jumpstart Simmons is an affiliate partner program of Jumpstart for Young Children Inc.  While the partnership began in 1995, the official "Jumpstart Simmons" program launched in 2004 giving Simmons the ability to hire a full-time staff member to manage the program. Simmons students are supported throughout the entirety of their service, including providing comprehensive training, reflection, and coaching throughout the year. Members also develop key skills in professional areas of leadership, teamwork, relationship building, time management, and awareness of pressing social justice issues.
At Simmons, our AmeriCorps members come from a variety of disciplines and commit to serving 300 hours throughout the academic year. Students are grouped into teams to work within an assigned JP partner preschool classroom; during classroom time, members implement Jumpstart's oral language strategies through small group readings and engaging in activities and explorations tied to a larger theme.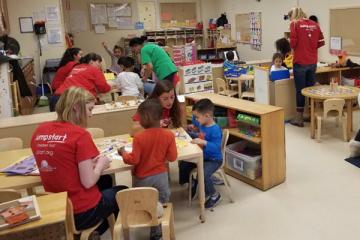 By working with the same team & preschoolers throughout the entire academic year, Simmons students build relationships and to see the transformative impact they are having on Boston's earliest learners as well as themselves.
In addition to possibly earning Federal Work Study or a monetary stipend from AmeriCorps, students can potentially earn course credit through their Jumpstart service. We can be a service site for community-based learning requirements (such as service-learning, field placements, internships, Capstone projects, or independent studies). Jumpstart also counts as experience to the Everyday Leadership Pathway.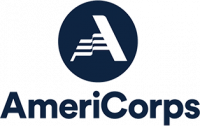 Jumpstart Simmons is a minimum-time AmeriCorps program. All students who complete the AmeriCorps term of service requirements (300 hours) will earn AmeriCorps post-service benefits including, an AmeriCorps Segal Education Award & the ability to apply for loan forbearance. Learn more about AmeriCorps - the federal agency for national service & volunteerism.
Learn more about Jumpstart contact [email protected].
Impact Reports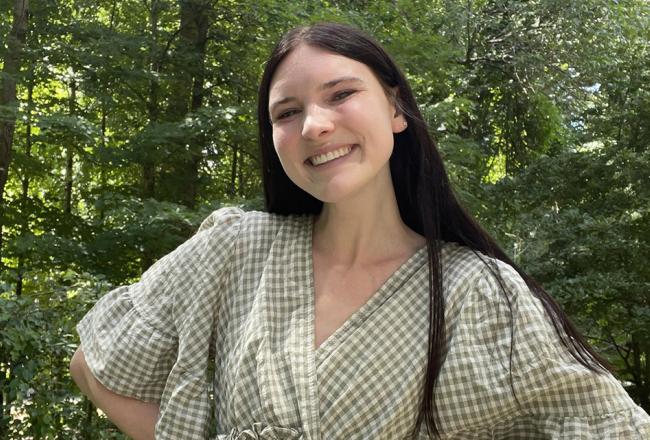 Evelyn Bernard '20 Inspires Young Students as Montessori School Teacher
Recent graduate Evelyn Bernard shares her experience teaching at a Montessori school, which introduces students to an ethical worldview at a young age
Read Article