Faculty & Staff Information
Working on Campus
We are implementing a phased return to campus to ensure the health and safety of our community, and to give employees time to adjust to changes around campus. We expect that employees will be able to return to in-person work safely and effectively. Some employees will continue to work remotely or in a hybrid format — depending upon business needs and managerial approval. Employees are encouraged to speak to their manager about what a return to campus looks like for their role and within their department.
Return to Work Phases
Phase 1
Starting in April 2021, as construction projects in various buildings were completed, employees have been invited to campus to unpack their offices, submit necessary work orders for their new spaces, and familiarize themselves with the exciting changes happening on campus.
Phase 2
June through August. Select departments will return to campus on July 1, and all departments will be able to return on August 1. Some departments may have a slightly different return to campus schedule based on the unique business needs of the department. In addition, the unpacking of offices and other spaces, the submission and completion of work orders, and the construction and renovation of spaces continues as we prepare for the fall.
Any faculty or staff visiting campus or returning to work in July should fill out the Campus Access Request Form to ensure that your space is available and accessible. This does not apply to anyone who has been working on campus since before July 1
Phase 3
September. In September, all campus-based students and faculty will have returned, and campus based operations will have resumed. September represents the final phase of a "full return to campus" with respect to operations. We are mindful of the "new normal," and are working to introduce more flexible operations and hybrid work across departments when possible and appropriate. Each department will determine the business needs and in-person service levels required to maintain robust and responsive operations.
Meetings
Meeting rooms will be available to reserve and faculty and staff will have access to in-person meetings, subject to the posted capacity of the rooms. Some meeting spaces have been upgraded with video-conferencing technology, and faculty and staff will be able to book these "Zoom Rooms" for hybrid online and in-person meetings.
Dining
Dining on campus will mostly return to normal operations. Meyers Cafe in Lefavour Hall will be closed due to construction. All dining locations are adding mobile ordering options to reduce lines and congestion.
Commuting to Campus/ Parking
Employees can continue to purchase parking passes, commuter rail passes, and local train and bus link passes through their Workday accounts. Employees who are not on campus every day, but still wish to park on campus, should consider the pay-as-you-go parking plan, as it will likely be more economical than a monthly pass.
Key Requests
If you are in a new office, your team's Operations Manager must fill out your Key Request Form at least three business days before your first day back on campus. If you do not, your key will not be ready when you arrive. We expect most employees to return in the first two weeks of August, and during that time, we will have a station in MCB for you to pick up your keys in the morning as well as new campus maps.
Department
Operations Manager
Advancement
Alex Edwards
CNBHS
Kaleena Seeley
COCIS
Nancy Hutchins and Joe Bratisch
CSSPP
Patrick Cunniffe
Enrollment Management
Arianna Magee
Facilities
Alva Cedeño
Finance
Alva Cedeño
General Counsel
Jenny Gil del Alcazar
HR
Pharadia Berret
IFILL
Donna Stewartson
Institute for Inclusive Leadership
Abby Bays
Library
Jason Wood
OCIE
Karene Alexander Thorne and Andy Kinney
President's Office
LaTanya Maxwell
Provost's Office
Wayne Malloy
Student Affairs
Myesha Neely
Technology
Yaqana Madyun
University Communications
Allie Morgan
 
Health and Safety
Masks
Masks will be required indoors, unless alone in a private office or while eating or drinking, until further notice. Masks are not required outdoors for fully vaccinated individuals.
Vaccine Requirement and Resources
We are requiring all campus-based employees be fully vaccinated by October 1, 2021. We will also require employees to record their vaccination status in Workday. Specific details and instructions on how to do this will be sent in an email communication by the end of August. If you are not yet vaccinated, you should aim to get your first shot by:
August 20: Moderna
August 27: Pfizer/BioNTech
September 17: Janssen/Johnson & Johnson
NOTE: People are considered fully vaccinated two weeks after a second dose in a two dose vaccine series or two weeks after a single dose vaccine.
The CDC website lists resources for finding and making a vaccine appointment.
Those with a medical condition or sincerely held religious beliefs that preclude them from getting vaccinated should consult with Human Resources at [email protected] to request an exemption. Exemption request forms can be found in the faculty/staff policy index by searching "exemption". Employees who secure an approved medical or religious exemption will be required to participate in weekly COVID-19 testing. Unvaccinated employees without an approved exemption will not be permitted on campus and must contact Human Resources. If you have other concerns about getting vaccinated, please contact Human Resources at [email protected].
Testing
After careful consideration and review of the latest public health guidance, weekly COVID-19 testing will be required of ALL faculty and staff who are on the Boston Simmons campus at least one day a week – regardless of vaccination status, until further notice. Compliance with Simmons testing protocols are critical to remain in good standing with full access to campus-based work, to ensure the health and safety of the campus community, and to continue to allow face-to-face experiences and a vibrant on-campus learning and working experience.
All faculty and staff will test in the Linda K. Paresky Center on the 3rd floor of the MCB on the Academic Campus and are required to utilize CoVerified to schedule their testing appointments, view test results, and track testing compliance. Staff who work primarily on the Residence Campus can test at the Alumnae Hall site. All employees participating in the testing program should log in to CoVerified through the mobile app or website to activate their account by September 1.
Testing Compliance
The Simmons testing protocols are vital as we continue to prioritize campus health, safety, and well-being. Missing your test during a week you are on campus will make you out of compliance, and repeated refusals to appear for testing may incur disciplinary measures. We are hoping to have our testing sites open late enough to cover people who take night classes, but faculty and staff who cannot make it to the testing site during regular hours can submit a negative test from another site to [email protected] to remain in compliance.
If you are going to be off campus for 2 weeks or more, you should set your status in CoVerified to "Remote." When you return to campus, your status will be "Restricted" and you will be required to test as soon as possible to get back into compliance.
If you go a full week (Monday through Friday) without testing, the following process will be triggered:
Compliance - Any employee who has not tested between Monday - Friday of any given week will receive a warning email the following Monday that they must report to the testing facility as soon as possible upon returning to campus to get tested and remain in compliance.
Second Notice - If an employee has not been tested by the end of day on Wednesday, HR will send a second and final warning to the employee and the employee's Manager/Dean and the employee will be asked to report to the testing facility by end of day Friday.
Third Notice/Restriction - If the employee fails to report to the testing facility by Friday, the employee, their Manager and VP/Dean will be informed that they cannot return until proof of a negative test or a note from the Academic Testing Site that they have been tested. If this prohibits them from doing their job or they are not approved to work fully remotely by their manager, they risk discipline up to and including termination.
Thank you for your cooperation on this extremely important initiative, which is vital to ensure a safe campus community this semester.
CoVerified
CoVerified is an application available for smartphones or through a web portal that allows Simmons community members to manage on-campus COVID-19 test appointments and results. Currently CoVerified is only available for students, faculty, and staff participating in regular on-campus testing.
Faculty and staff participating in regular testing at Alumnae Hall will receive an email asking them to set up a profile in the testing database. The CoVerified app can be downloaded from the App Store or coverified.us/download. A web version of CoVerified can be accessed at web.coverified.us. Testing participants should be able to log in to CoVerified using their Simmons credentials. Once successfully logged in, participants can use the Testing module to schedule testing appointments or the Reports module to view test results.
Instructions to download and use CoVerified can be found on the Technology website. Any questions about the CoVerified app should be directed to Simmons Health Center.
Contingent Workers
Contingent workers must have a 7-digit numerical Simmons ID number to properly use CoVerified. Contact HR to get the following forms which must be filled out and returned to HR to get the correct Simmons ID number:
Confidentiality Agreement
Temp & Contingent Info Form - Answer yes to "Will technology access to Simmons email and Network accounts be required?"
If an Employee Tests Positive
If an employee receives a positive test result they should immediately go home, begin isolation and consult with their doctor as needed. Employees are required to remain isolated for ten days from the positive test result and should not return to campus until the 10-day period has lapsed, and until they are free from fever or COVID symptoms for 24 hours without the use of medication. A negative COVID test will not be required to return to work. Once you test positive, you do not need to test again for 90 days.
Employees who test positive are required to notify their supervisor that they will not be able to come to campus during the duration of the isolation period. If an employee receives a positive test from an off-campus COVID testing site, it is their responsibility to also notify HR promptly of the positive test at the secure address [email protected] for tracking purposes.
If a faculty member tests positive, a COVID coordinator will send the faculty a letter to send to the class with instructions on how to react to potential exposure depending on their vaccination status. If the faculty member feels well and is asymptomatic, it is expected that they will continue to teach the class remotely if possible. If they cannot continue to teach, the faculty member should work with their dean and academic unit head to identify a substitute instructor. Canceling a class should be the last option, only invoked if no substitute or remote options can be arranged. This also applies if the faculty member is required to quarantine due to close contact or symptom presentation.
If the employee is not able to work while in isolation, they can use the COVID-19 leave or accrued sick time to continue salary payments.
Facility Upgrades
There have been many upgrades to campus facilities for increased health and safety. All HVAC systems across campus have been upgraded with CDC-recommended air filters and increased airflow from outside air. Portable air filtration units have been added to classrooms and high-traffic areas. Plexiglass shields have been installed at high-traffic service locations. Enhanced surface cleaning will continue, and hand sanitizer and sanitizing wipes will be available across campus.
Updated Travel Policy
In Spring 2020, Simmons restricted all travel due to the COVID-19 pandemic. Below are the most recent updates to COVID-19 restrictions on Simmons-sponsored travel. All Simmons-sponsored travel by faculty and staff is still subject to the Travel and Hospitality Policy.
Domestic Travel
Domestic travel by faculty and staff is no longer subject to health restrictions per CDC and public health guidelines. However, due to ongoing budgetary constraints, the FY22 budget may not include other funding sources for travel for faculty and staff and all travel must be paid for out of each unit's FY22 budget.
All travel must be approved by the unit head (President, Vice President, Dean, or Provost) with priority to travel that is needed in conjunction with student recruiting and for other revenue generating activities*. Faculty and staff may travel domestically for other purposes when approved by the unit head (President, Vice President, Dean, or Provost) and the funds for the travel are available in the unit's budget.
*Revenue-generating travel includes travel by the President and her designees, travel by Advancement staff, travel by Athletic staff and coaches, travel by Admissions/Enrollment staff, travel by staff and faculty in conjunction with applications for grant money, foundation gifts or activities that can or may generate gifts and funding for the University.
International Travel
International travel by faculty and staff is not permitted through at least the fall semester, we will continue to evaluate this decision as more information on international travel safety becomes available. This decision reflects both health/safety concerns as well as budgetary limitations.
---
Navigating Campus Updates and Construction
Although classes and university operations were remote the past year, campus has been full of activity as we have renovated spaces in all academic buildings and begun the process of constructing new library, labs, and classroom facilities. Parts of the Academic Campus will be an active construction zone throughout the fall, so all employees should be aware of changes to campus access routes and building closures.
The entrance to Lefavour Hall from Avenue Louis Pasteur will only allow access to the first floor of Lefavour, containing the Center for Student Success and classrooms. There is no quad access from Lefavour. You can enter the quad between Lefavour and Park Science, but note that the sidewalk entrance has moved. The entrance to the Main College Building from The Fenway will be under construction through the summer and will open in early Fall 2021 and will now be ADA compliant with a new ramp & stairs.
New Room Numbering
As part of the construction, room numbers and building designations have changed. The buildings on the Academic Campus have all been assigned letters, and the spaces inside have been re-numbered (e.g., A-XXX for Main College Building, B-XXX for One Palace Road, and C-XXX for the Management and Academic Building, etc.). The distinction between east, west, and center wings in the Main College Building have been removed and the numbering now runs across the entire building.
Updated floor plans will be displayed on each floor and each room will have updated signage to reflect the new numbering. 25Live will temporarily have both the old and the new names and numbers for clarity.
Latest Campus Map
View our latest campus map to see current construction zones, access locations, as well as new construction highlights and office locations.
Latest Campus Map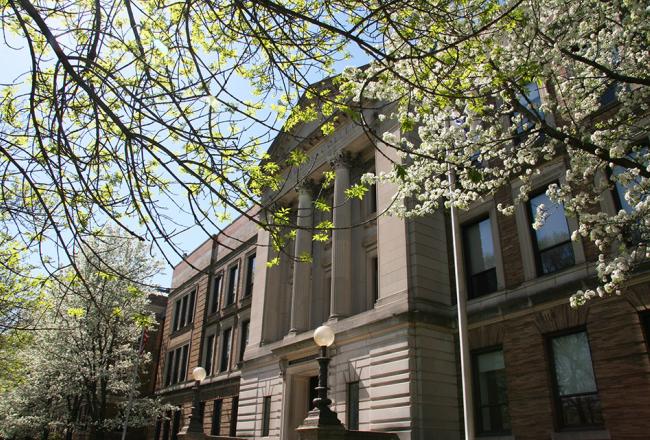 Frequently Asked Questions
Find answers to your questions related to COVID-19, campus access and protocols, and remote work.
Learn More