Friday, May 20, 2022
Simmons' 117th May Commencement will be held on May 20, 2022 in three separate ceremonies: one Undergraduate ceremony and two Graduate ceremonies. The ceremonies will take place at the Leader Bank Pavilion in Boston's Seaport district. Learn more about our Commencement speakers and honorary degree recipients.
Masks
The health and safety of our community is our top priority. Given the rise in COVID cases in Boston and throughout the area, Simmons strongly recommends that all Commencement attendees wear a mask. A well-fitting KN95 or N95 mask or a medical/surgical mask with a close-fitting cloth mask over it is recommended.
Programs
Starting this year, we are making the Simmons Commencement program environmentally friendly by offering the full listing of graduate names in a digital format, available from this website on the day of the event.
Invitations
On Monday, April 25 all eligible students were emailed an invitation to march at the May 20, 2022 Commencement ceremony. March and May graduates should check their Simmons email. All other graduating months should check their personal email accounts. Email the Provost's office with any questions.
Planning to Graduate?
All students planning to graduate during the 2021-22 academic year, should review graduation requirements and timelines for undergraduates and for graduate students.
We've also provided information for graduating students that you'll need to prepare for the big day.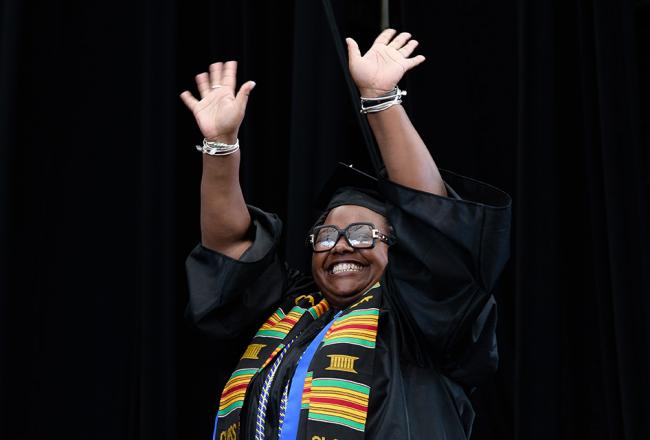 Undergraduate Ceremony
Our Undergraduate Ceremony will take place at 9:00 a.m. on May 20, 2022.
Undergraduate
Graduate Ceremonies
Our Graduate Ceremonies will be held on Friday, May 20, 2022 in two separate ceremonies. A Doctoral Hooding Ceremony will take place on Thursday, May 19.