Commencement
After much consideration and deliberation, we've made the decision to cancel our in-person commencement exercises planned for May 15 – and move forward with a unique, memorable and meaningful virtual experience for our graduating undergraduate and graduate students. Learn more »
Important Update on Commencement
After much consideration and deliberation, we've made the painful but necessary decision to cancel our in-person commencement exercises planned for May 15 – in keeping with city and state authorities who have prohibited all large gatherings for the foreseeable future.
We are working hard to create a unique, memorable and meaningful virtual experience for our graduating undergraduate and graduate students – something we do routinely with commencement exercises for our online graduate programs.
We want to thank students and families for their flexibility and patience, and we will share additional commencement details in the coming days. In addition, we hope to invite the class of 2020 back together, in person, at a later date after the crisis has passed.
Graduate Virtual Commencement
Simmons holds Virtual Commencement ceremonies for our online graduates!
Learn more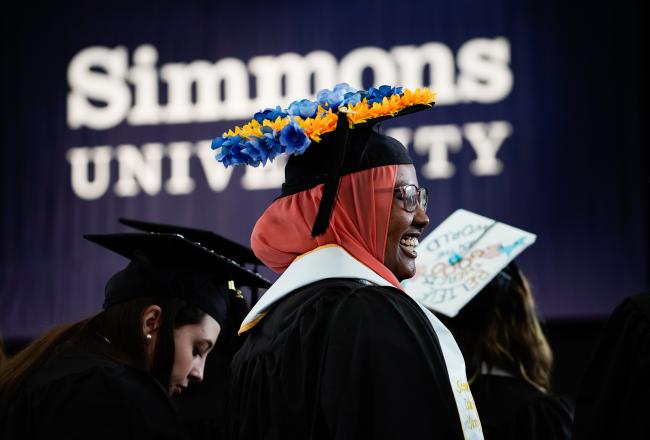 Regalia
Regalia for Bachelors and Master's degree candidates is available for sale online until May 1st. Doctoral regalia can be rented or purchased online according to the listed deadlines. 
Regalia