Campus & Community
Year in Review: The Best of 2019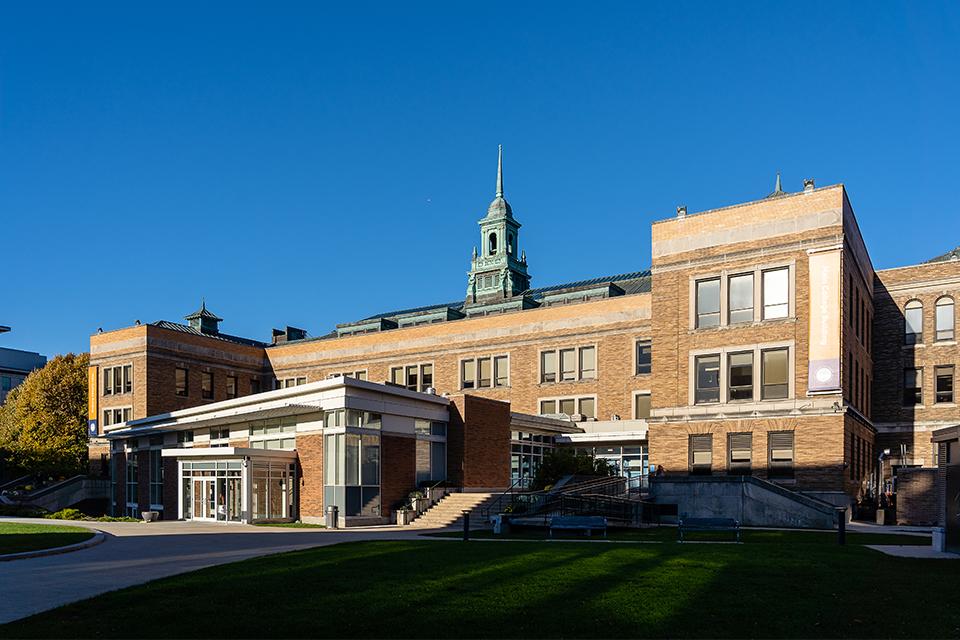 Take a look back at Simmons' top 10 moments and stories from 2019!
2019 was another monumental year for Simmons! From campus upgrades to announcing new faculty appointments — it's been a busy year. In celebration of the end of the year, we're taking a look at our biggest moments and stories from 2019.
1. Simmons Appoints Dean of the College of Natural, Behavioral, and Health Sciences
Following a robust search process, Simmons appointed Dr. Lepaine Sharp-McHenry as Dean of the College of Natural, Behavioral, and Health Sciences (CNBHS). She officially began her tenure as Dean on September 1, 2019, replacing Dr. Judy Beal, who retired from Simmons after 35 years.
Key quote: "I look forward to building on the institutional mission of offering exemplary teaching, fostering interdisciplinary studies, and providing a practical, career-focused educational experience for its students." — Dr. Sharp-McHenry
2. By the Numbers: Meet the Class of 2023
We were so excited to welcome the Class of 2023 to Simmons! Our Woman on Campus, Maralee Mitchell '20 introduced us to a few of these remarkable first years, and we compiled some interesting facts about our newest class.
Key quote: "My goal is to go to law school and work for the ACLU and the HRC. I often joke that in 2036 I'm going to run for president, but who knows!" — Abigayle Post '23
3. Simmons University Appoints Senior Vice President for Student Engagement and Enrollment Management
Lynette Cook-Francis began her tenure as Senior Vice President for Student Engagement and Enrollment Management on August 23. Cook-Francis now leads all enrollment and student life activities, with a particular emphasis on establishing partnerships and programs that enhance diversity and inclusion, improve the overall student experience, and best prepare our graduates for the complex modern workforce.
Key quote: "I look forward to contributing to a student-centered environment that supports the personal, social, and academic development of our students and prepares them for successful careers and lives." — Lynette Cook-Francis
4. School of Social Work Awarded $1.95 Million Federal Grant in Fight Against Opioid Use Disorders
Thanks to this new grant from the Health Services Resources and Services Administration, the School of Social Work will extend its ongoing work in training clinical social workers in substance use disorder treatment for individuals and families in Massachusetts.
Key quote: "Simmons University is proud of our efforts to help secure necessary funds for training health care professionals, including social workers, who remain on the front lines of Massachusetts' battle against opioid disorders and who play a critical role in stemming the tide in the opioid crisis." — Dean Stephanie Berzin
5. Professor Gary Bailey Elevated to Assistant Dean for Community Engagement and Social Justice
On July 1, Professor Gary Bailey began his new role as Assistant Dean for Community Engagement and Social Justice. Bailey has taught in the Simmons School of Social Work since 1999 and has immersed himself in the on- and off-campus community ever since.
Key quote: "Gary's extensive experience in the community reflects his unquestioned leadership in the area of race and justice. Through his work and his intellect, he consistently engages students, faculty, and community members towards collaboration to solve today's most challenging problems. He is uniquely qualified for this key role in furthering the mission of Simmons." — Dean Stephanie Berzin
6. Simmons University Launches Joint Engineering Degree Program with Columbia University
This month we proudly announced the launch of a new dual degree program in engineering with Columbia University in New York City! Successful graduates earn a Bachelor of Science from Simmons and a Bachelor of Science in Engineering from Columbia.
Key quote: "By coupling the intimate, supportive, rigorous academic environment at Simmons with the dynamic, world class offerings of Columbia, we believe this program truly offers the very best of both worlds to students." — Dr. Mariam Ismail
7. Campus Upgrades: A Step Forward
This May, we filed with the City of Boston our Institutional Master Plan Notification Form/Project Notification Form (IMPNF/PNF), which presents a 10-year plan for our Residence and Academic campuses. This plan is the result of many years of studies and analysis — we're excited to take this important step forward as we seek to fortify our campus for the next century of scholars!
Key quote: "It is an exciting time to be at Simmons, and we welcome this opportunity to modernize our facilities and meet the needs of future Simmons students for our next 120 years." — Helen G. Drinan, President of Simmons University
8. Changing the Narrative of Slavery with Cheyney McKnight '11
As a living historian and owner of Not Your Momma's History, Cheyney's typical uniform is that of an 18th century enslaved woman. We met with Cheyney to discuss her work and her mission to change the narrative of slavery through authentic historical interpretations.
Key quote: "These narratives are powerful and bring a more nuanced view of our history. If you see a human being and not a caricature, it changes how people see racism and how they interact with society." — Cheyney McKnight '11
9. Preparing Librarians to Respond to Patrons in Crisis
Assistant Professors Lydia Ogden of the School of Social Work and Rachel Williams of the School of Library and Information Science have collaborated on a project to support the mental health needs of library patrons, and prepare the staff who serve them.
Key quote: "I think there is a lot of opportunity to share critical knowledge and skills generated by social work, which would greatly benefit LIS students and public library staff." — Assistant Professor Lydia Ogden
10. Gender Bending Fashion: Matisse DuPont '19MA and Professor Jo Trigilio Contribute to MFA Exhibit
This year the Museum of Fine Arts created a first of its kind exhibit: Gender Bending Fashion. We caught up with gender and cultural studies student, Matisse DuPont '19MA and Professor Jo Trigilio who both served as consultants on the interpretation team! They told us about the exhibit and their involvement with its development.
Key quote: "I applaud the MFA for taking the time to provide an educational context for the exhibit... The glossary provides definitions of terms associated with gender variance and sexual orientation. The glossary, along with text, create an educational opportunity for the multitude of visitors who pass through the MFA every day, many of whom would not be exposed this information otherwise." — Jo Trigilio