Announcement
Professor Gary Bailey Elevated to Assistant Dean for Community Engagement and Social Justice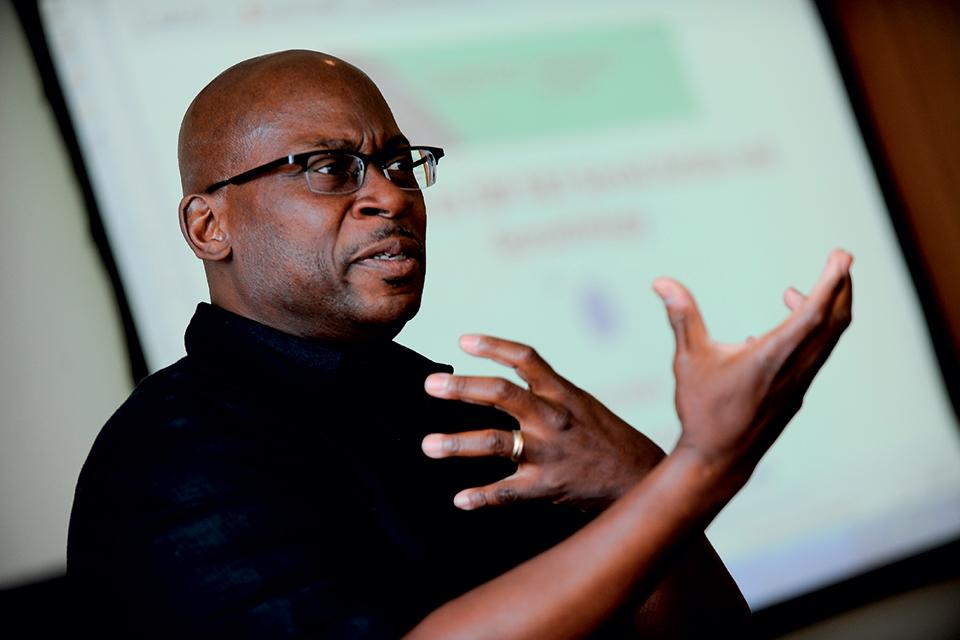 As a preeminent leader in the field of social work, Professor Bailey will further the mission of Simmons University in his new role. 
Simmons University School of Social Work Professor of Practice Gary Bailey, DHL, MSW, ACSW, has been promoted to Assistant Dean for Community Engagement and Social Justice in the College of Social Science, Public Policy, and Practice. He started his new role on July 1, 2019.
Bailey has taught in the Simmons School of Social Work since 1999 and has immersed himself in the on- and off-campus community ever since. Among his many on-campus activities, Bailey directs the Urban Leadership Certificate in Clinical Social Work and coordinated the Dynamics of Racism and Oppression sequence. He chaired the Simmons University Black Administrators, Faculty, and Staff Council and the School of Social Work Awards Committee; was a member of the Simmons Diversity and Inclusion Advisory Council; co-chaired the Simmons College Initiative on Human Rights and Social Justice; and was a member of the Simmons Faculty Senate.
In 2018, Bailey was named to the GK100 list of Greater Boston's Most Influential People of Color. In 2017, he was appointed by Massachusetts Governor Charlie Baker to the Massachusetts LGBT-Q Youth Commission, and in 2009 he was appointed by Massachusetts Governor Deval Patrick to the board of the Massachusetts Educational Financing Authority (MEFA). He was reappointed in 2013 for a term ending in 2019. At MEFA, he chairs the Audit Committee and is a member of the Executive Committee.
In 2010, Bailey was elected President of the International Federation of Social Workers, representing more than 90 countries and 746,000 social workers globally, becoming the first person of color to hold this post.
Bailey was named Social Worker of the Year by both the national and Massachusetts National Association of Social Workers (NASW) in 1998. He was named an NASW Social Work Pioneer in 2005, the youngest person to have received the distinction, and served as NASW's national president from 2003-2005.
"Gary's extensive experience in the community reflects his unquestioned leadership in the area of race and justice," said Dean of the College of Social Science, Public Policy, and Practice, Stephanie Berzin. "Through his work and his intellect, he consistently engages students, faculty, and community members towards collaboration to solve today's most challenging problems. He is uniquely qualified for this key role in furthering the mission of Simmons."