Announcement
School of Social Work Awarded $1.95 Million Federal Grant in Fight Against Opioid Use Disorders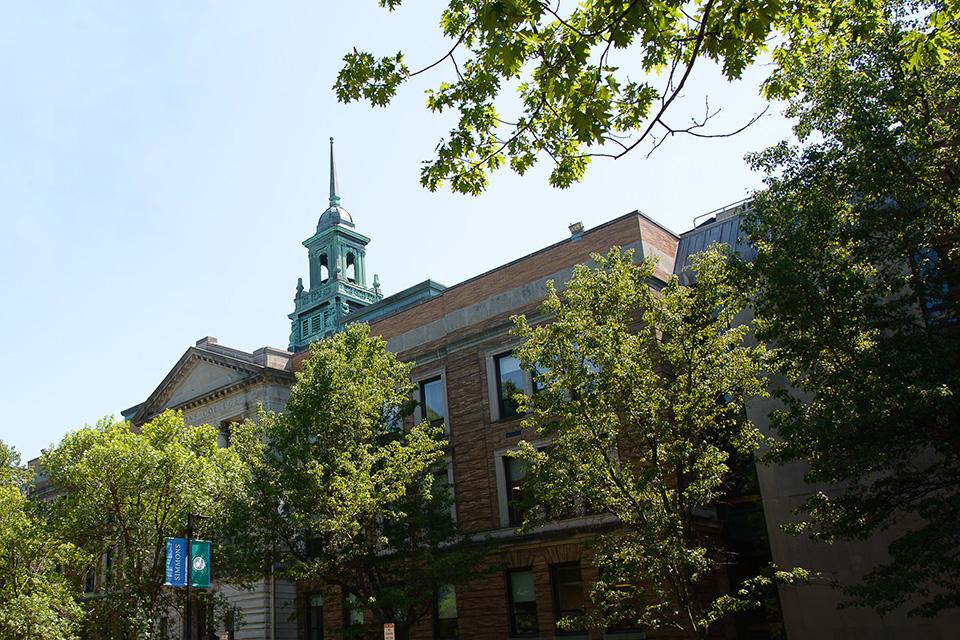 Simmons University's School of Social Work will extend its ongoing work in training clinical social workers in substance use disorder treatment for individuals and families in Massachusetts.
Across counties in Massachusetts, the rate of opioid overdose deaths exceed the national average and several areas of Massachusetts face a shortage of health professionals who are trained in providing quality, evidence-informed substance use prevention and treatment services. While the opioid crisis that has roiled Massachusetts and the nation has shown signs of stabilizing among some demographic groups, recent trends show an increase in opioid-related deaths among non-Hispanic Black populations. Working with individuals and families affected by opioid and other substance use disorders remains a daily occurrence for many clinical social workers. Now, thanks to a new $1.95 million grant from the Health Services Resources and Services administration, Simmons University's School of Social Work will extend its ongoing work in training clinical social workers in substance use disorder treatment for individuals and families in Massachusetts.
"For the past three years, the number of opioid-related overdose deaths in Massachusetts has hovered near or above 500 per month," said Dr. Stephanie Berzin, Dean of the College of Social Sciences, Policy, and Practice. "Simmons University is proud of our efforts to help secure necessary funds for training health care professionals, including social workers, who remain on the front lines of Massachusetts' battle against opioid disorders and who play a critical role in stemming the tide in the opioid crisis."
Home to the oldest school of clinical social work in the country, Simmons has more than a century of experience educating social workers who are equipped to serve urban, suburban, and rural communities and assist individuals and families in working to overcome the barriers to health and well-being they face every day.
"Simmons is the longest-standing school of social work in America, and throughout our 115 years we have evolved its curricula to meet modern-day workforce and societal needs," said Suzanne Sankar, Professor of Practice of Social Work and Associate Director of the Simmons School of Social Work. "Responding to today's opioid crisis with practical coursework and hands-on clinical experience is another example of how we fulfill our mission of preparing our graduates for the challenges they will face in their future professions."
A central part of a Simmons Social Work education is in providing hands-on training to students, often through both clinical experiences in the field and in classroom simulations, which help them hone the skills needed to effectively serve clients. Simmons offers the only MSW program in Massachusetts with a required course in substance use disorders for all its first year students. In addition, the Simmons MSW is the only program in New England to use hired actors as part of its innovative Simmons Clinical Simulation curriculum.
The grant, which is the second Federal grant that Simmons has received in its work to combat the opioid crisis, is intended to address a workforce gap and shortage of behavioral health practitioners nationwide. The money will help fund the Simmons Integrated Mental Health Primary Care and Clinical Training (SIMPACT) program and its work with its partner health centers to expand and strengthen their substance use disorder training infrastructure with the goal of training more doctors, nurses, social workers, and psychologists and develop their skills to comprehensively treat substance use disorders. The centers are: Codman Square Health Center in Dorchester, South End Community Health Center in Boston, Outer Cape Health Services in Harwich Port, and Family Health Center of Worcester.
The grant will also provide $10,000 stipends to 18 additional Simmons Master of Social Work students so they and their supervisors will receive advanced training in evidenced-based substance use disorder treatment.
"This grant and the SIMPACT program it will support are critical pieces in solving the opioid puzzle in Massachusetts and beyond," said Assistant Professor of Social Work Jennifer Putney, who led Simmons' grant application. "There remains a critical need for skilled clinical social workers who can play a role in the public health response and treatment of these disorders. This grant represents Simmons' commitment to training the clinical social workers who will be on the front lines of this fight in Massachusetts communities for years to come."
Founded in 1904 as a joint venture with Harvard University, Simmons University's School of Social Work is the oldest school of social work in the nation. Simmons' Social Work programs are ranked in the top 40 nationally by the U.S. News and World Report. Options include full-time or part-time, extended or accelerated, and online MSW programs. Simmons also offers undergraduate and Ph.D. programs, as well as a 3+1 BSW/MSW programs.