Campus & Community
Simmons Welcomes Students with On Campus Events For All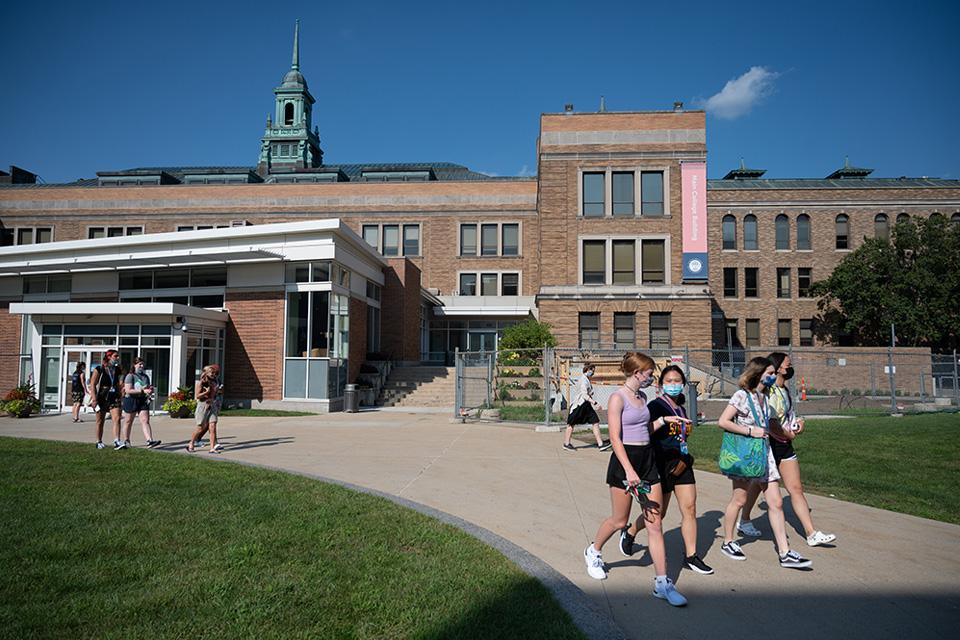 Simmons University will celebrate the start of the Fall 2022 semester with a variety of events, from First Bite Orientation, September 3-4, for first-year students to Welcome Week events, September 6-10, for all students. Here is some advice from members of Simmons staff along with a sneak peek at upcoming events.
"Coming back to campus is a great opportunity to get outside your comfort zone and expand your community and connections, which will both enrich your college experience and extend beyond it. Go to that talk or event you are thinking about, check out that club or student organization, explore an area of the city you haven't been to yet. You won't regret it!"
  –Meghan Doran, Director of the Center for Community Engagement
"Set aside time each day to unplug. Be present in the moment and put your phone/laptop aside. No texting, no answering emails. Schedule a walk with friends, take a [email protected] class, or join the #FINfrenzy and cheer on the Sharks. Prioritize this time to form strong connections to your classmates, make new friends and build the support network that will grow with you throughout the semester!"
  –Erica Schuling, Director of Athletics and Recreation
"Find at least one staff or faculty to make a connection with and allow them to be a lifeline when you're in a jam. Whether you have a question and don't know who to ask or you are navigating a complex issue and are not sure what the next steps are, that's why we are here!"
  –Matoaka Kipp, Director of the REEF Support Center
"If something is working for you, bring it with you to college! If you have a form of exercise that you enjoy, a practice such as yoga or meditation, medication that you take, a good habit like getting up early to get a jump on the day - anything that works well for you now - keep doing it here! College is a fresh start and a chance to meet new people and try new things, but you shouldn't abandon all of the good things you have been doing. Maintaining those good practices and habits will help you to maximize all of the new opportunities."
  –Rae-Anne Butera, Assistant Vice President and Dean of Student Experience
"Breathe deeply, get enough sleep, connect with others, try something new, be gentle with yourself, stay engaged, and seek support if needed. There are many resources on campus, including the Counseling Center, which will be open the first week of September."
  –Sherri Ettinger, PhD, LICSW, Director of the Counseling Center
What to expect at First Bite Orientation, September 3-4:
Student Success & Support Panel, presented by the Office of Accessibility Services, Simmons Technology, the Center for Global Education, Health, Wellness and Recreation, Simmons Health Services, REEF Support Center, and the Career Education Center.
Student Engagement Panel, presented by Athletics, Simmons Community Engagement, Colleges of the Fenway, Residence Life, and leaders of student clubs and organizations.
Safety in the City, presented by Public Safety.
Title IX & Sexual Harassment, presented by Sara Simberg, Assistant General Counsel
Prioritizing Wellness and Self-Care, presented by our Wellness Ambassadors
Learn about the Community Read, PLAN your core courses, and prepare for your first-year seminar course, Simmons Explore, with Professor and Interim Dean of the Undergraduate Program Kelly Hager and Assistant Director of the Center for Leadership and Engagement Christy Lusiak.
Resources Fair, including representatives from Simmons Academic Mentors, Financial Aid, Multicultural Center, Student Employment, Dining, among other offices mentioned above.
What to expect during Welcome Week, September 4-10:
Candle Lighting on the Residential Quad, 9/4
Get with the Scoop with Multicultural Center, ice cream social open to all, 9/6
Bring Your Own Tye Dye on the Residential Quad, 9/5
Atlantic White Shark Conservatory Lecture, 9/6
Commuter Student Chill Out in the REEF Support Center, 9/7
Convocation on the Academic Campus, 9/7
President's Picnic, 9/8
Community Resource Room 101 in the REEF Support Center, 9/8
Bougie Prize Bingo at the Holmes Sports Center, 9/8
Colleges of the Fenway Block Party, 9/9
Outdoor Movie Night on the Residential Quad, 9/9
College of the Fenway After Party, 9/10