Student Story
Meet our Wellness Ambassadors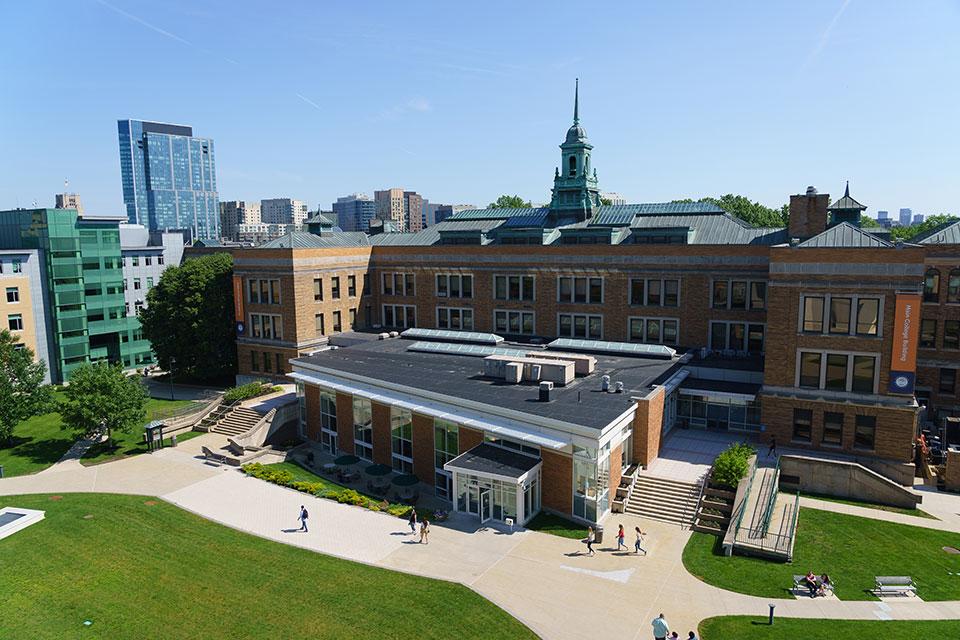 Ryan Bradshaw, Associate Director of Campus Recreation and Wellness, has launched the Wellness Ambassador program at Simmons. "The goal is to advocate for a culture of wellbeing in the community," says Bradshaw, who hired ten ambassadors from 30 applicants. "The ambassadors provide open-minded and non-judgmental resources on campus for health and wellness information."
The ambassadors include students from different majors, residential and off-campus students, international and domestic students, and students of different races, ethnicities, and sexual orientations. "We want to make sure that as many students as possible can find a Wellness Ambassador who has lived experiences that they can relate to," says Bradshaw. Wellness Ambassadors each host weekly drop-in office hours on both the academic and residential campuses that offer students a chance to focus on different aspects of wellbeing, such as planning out their week, de-stressing with guided visualizations, puzzles, and adult coloring books, or just enjoying a cup of tea with a supportive peer. Ambassadors also host educational programming with invited speakers, group discussions, and wellness-related activities for the campus community.
Let's meet some Wellness Ambassadors!
Jamie Lee Ser Huan '23, Sociology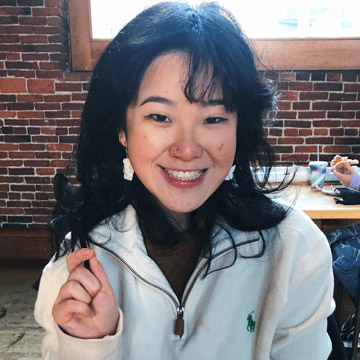 Jamie Lee Ser Huan plays many roles on campus, as a Wellness Ambassador and a student worker in the Center for Global Education. An international student from Malaysia, they feel strongly about advocating for students like them. "There are 70 international students on campus, and I don't want our community overlooked. My values are based on community building and mutual aid. I grew up in a collectivistic culture where everyone was invited to any cultural celebration, regardless of race." Having transferred from a larger institution, Lee appreciates being part of a smaller community. "At Simmons, I'm able to connect directly with the head of departments, have conversations with them and find opportunities. I believe that leadership roles develop you as a person."
Lee is eager to share resources and one-on-one support with students. Lee holds Friday office hours, 11 a.m.-1 p.m. in the Multicultural Center, a great opportunity to relax and unwind. "I offer coloring sessions. We also have events — a few weeks ago we had Asian snacks to celebrate the lunar new year." They also share the Wellness Ambassador website, which offers wellness tips and lists of upcoming events, and urges students to check out Safer Sex Express to order supplies for safer sex via the website, which are provided to them directly, discreetly, and completely free.
For their own mental health, Lee uses music, and art of all mediums. "I've also been writing, since taking the course Sociology of Poetry and Prose with Professor Becky Thompson. Also, I find the winter wind on my face very refreshing!"
Sarah Auletta '24, Public Health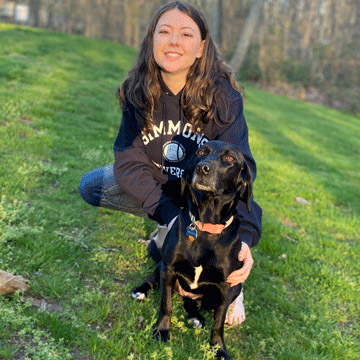 Sarah Auletta (pictured with her dog, Olive) has been involved in the wellness arena since middle school, when she became a peer leader of a club for kids grade 6-12, aimed to prevent substance use and promote mental health. "I've been passionate about wellness ever since," says Auletta, who was hired by the local department of human services as a junior in high school. For her, being a Wellness Ambassador is a continuation of that work. 
"The pressure to succeed, to perform academically, thrive in extra-curriculars, and hold jobs — it's not an easy task," says Auletta. "It causes stress, which leads to unhealthy coping mechanisms. That's the cycle." Auletta is happy to talk to undergraduate and graduate students about any problems they are facing, and will connect them to the right office or organization on campus for further guidance. She holds office hours on Wednesdays, from 8-11 a.m. in B115. "My hours are great for a mid-week check-in. We can discuss how your week is going, and how you may want to change your habits for the second half of the week." 
Auletta is excited to share the variety of resources available to students. "The Student Assistance Program launched this January, and it's a fantastic resource for all students," she says. "Wellness Ambassadors are continuously improving and ramping up our programming to offer students a robust array of services." She is eager to further develop her leadership skills at Simmons. "I've been involved in a number of on-campus activities, and everywhere I go, I'm learning something new about leadership, learning that I can do something I didn't realize I could. The faculty and staff at Simmons believe in you and push you forward to realize your potential."
To support her own wellness, Auletta has a plan. "I am adamant when it comes to getting eight hours of sleep a night," she says. "I do my best to avoid doing work in the hour before I go to bed. Staying off screens for that hour really does help. I set up my clothes and bag for the next day, and listen to an audiobook in bed. You can still be engaged without staring at a screen."
Bella Fletcher '23, Sociology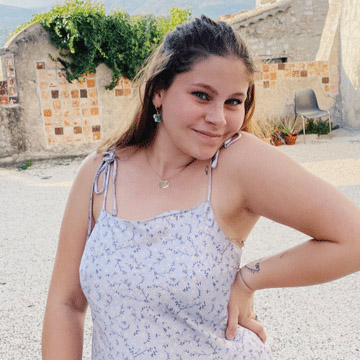 Bella Fletcher has been interested in wellness since going through her own mental health journey in high school, and witnessing struggles among her family and friends. "A lack of resources can be a huge problem," she says. "Everyone deserves to get the mental health support that they need." It's particularly vital, given the current reality. "Navigating COVID and college at the same time is a challenge." 
As a transfer student, Bella is accustomed to adapting. "Coming to Simmons was a huge change for me," she says. "The faculty educate you, but want you to have your own voice and your own thoughts. I like the discussion-based classes, because you can learn from your peers and share your own experience."
As an outreach coordinator, Bella can connect students to resources in the Boston area. "I want to be a friend and cheerleader, offering resources and making connections." She also recommends the REEF Support Center as a great on campus resource, offering assistance with housing, food insecurity, information for off campus students, and violence prevention.
Bella holds office hours from 2-5 p.m. on Wednesdays in the Makerspace (first floor, One Palace Road) with friend and fellow Ambassador, Jenna Squasoni. "We talk about self care and offer tea and coloring sheets." She acknowledges that reaching out for help can be difficult. "Make sure that your feelings are heard. I want to make this community more supportive of one another." 
As a student in the social work program, Bella works regularly on self-care. "I really enjoy exercise, moving my body, and going on walks. I'm getting back into yoga," she says. "I also like reading and journaling. I enjoyed using a gratitude journal with prompts."