Department of Biology
The Department of Biology offers exceptional education in biological disciplines, rooted in theoretical knowledge, and enriched by interactive, hands-on learning.
Studying Biology at Simmons University
We offer degrees in Biology, Biochemistry, Environmental Science, Exercise Science, and Neuroscience & Behavior. Our curriculum prepares students for graduate study and careers in many fields, including basic science, engineering, biotechnology, and medicine. We believe interdisciplinary training is the best preparation for future scientists, and strive to cultivate critical thinking, teamwork, innovation, and leadership in every student.
As a small teaching university, we provide a high level of student/faculty interaction, in the classroom and the laboratory. Students participate directly in faculty research, often authoring papers and conference presentations. Simmons' location in Boston's Longwood Medical Area creates unparalleled opportunities for research and internships at world-class institutions. Students in all our degree programs benefit from collaboration with Simmons health sciences, such as nursing, physical therapy, and behavior analysis.
We are proud of our reputation for training well-rounded scientists, with the knowledge and experience to succeed and lead in their chosen careers. In all our programs, the Department of Biology embraces the Simmons values of leadership, social justice, women-centered education, and science and practice for the social good.
Highlights of Biology at Simmons
Faculty members are known for outstanding teaching and cutting-edge scholarship.
Hands-on learning is integrated into all majors, beginning freshman year and culminating in the senior capstone project.
Our Biochemistry and Neuroscience & Behavior majors are offered jointly with the departments of Chemistry & Physics and Psychology, respectively.
We have active chapters of several student organizations, including Sigma Xi (National Science Honor Society) and Tri-Beta (National Biological Honor Society).
One of our greatest assets is the students themselves. They are incredibly motivated learners and innovative thinkers.

- Jane Lopilato, Associate Professor of Biology and Department Chair
Outstanding education and training in biological disciplines
Simmons is making major investments in our campus to provide students with optimized spaces for interdisciplinary teaching, research, and collaborative learning in the sciences.
Exercise Science is the department's most popular major and is among the largest at the University, offering excellent preparation for rewarding health and fitness careers.
Our location provides students with research and internship opportunities at world-class institutions such as the Broad Institute (Harvard/MIT), Harvard Medical School, Beth Israel Deaconess Hospital, Dana Farber Cancer Institute, and Spaulding Rehabilitation Hospital.
Student research at Simmons reflects a high level of innovative, independent work, and intellectual rigor unusual for undergraduate programs. Seniors have the opportunity to present their capstone projects at the Eastern New England Biological Conference, the Simmons Biology Symposium, and/or the Biology Poster Session.
Simmons encourages dynamic major/minor combinations, such as neuroscience and music, biology and economics, and biology and computer science.
Careers
Graduates of our department work in biochemistry, genetic counseling, microbiology, environmental science, pharmaceuticals, and many other fields. Others are pursuing doctoral degrees at prestigious schools such as T.H. Chan School of Public Health at Harvard University, Cornell University, and Boston University School of Medicine. The Boston-metro area has the highest employment of biological scientists of any area in the nation.
Faculty highlights
9 full-time faculty, recognized for outstanding teaching and innovative research.
Current faculty research includes: anthropogenic impacts on our ecosystems; global regulators of gene expression and antibiotic resistance; formation and function of neuronal connections; effects of natural products and environmental contaminants on cell behavior; applied microbiology, hygiene science, and public health; and the developmental evolution of amphibian neural patterning and formation of appendages.
Learn More About The Department of Biology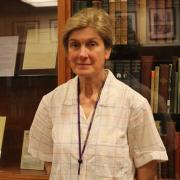 Michael Welch
Assistant Teaching Professor and Program Director and Internship Coordinator for the Exercise Science Program
Years before founding a nonprofit in Rwanda, Sara Stender Delaney '00 grew up in Vermont among a family of entrepreneurs. "I had seen a lot of family members build small to medium-sized businesses," she recalls. "I had small businesses as...
Simmons University is officially partnered with Washington University in St. Louis in the Engineering 3+2 program , in addition to Columbia University . As part of this program, students complete three years of course work at Simmons, followed by two...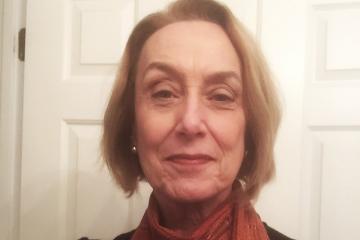 Alumna Paula Hickey Forney majored in Physical Therapy because it allowed her to cultivate her love of science. What she did not realize, however, was that her career would put her at the forefront of the fight for disability rights...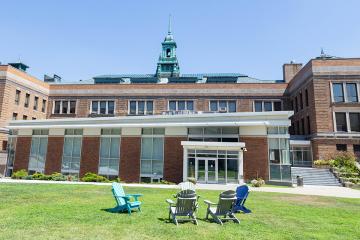 Earlier this spring, the Helene Fuld Health Trust, a charitable organization that promotes the education of nurses, informed Simmons that the School of Nursing received a substantial grant from the Trust. These funds will be used to amplify Simmons' Dotson Bridge and Mentoring Program, which aims to support nursing students of color.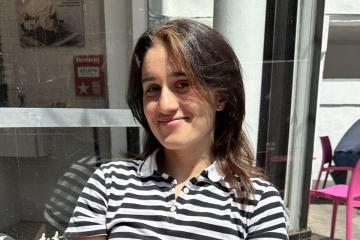 How Did Eva's Time at Simmons University Shape Her Path in Science? Eva Piernas, a recent 2023 alumni, reflected upon her journey at Simmons University, where she majored in Neuroscience on the neurobiology track and minored in Chemistry. As she...
Physics major Geraldina Cruz '23 recently participated in the annual Radiology Research Symposium at Brigham and Women's Hospital (BWH) on May 25. Cruz was one of just two undergraduates who presented research alongside seasoned researchers at BWH. They spoke with...
This month, the National Aeronautics and Space Administration (NASA) awarded $5 million to women's colleges and universities to help increase the retention of women in the fields of science, technology, engineering, and math. Associate Professor of Chemistry and Physics Arpita...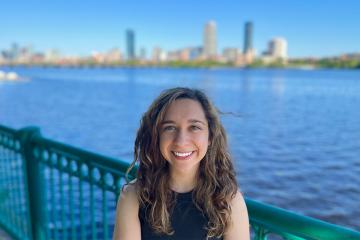 Environmental Science major Monica Alves's first major career revolved around water science . Recently, she has transitioned into oncology-related research data. In this interview, Alves imparts advice on changing careers and discusses her love for writing children's poetry. Tell us...