Neuroscience and Behavior
The Bachelor of Science (BS) in Neuroscience and Behavior degree blends social, natural, mathematical, and life sciences to address the intriguing issues related to behavior and experience.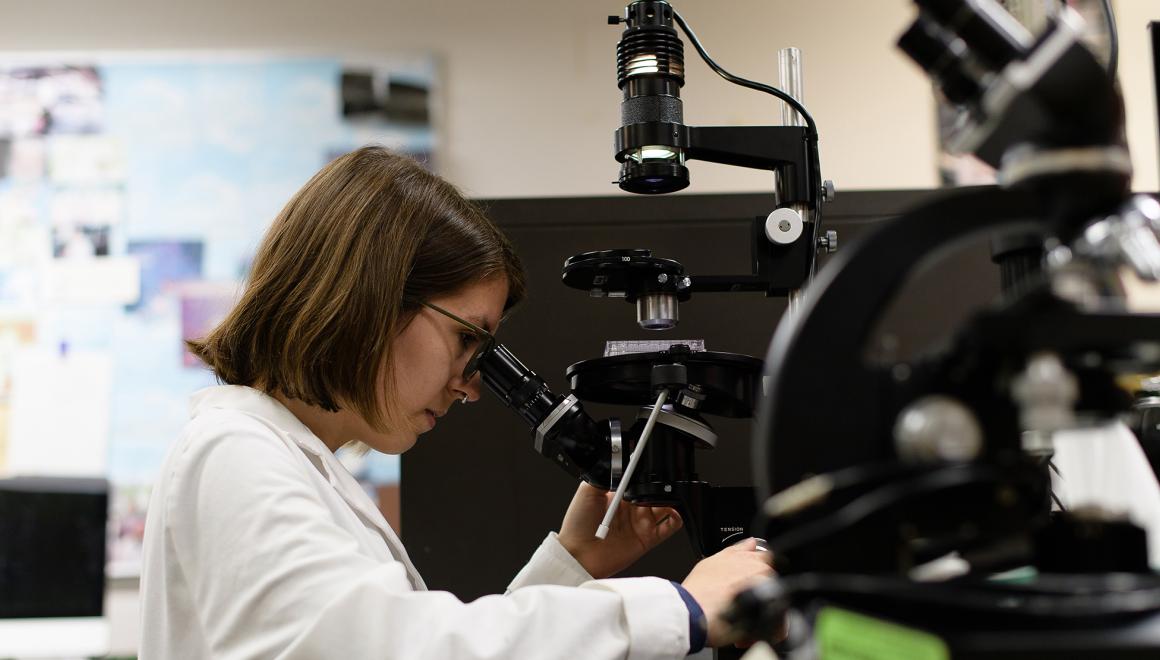 Have you ever wondered what makes people act the way they do? The interdisciplinary field of Neuroscience and Behavior explores the nervous systems of the body and how they influence the expression of human behavior. It is a complex and ever-evolving study comprised of extensive research of the mind, combining aspects of psychology and biology to dig deeper into the biological bases of behavior, conscious experience, and the relationship between physical and mental health.
Why study Neuroscience and Behavior?
Through the Bachelor's in Neuroscience and Behavior degree, students closely examine cognition, behavior, and emotion in order to better understand the layers and intricacies of the mind and nervous systems. From this meticulous scientific study of the brain, students can reveal reasoning for much grander expressions and psychological patterns, as well as how disease and disorder can change behavior.
Molecular, cellular, and behavioral studies intersect together through an engaging and rigorous curriculum that covers core courses in biology, psychological science, statistics, chemistry, biological psychology, research methods, and the philosophy of mind. Going beyond this technical knowledge, the Neuroscience and Behavior curriculum also prepares students with the professional skills to communicate findings clearly and with confidence in order to innovate and push the boundaries of the field.
Two engaging degree track options
All Neuroscience and Behavior students take a required group of nine (9) core courses and then select one of two tracks to complete the Bachelor of Science degree—either Neurobiology or Cognitive Behavioral. Students work closely with a faculty advisor to tailor their program of study to interests and career goals, developing an individualized, best-fit path to success.
Students within the Neurobiology track study coursework that dives deeper into organic chemistry, molecular biology, cell biology, and neurobiology. Those within the Cognitive Behavioral track instead dive into behavioral biology, cognitive psychology, drugs and behavior, learning and conditioning, research in personality, and cognitive processes. Explore the full degree requirements for each track in the Program Requirements section below.
In addition to pursuing one of the two degree tracks, students may also enrich their undergraduate studies by combining their degree in neuroscience and behavior with other academic disciplines through the selection of a dual major or complementary minor.
Independent, hands-on learning in Neuroscience and Behavior
Independent learning experiences enrich a student's education in Neuroscience and Behavior and can distinguish a student's qualifications when applying for employment or admission to graduate school. Students can work closely with their faculty advisor to integrate one or more opportunities for independent lab research, internship, thesis, or fieldwork into their course of study.
These independent learning opportunities expose BS in Neuroscience and Behavior students to cutting-edge theories and grant access to innovative equipment for hands-on learning that deepens in-classroom coursework. These unique, immersive learning experiences give students a firm grasp of the leading innovations in the neuroscience field.
What can you do with a BS in Neuroscience and Behavior degree?
Graduates of the BS in Neuroscience and Behavior degree are equipped with the knowledge and hands-on skills to thrive in a wide variety of research and clinical settings in careers such as behavior specialist, research technician, counselor, MRI technician, and research scientist.
The Neuroscience and Behavior bachelor's degree is highly applicable in unique, non-medical fields as well. For example, graduates can become researchers or consultants striving to understand how the brain and behavior affects areas such as criminal justice, law, education, and marketing.
In addition to entering directly into the workforce, Simmons graduates possess a strong foundation to continue their education and obtain greater professional specialization through graduate school. With close guidance from our expert faculty mentors and staff members, students are also prepared to pursue professional degrees in the medical, dental, pharmacy, physical and occupational therapy, and veterinary fields.
Students planning to attend professional school upon graduation are advised to work with their advisor as early as possible to ensure the proper course of study is selected in order to meet entrance requirements as early as possible in the Simmons undergraduate degree experience.
BS in Neuroscience and Behavior Admission requirements
Students interested in applying to the Neuroscience and Behavior program must submit the following items to be considered for undergraduate admission:
Completed Application
High School Transcript
SAT or ACT Test Scores
TOEFL Scores (required if English is not your first language)
College Essay College Transcript (if applicable)
Two Letters of Recommendation (one teacher, one counselor)
Learn more about the application process, including deadlines and what we look for in an applicant.
Explore the mind and explain behavior
Through Simmons University's interdisciplinary Bachelor of Science in Neuroscience and Behavior degree, you will dive deeper into the intricacies of the mind, researching the central nervous system in order to better understand how and why people behave the way they do.
Interested in taking the next step as a Neuroscience and Behavior expert? Request more information or learn how to apply today!
So you know that Simmons is a great place to be, you've learned about our programs, maybe even come for a visit...now you're ready to apply! Let's get started.