Campus & Community
Founder's Day Award-Winning Essay by Sonia Vader '27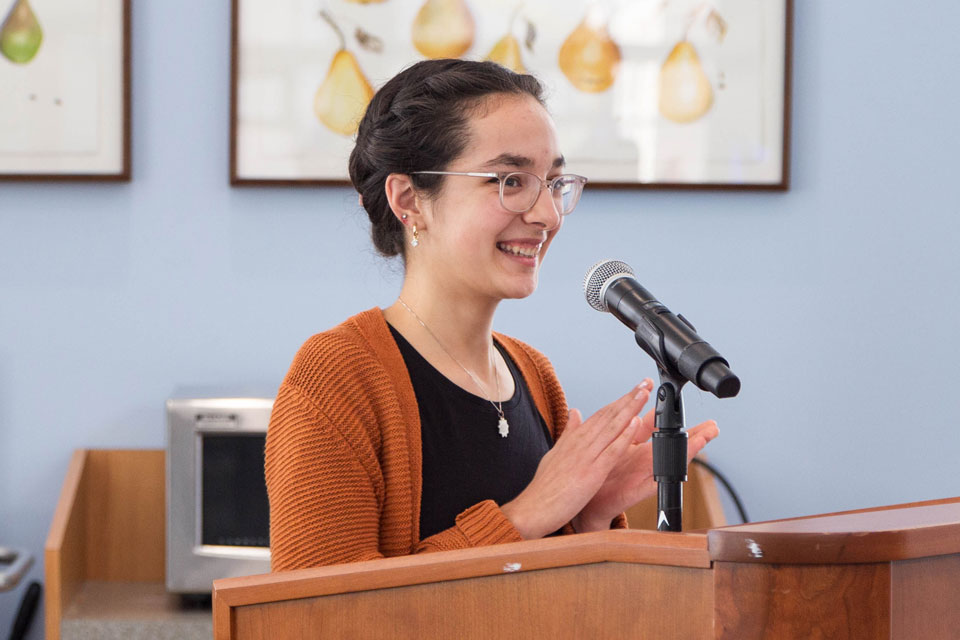 To celebrate the birth of our Founder is to celebrate the accomplishments of everyone who has been empowered by a Simmons education to offer their gifts to the world.
On October 26, Simmons celebrated Founder's Day. For this event, Simmons undergraduates are invited to participate in an essay contest. Contestants wrote about how their experience at Simmons realizes John Simmons' vision for educating what President Lynn Perry Wooten calls "everyday leaders" for their life's work. This year's winner, neuroscience major Sonia Vader '27, read her essay before the Simmons community. Vader's text is provided.
---
At eighteen, John Simmons sat motivated and determined at a sewing machine, a budding artist, a visionary with an entrepreneurial spirit that would eventually influence the lives of thousands. While most of his friends were graduating from high school, John moved to Boston to learn the art of tailoring from his older brother. He was innovative, witty, and intelligent. Once he mastered the basics, he realized that he could increase his profit by selling pre-made suits in multiple sizes. Seizing the opportunity with a ceaseless ambition, John's work quickly gained momentum and he created one of the earliest large scale manufacturers of men's suits.
Although business was a predominant part of John Simmons' life, he deeply valued his family as well. At the age of twenty-two, John married Ann Small and together they brought six children into the world, although only two lived past the age of thirty. It is clear that Simmons cared deeply for his daughters and placed a great deal of trust in them because in Article Sixteen of his will, he leaves them (Mary Anne and Alvina) a large sum of money. However, 90% of his wealth would benefit other women, women John would never know: the women of Simmons College and later, Simmons University. In 1870, when John passed away, women were still half a century away from the 19th Amendment granting them the right to vote. His gift granted them the right to a rich and meaningful education.
In considering a befitting gift for John Simmons' birthday, I consider what he appeared to value most: family, creativity, innovation, independence, and artistry. It's for this reason that I have chosen to give John a patchwork quilt, each small square representing an incredible aspect of the diversity that Simmons now represents. Our colors, patterns, cultures, experiences, beliefs, and backgrounds create a tapestry beyond his wildest imagination. The threads that bond us and unite us are the lasting legacy of Simmons.
Simmons gave women a place to learn the leadership skills necessary to voice their truth and make change. Other marginalized populations were also offered a safe place to learn. In the first half of the 1900s, with the Holocaust raging, Jewish students were welcome to attend Simmons without any requirement to pay fees. And again in 1914, years before segregation would be outlawed, the first African-American student graduated from Simmons.
Simmons has created a network of interconnected professionals, passionate in their fields and leaders in their environment. With a diverse network of 50,000 alumni across the world, it's incredible to think about the contribution each one has made to the Simmons community we know today.
To celebrate the birth of our Founder is to celebrate the accomplishments of everyone who has been empowered by a Simmons education to offer their gifts to the world. Let's celebrate Cheeznah Milord for creating the RISE Mentorship Program and take a moment to acknowledge the work of Ismah Ahmed who used data science to analyze COVID-19. Let's beam with pride at first-generation students taking the steps into higher education for their family, and give a standing ovation for the contributions that this year's graduating seniors will no doubt make. Each student who attends Simmons is encouraged to create a ripple effect in their field.
My own mother graduated from Simmons two years before I was born. Her Simmons education had trained her to be a leader, and she embraced her role as a leader of our family. She perceived within me and my brother unlimited potential. In her eyes, we were mines full of gems. It wasn't her job as a leader to exhume them, but rather to train us to unearth what we had to offer the world, using tools like patience, perseverance, and sacrifice. She believed in me like John Simmons believed in each of us and I am proud to be given the opportunity to pursue a degree at an Institution that values such leadership. The skills I learn here will one day be applied to my professional and family life. Just as John Simmons was inspired to create empowering educational opportunities for women, I feel inspired to apply these same values of leadership and community in my work. Without John Simmons, so many people would not be where they are today.
The quilt I would give John Simmons would continue to expand and grow as each Simmons graduate contributes their unique story to the greater Simmons story. Together we stitch ourselves together to create a strong, warm, beautiful community, one that John Simmons would definitely celebrate.
Sources
"John Simmons (1796-1870) | Mount Auburn Cemetery." Www.mountauburn.org, www.mountauburn.org/john-simmons-1796-1870/. Accessed 8 Oct. 2023.
John Simmons, "John Simmons' will," Suffrage at Simmons, accessed October 8, 2023, https://beatleyweb.simmons.edu/suffrage/items/show/50.
John Simmons Papers, MS 29, Simmons College Archives, Boston, MA, USA.
"Our Mission & History | Simmons University." Simmons.edu, 2014, www.simmons.edu/about/our-mission-history.
Watch this year's winner, neuroscience major Sonia Vader, read her essay before the Simmons community.