A Campus That Works
As the University changes to meet the evolving needs of our students, we are ensuring that our physical space also meets those needs.
In early 2013 Simmons initiated an institutional and master planning process to study how our aging physical plant can meet the needs of its academic future as Simmons enters its second century. Through this Strategy 2022 initiative, which included input from academic deans, faculty, staff, and students and is guided by the President and Board of Trustees, Simmons developed a set of priorities and recommendations for future campus development and began exploring options. The Strategy 2022 process crystalized two vital needs of the university moving forward:
Addressing our aging science facilities at a time when Science Technology Engineering and Math (STEM) education has taken on a regional and national importance; and
Uniting residential accommodations and athletics facilities, currently on the Residential Campus, with existing academic and administrative facilities on the Academic Campus as a "One Simmons" concept.
Filed in August 2020, our Institutional Master Plan (IMP) presents a 10-year plan for our Residence and Academic campuses, detailing the renovation of the existing Lefavour Hall to accommodate our science program and laying out the One Simmons vision for one, unified campus.
In recent months, our campus has undergone the first stage of our renovation project. These updated spaces are aimed to improve the living and learning environment for future Simmons students. We are excited to modernize our campus to support our academic programs and to improve our student experience.
Thanks to careful, prudent fiscal management, we are approaching these important projects from a position of financial strength. Check back for updates as our planning progresses. For additional information, email Laura Wareck, Director, Media and Government Relations, at [email protected].
The Simmons University Institutional Master Plan was approved by the Boston Redevelopment Authority in 2000.
View plans and amendments:
What is the vision for the Simmons campus?
There are two goals that are driving the capital upgrades: to modernize our science facilities and to improve the living and learning environment for future Simmons students.
The goals will be addressed in three phases. The first enabling phase features targeted renovations on the academic campus, specifically in the Palace Road, School of Management, and the Main College Building, to align our four colleges in a collaborative manner.  The second phase is a reconfigured and renewed library, and an updated Lefavour Hall to create modernized science facilities.
The vision for the final phase is to relocate all residential, athletic and dining facilities from our residential campus along Brookline Avenue to the main academic campus at 300 The Fenway, creating a unified living, learning, and wellness environment. These plans are consistent with our evolution to University status, the reorganization of academic programs under four distinct colleges, and with our founding mission.
How does this project connect to Simmons' overall goals?
Our academic leadership has invested significant resources in developing a strategic plan that meets the needs of the next century of students. From this position of strength, we are excited to modernize our campus to support our academic programs and to improve our student experience.
Assuming the permitting process goes according to plan, what is the construction timeline?
We filed our Institutional Master Plan (IMP) with the City of Boston in August 2020, which outlines the entire project. Construction on the enabling phase began in May 2020, the science phase is slated to begin in mid-fall of 2020, and Simmons is scheduled to begin the LLC project once the science renovations are complete - likely in 2022.
How many students will the LLC accommodate? More or less than our current enrollment?
The LLC is being designed to accommodate 1,100 beds. Our current residential campus has 1,063 beds. This project will enable us to house more students on campus, but it is not intended to accommodate future enrollment growth.
What does this mean for the residential campus?
Simmons will not be selling our residential campus. We continue to explore the possibility of entering into a long-term, 99-year ground lease with a developer, who would then redevelop the campus. The proceeds of this transaction would enable Simmons to fund the construction of the LLC on the main campus and fulfill our vision for a one campus. At the expiration of the lease, the land would revert back to Simmons.
Where can I find more information
We will continue to post information on this landing page as these exciting campus development projects progress.
A Campus Designed For You
In 2021, we updated and created a number of spaces to improve the living and learning environment for all current and future Simmons students.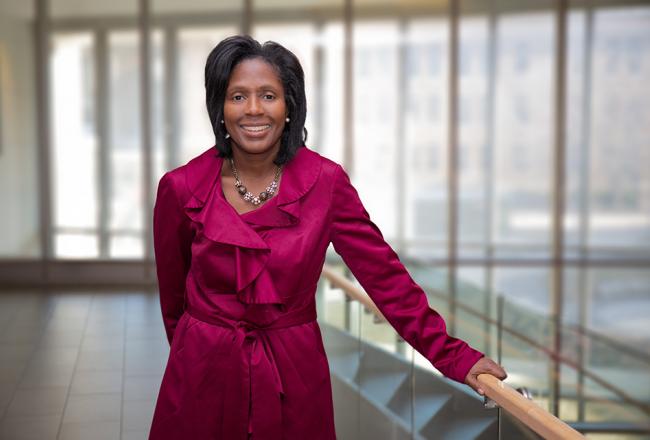 About the President
Dr. Lynn Perry Wooten, a seasoned academic and an expert on organizational development and transformation is the ninth president of Simmons University.
About the President