Campus & Community
Alumnae/i and Students Discuss How to Create Community in the Living and Learning Center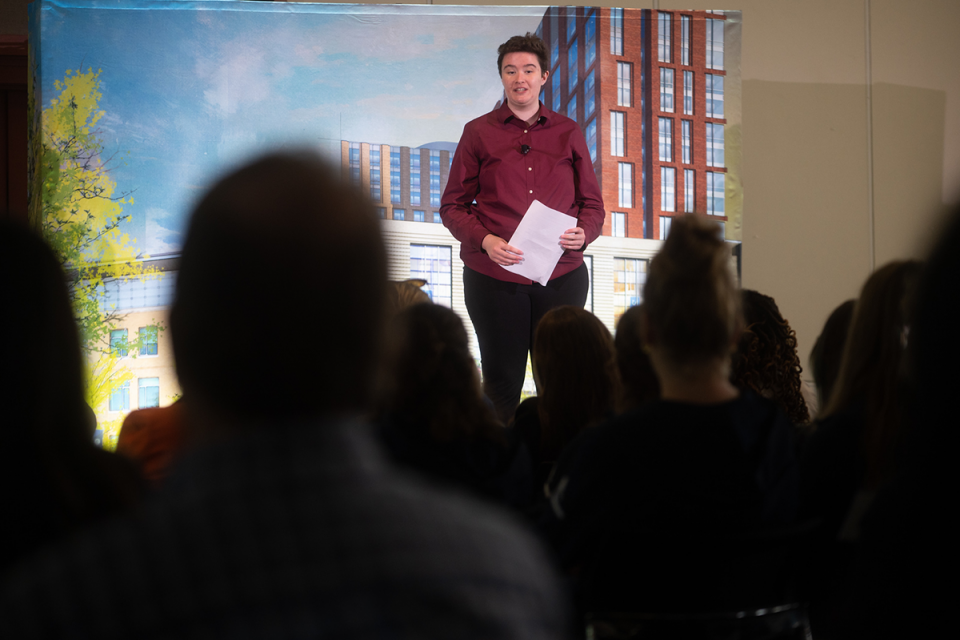 Understanding our history is key to maintaining our communal integrity in the face of change."
— Daniela Gil Veras '24
During Simmons' 2023 Alumnae/i, Family, and Friends Weekend, a series of conversations (both in-person and virtual) focused on building the future of the University. On the afternoon of October 14, Shawn Goodspeed (Senior Major Gifts Officer, Advancement), Rae-Anne Butera (Interim Vice President, Student Engagement) Pamela J. Toulopoulos '73 (Trustee), and current History majors Kaz Gebhardt '25 and Daniela Gil Veras '24 co-hosted a session entitled "Creating Community in the Living and Learning Center." This dynamic conversation explored issues of belonging, traditions, and the preservation of history.
---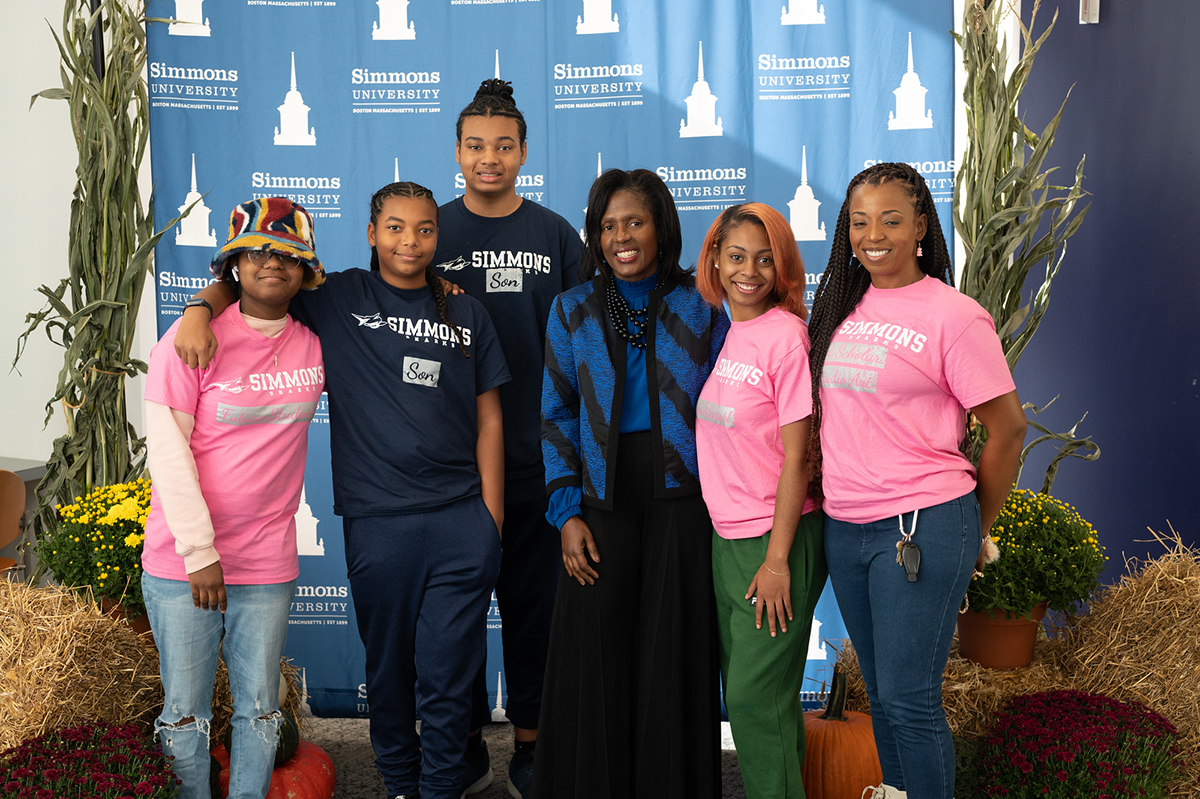 "[The Living and Learning Center] is more than a building, it is a real change for Simmons, both culturally and community-wise," said Interim Vice President of Student Engagement Rae-Anne Butera. "The transition from the old residence campus to the new facility must be thoughtful, and we value feedback from our alumnae/i and current students."
Shawn Goodspeed, Senior Major Gifts Officer from Advancement, elaborated that "we are hosting this community conversation on how best to instill Simmons' history and traditions in the new residential space. We want this new space to feel connected to the rich legacy of Simmons."
This conversation took place during Alumnae/i, Family, and Friends Weekend and on the same day as the groundbreaking of the Living and Learning Center (LLC). This building, which is scheduled to open in fall 2026, marks the final phase of the One Simmons construction project.  
Butera led the attendees in an interactive exercise that allowed them to express their thoughts regarding the new residential building. She invited alumnae/i and students to share their perspectives, as well as their ideas concerning areas of promise and potential.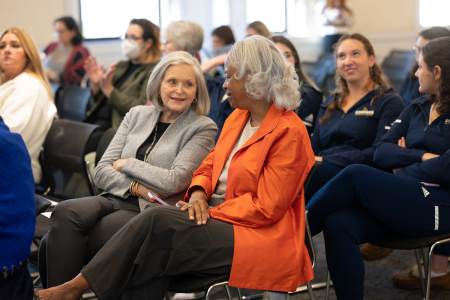 Several attendees expressed their enthusiasm for a new athletic center, more modern facilities, and a fully accessible building. Others reminisced about the Friday teas (an old Simmons dorm tradition that inspired community), and lamented its disappearance. Providing communal spaces for commuter students was a particularly urgent suggestion, as commuters often feel on the fringes of the campus community.
A special highlight of the conversation came from two undergraduate History majors, Kaz Gebhardt '25 and Daniela Gil Veras '24. They co-presented excepts from their research related to the Simmons Memory Project, an archivally-driven public humanities project that unearths the history of the residence campus and its meaning for multiple generations of students. As Veras explained, their research "tries to historicize and memorialize the residence campus before we lose it."
Gebhardt's research centered around traditions on campus. His mother, also a Simmons alum, shared stories about May Day festivities and life in the dormitory. "Through these stories and traditions, students realize that they are part of a larger Simmons legacy, and they will ultimately be alumnae/i who have memories of Simmons."
Researchers from the Simmons Memory Project also created their own archive by interviewing alums (including members of the class of 1967). These exchanges revealed precious memories about the campus, including favorite dishes at Bartol Dining Hall and Simmons traditions that have lapsed over time. During the interviews, Gebhardt asked, "What campus traditions were most impactful to you? Which ones do you want to bring back? What objects from the old building should we bring to the LLC, archive, donate, or recycle?" 
Veras focused on the history of non-white students on campus. "While we must acknowledge that Simmons is a majority white institution, students of color participated in residential life and campus traditions, and they had an impact on their community. They were Simmons and we are Simmons. . . Understanding our history is key to maintaining our communal integrity in the face of change."
Moreover, Veras credited student-run efforts toward making a more inclusive on-campus life. For instance, in the 1970s, Jewish students rallied to get a kosher kitchen on campus. Moreover, Gebhardt suggested that naming specific dormitories and residential floors may also create community, offering examples of "Ifill Tower" and an ode to Anna Mae DeBerry, the first Black student admitted to Simmons' School of Social Work and the first to petition for racially integrated housing on campus.
Butera added that the LLC will continue to support and build new communities of BIPOC and non-binary students, and the University is embracing an integrative model of health and wellness services on campus.
In conclusion, Gebhardt remarked "I am grateful for this opportunity to speak with alumnae/i who understand the value of community. . . [many of whom have told us they are proud of the research we are doing after we presented it to them last academic year]. It is great to have this support, especially during a time of great institutional change."