Campus & Community
Alumnae/i, Family, and Friends Weekend Celebrates Simmons and the Power of Community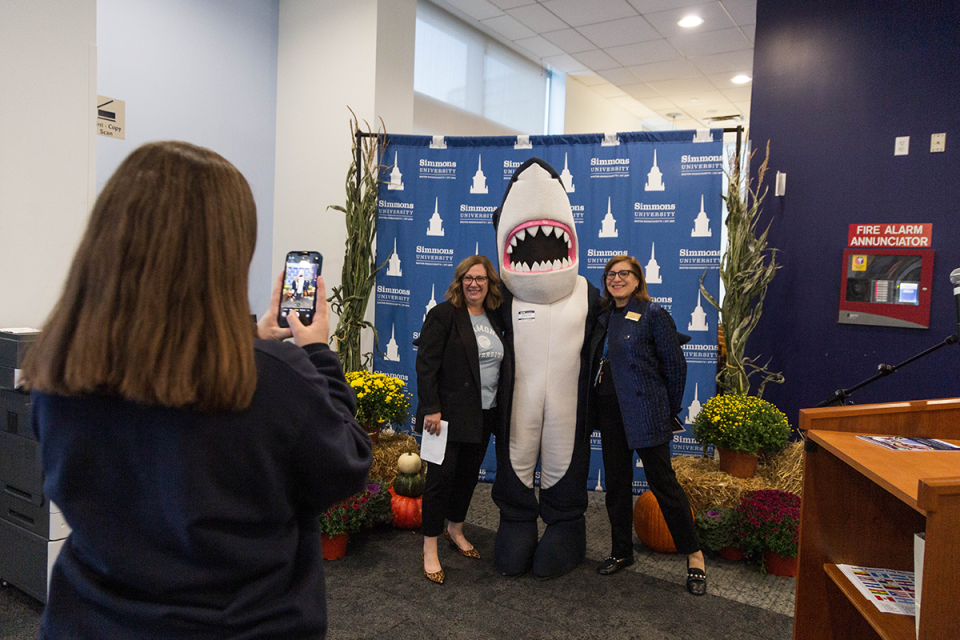 Simmons voices were heard, action was taken—and we had fun, too! I look forward to continuing to build our future together."
— Krissy Raposa, Director of Alumnae/i and Volunteer Engagement in the Office of Advancement
Alumnae/i, Family, and Friends Weekend (October 13-15) welcomed a broad cross-section of the Simmons community for an action-packed schedule of ways to celebrate, engage in dialogue about University's present and future, and just have fun. Offerings ranged from Boston Duck Tours to a discussion on "Banned Books and Challenged Ideas" and a celebration of Simmons' campus revitalization.
"The Weekend exemplified what Simmons does best: bringing the community together, whether you are a parent or other family member of a first-year student, an alumna returning for a reunion, or a student in your last year," said Corey Zohlman, Assistant Vice President, Operations and Administration, Student Engagement, Success, and Diversity. "More than 100 family members and their students joined us, meeting familiar faces and forming new lifelong friendships throughout the weekend."
Simmons expanded what has traditionally been a weekend focused on students, families, and friends, and this year rolled out the welcome mat for alumnae/i, too, including those whose regular reunion schedule was disrupted by the pandemic.
"We gathered the Simmons family at their 'other' home, the Simmons campus, and shined a light on the inspiring work being done by its members. Simmons voices were heard, action was taken—and we had fun, too! I look forward to continuing to build our future together," said Krissy Raposa, Director of Alumnae/i and Volunteer Engagement in the Office of Advancement.
Raposa was among the many who participated in a "Murder Mystery Dinner"—a longtime Weekend favorite. "It was fun and silly—and you didn't see a single cellphone out for two and half hours," Corey Zohlman noted. Also featured: a special screening of "Barbie" and a related discussion led by Alumnae/i Association Historian Maddie Gretzky '16 and Emma Keeling '22.
Opportunities to hear from, and ask questions of Simmons and alumnae/i leaders included President Lynn Perry Wooten's "State of the University" conversation with Karen Young-Thomas '77, Co-president of the Alumnae/i Association Executive Board (AAEB). Young-Thomas and other AAEB members then hosted an open-to-all working meeting.
The exchange of information and questions continued in moderated conversations focused on Creating Community in the Living and Learning Center, Rebuilding Alumnae/i Engagement, the Sciences at Simmons, and Expanding Access to Education Through Philanthropy.