Community Engagement Recognition Awards
Jennifer McKee Distinguished Student Award
The award recognizes a student whose work with Simmons Community Engagement has made a unique and lasting contribution to the college's commitment to engagement. Jennifer McKee helped build the legacy of community engagement with her exceptional leadership, vision, determination, and a sense of purpose. Students receiving this award exhibit these same traits:
Leading, inspiring and engaging peers in co-curricular community engagement
Demonstrated collaborative partnership with community partner organization(s)
Commitment to the values of equity and social justice
Thoughtfully addresses challenges and obstacles
Demonstrated commitment to sustainable community engagement programs and partnerships
2020 Recipients
Evelyn Bernard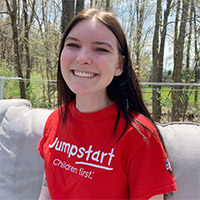 Evelyn has served with Jumpstart AmeriCorps for her entire undergraduate career. She provides high-quality sessions to the classroom and is always willing to support her peers both in and out of the classroom. Her teammates have nothing but positive reviews of her leadership, knowledge, patience, and support. This year, she created and provided family engagement home activity guides to classrooms at Jamaica Plain Head Start who do not receive Jumpstart services; she also collaborated with the preschool staff to provide these guides in multiple languages. Her multiple nominations included statements such as, "she selflessly devotes herself to creating great team dynamics and running an enriching session" and "Evelyn inspires me every day to provide service to our communities at large."
Kara Walsh
Kara Walsh has led by example through a variety of leadership positions while at Simmons University. As President of the Black Student Organization (BSO), Kara was instrumental in increasing engagement and networking between alumni and current undergraduate students. She worked tirelessly to foster connections with administrators at Simmons to create an inclusive curriculum across the four colleges. She is a phenomenal public speaker, and actively participated in the Gwen Iffil Stamp Celebration with the Iffil College. Kara also serves as the Student Liaison of the Executive Board of the African-American Alumnae/I Association (AAAA). In addition to these leadership roles at Simmons and in the community, Kara has worked at Brigham and Women's Hospital as a Patient Care Assistant during most of her time at Simmons University. She is now on the front lines of providing patient care during the COVID19 pandemic.
---
Judith Botelho Commitment Award
This award recognizes a student who exemplifies the commitment to community service that Judith Botelho demonstrated as a student and AmeriCorps*VISTA during her six years at Simmons.
Outstanding participation and leadership in service to the community beyond the campus;
Demonstrates personal motivation and commitment to engagement;
Evidence student has worked selflessly and effectively in addressing social causes; and
Engagement in community service across multiple years.
2020 Recipients
Lisabel Asuncion
Lisa has spent countless hours over the last four years mentoring and leading through Girls Preparing to Succeed (GPS) in partnership with Steps to Success - Public Schools of Brookline. She has helped build up the program and create sustainability between years. Her time and attention working with her peers has built a strong team that works cohesively to build mentoring workshops and field trips that respond to the interests and needs of the young people in the GPS program. Lisa has made a lasting impact on the students she has worked with and has always thought beyond just her time at Simmons to ensure the continued success of the program.
Lauren Wigren
Lauren has spent her four years at Simmons supporting Simmons Community Engagement and children in classrooms across Jamaica Plain. In addition to the two preschools Lauren has served with Jumpstart AmeriCorps, she has also volunteered her time to supporting students at the Boston Teachers Union Pilot School. Always a friendly face and outgoing presence within the SCE, Lauren has served over one thousand hours with Jumpstart AmeriCorps across her 4 years at Simmons. Lauren develops a sense of community within her teams, builds strong relationships with the preschool staff, and models high-quality interactions with children in the classroom. As stated in her multiple nominations, Lauren "has been organized, empathetic, professional, and intentional in serving both her on- and off-campus community" and "her passion shows through her incorporation of concepts learned in academic courses and service trainings into the classrooms she serves."
---
SCE Emerging Leader Award
This award recognizes a student who has made significant contributions to the community and led by example early in their time at Simmons. Recipients have:
Shown a passion and affinity for engaging the community beyond campus;
Demonstrated emerging leadership and continuing engagement/service;
Gone above and beyond for an organization, group, project, or event related to community engagement; and
Furthered the mission of Simmons Community Engagement.
2020 Recipients
Julia Ashe
Julia truly led by example during her first year at Simmons and with Jumpstart AmeriCorps. Not only was she enthusiastic about joining the program this year, but she was also a natural within the program. Her dedication to the program never wavered despite having to switch teams/partner sites in early November and having to leave the classroom early due to the pandemic. As noted in her multiple nominations, Julia "was consistently preparing several session plans ahead, making incredible materials that the kids loved, took on a mentoring role when a new member joined the team in January by helping them learn the aspects of session and the workings of the classroom" and "often acted as a source of positivity when the team faced challenges in the classroom – always reminding the group why we were there and that in the end, it all came down to the kids."
Katie Little
Katie has completed her second year with the America Learns team at John F. Kennedy Elementary School with a dedication that is unparalleled. Over the course of this year, she became a point person on site and worked closely with community partner staff and teachers to ensure success, even in situations that are difficult and draining. Katie goes above and beyond to integrate her training as a social worker into her work with America Learns. She loves being a student leader and everyone who works with her can tell. She inspires her team to be their best and is always there to support them when they need it.
---
Leadership in Community-Based Learning Award
This award recognizes a student (a group of students) for their dedication and leadership in a community-based leadership component of a course that goes above and beyond expectations. Recipients of this award demonstrate commitment to excellence in both academic accomplishment and community impact such as:
Leading, inspiring and engaging peers in community-based learning
Proactively engaging with the community partner; demonstrating interest in reciprocity/mutual benefit
Exhibiting skill in critical reflection and integration of course content with community-based experience
Overall dedication to a meaningful and successful community-based learning experience
2020 Recipients
Natalya Matrins and Katrin Stinson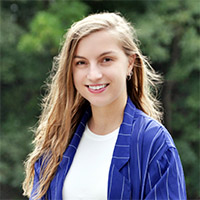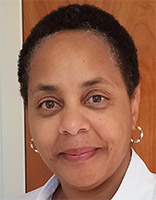 Katrin Stinson and Natalya Martins completed their service-learning in Professor Leigh Haynes' Health Advocacy, Community Organizing, and Innovation course in the [email protected] program during the October 2019 session. They both did their SL with Right Care Alliance (RCA) in Boston and were very instrumental in RCA's organizing of a successful action to protest high insulin prices, which took place outside of the offices of a pharmacy company. Both of these students, per the supervisor, went above and beyond expectations in organizing this action. From surveying the site, to contributing to social media, as well as offering useful and insightful critiques of the organization which have since been taken to heart. They also remained connected and active with RCA since their service-learning ended. The fruitfulness of their experience enriched the class in a great way. They clearly connected the concepts of community organizing and principles health equity to their service-learning experiences. Also, their engagement with RCA led to a partnership by which future students in this course will have dedicated opportunities to complete their service-learning requirement here.
---
Steve London Faculty/Staff Community Engagement Award
This award is named in honor of Professor Emeritus Steve London, founding director of the Scott/Ross Center for Community Service, now named Simmons Community Engagement. The award recognizes a faculty or staff member who has shown commitment and passion to engage our students with the communities of Boston.
The recipient of this award has an extraordinary passion for justice for the people and neighborhoods of our city and is a tireless advocate for service-learning and community-engaged teaching across the university.
Their accomplishments exemplify and enhance the mission of Simmons Community Engagement as their actions simultaneously enrich the educational experience of our students and the lives of members of our greater community.
2020 Recipient
Sam Fox
Sam Fox is the Interim Director of the Violence Prevention and Educational Outreach program at Simmons. Sam received her Master of Public Health degree from Boston University School of Public Health and has been working in the fields of sexual violence prevention and sexuality education since 2014. Her professional pursuits focus on health equity, adolescent development, and human sexuality. Sam started working at Simmons in 2017 and now oversees education and prevention efforts on issues such as healthy relationships, consent, bystander intervention, and safer sex. She also has the privilege of supporting and advocating for students who experience gender based violence and/or discrimination through her work with the VPEO. As part of the office's violence prevention and response strategy, Sam takes a comprehensive approach that engages different areas of the Simmons community, as well as local practitioners in the fields of gender based violence and healthy sexuality. The VPEO collaborates across departments at Simmons, working on issue areas such as food insecurity and trauma informed classrooms, which impact how survivors are able to engage in their Simmons experience. The VPEO also partners with local organizations to provide additional avenues of student support, as well as opportunities for training, student field placement, and community engagement.
---
Outstanding Community Partner Award
This award recognizes a community partner for sustained partnership with Simmons University in a spirit of collaboration and mutual benefit as evidenced by:
The community partner's active and effective collaboration in the development, design, implementation and/or evaluation of project(s) or activities undertaken in partnership with a course or program at Simmons.
The community's partner's commitment to clear and regular communication about their own needs and capacity, and willingness to provide feedback about how the relationship is progressing and community impact
The community partner's interest in and commitment to student development as an a element of a successful partnership
2020 Recipient
Project Place
Project Place is a social services agency in Boston's South End with a mission to "promote a community of hope and opportunity for homeless and low-income individuals by providing the skills, education and resources needed to obtain and sustain employment and housing." Students in service-learning courses have partnered with Project Place across the curriculum, from social work to communications As a long-term community partner for Professor Stacey Maguire's graduate-level Physical Therapy course, Health Promotion, Wellness, and Advocacy, they provide students the opportunity to give wellness instruction to women in the Suffolk County House of Correction – a unique experience that allows students to understand the specific challenges faced by incarcerated women. This year they also partnered with Professor Aaron Rosenthal's War on Drugs course, giving more than 20 students the opportunity to volunteer and in the process better comprehend, and emotionally connect to, the numerous disadvantages faced by formerly incarcerated individuals. As Professor Rosenthal noted "the Project Place staff made this experience incredibly easy for all involved and gave students the opportunity to engage in meaningful work that actually assisted both the organization and the students." Project Place has proven to be a welcoming and enriching learning environment for Simmons graduate and undergraduate students and we are excited to be able to honor them with this award.