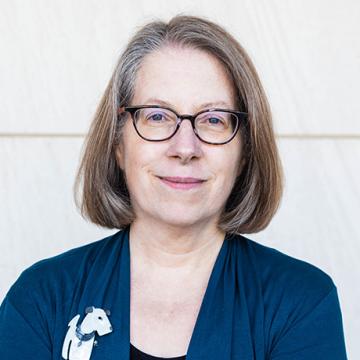 Education
PhD, Sociology and Social Policy, Brandeis University, 2001
A.M., Sociology, Harvard University, 1989
B.A., Sociology, State University of New York at Albany, 1987
About Me
Val Leiter teaches courses on medical sociology, research methods, food, drugs, and epidemiology—these topics dovetail with her research on children and youth with disabilities, medicalization, medical devices, and gender and health.
She has received multiple teaching awards, most recently, the Toby Sloane Award for Undergraduate Teaching in 2019 and the Simmons College Dean's Award for Exceptional Undergraduate Advising in 2010.
Val received the Irving K. Zola award for Emerging Scholars in Disability Studies in 2004 for her work on "Parental Activism, Professional Dominance, and Early Childhood Disability." Her first book, Their Time Has Come: Youth with Disabilities on the Cusp of Adulthood, was published in 2012, a result of her William T. Grant Foundation Scholars project on the "Transition to Adulthood Among Youth with Disabilities." The Sociology of Health & Illness: Critical Perspectives (10th edition), co-edited with Peter Conrad, was published in 2018.
She is active in the Society for the Study of Social Problems, where Val has held multiple leadership positions, including Vice President of the Society. On campus, Val is the Chair of the Department of Public Health, the Director of the Public Health bachelors program, and a member of Institutional Review Board.
Val mentors several students each year on their independent research projects. Right now, she is working with Evangeline Kennedy (Public Health) on her senior thesis on ambiguous loss. She also mentors students as research assistants on her own research projects. Students who are interested in gaining research experience addressing women's health medical devices are encouraged to email her and make a time to talk.
What I Teach
PH 201 Introduction to Epidemiology
PH 347 Public Health Senior Seminar
PH 370 Public Health Internship Seminar
SOCI 239 Introduction to Social Research
SOCI 241 Health, Illness and Society
SOCI 285 Drugs and Society
SOCI 321 Sociology of Food
SOCI 339 Community Research
Research/Creative Activities
Val's recent work examines the U.S. Food and Drug Administration's regulation of women's health medical devices. She has published two articles with Shelley White on vaginal mesh for female urinary incontinence, "Enmeshed in Controversy: Claims About the Risks of Vaginal Mesh Devices," and "Adverse Event Reports Associated with Vaginal Mesh: An Interrupted Time Series Analysis" (also co-authored with Abigail Walters). Currently, she is analyzing adverse event reports associated with Essure (a female sterilization device), and nationally representative data on women's motivations for seeking permanent sterilization.