Alumnae/i Feature
Deep Dive: Special Investigator Danielle Ehrnstein '14 Puts her Research Skills to Work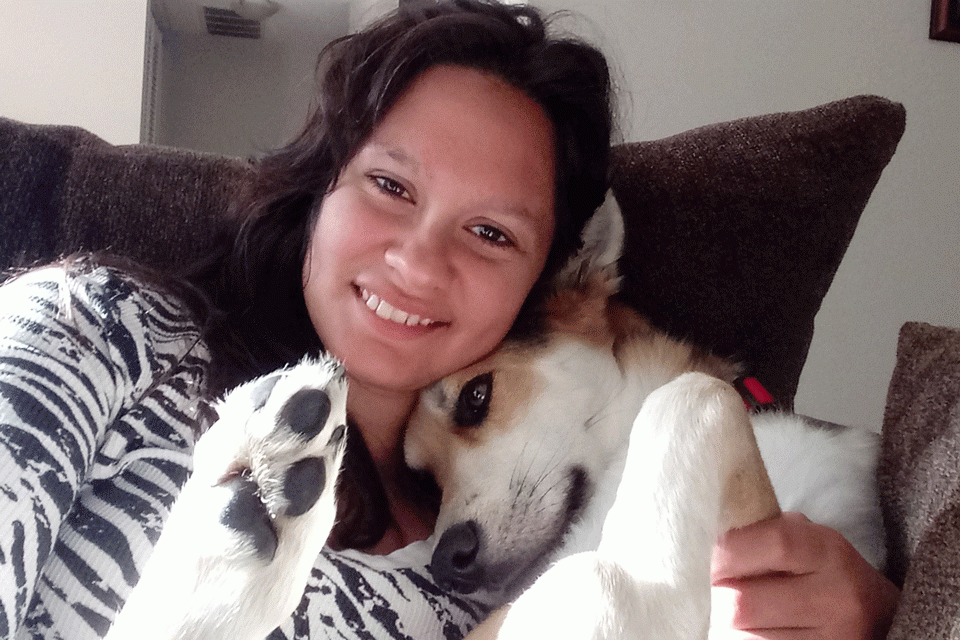 Simmons taught me to advocate for myself. A lot of times people say, 'she's very brash, she's outspoken,' and it's not meant in a good way. I learned to take charge of that, to define it in a positive light... This is especially important for women.
Danielle Ehrnstein '14 uses her research skills for security. As a special investigator for a federal contractor, she conducts background investigations for security clearances. "The focus of the job is doing a deep dive case study into a person's life history," says Ehrnstein. "It involves talking to a lot of people. All of the research methods courses and interview skills I learned at Simmons have paid off!"
A triple major in biostatistics, psychology, and sociology while at Simmons, Ehrnstein had planned to study psychology and sociology with the goal of joining the FBI. "I developed asthma and couldn't pass the FBI fitness tests, so I had to think of ways to make myself more competitive." The importance of quantitative research in psychology and sociology led to her interest in statistics. "Biostatistics focuses more on statistical methods to measure a population or changes in small groups, or how to use big data from hospital data sets."
After Simmons, Ehrnstein went to the University of Maryland to study criminology. "It's the theories of crime, why people commit crimes, and the wide array of psychological and sociological theories that are used to inform criminal justice policy and practices," she says. "I completed my coursework but suffered major burnout while working on my thesis."
Simmons is giving you the skills you need to succeed — it's up to you to put them to good use.
She was offered a job that didn't require a PhD, which came with the promise of an education stipend to complete her degree. Accustomed to pivoting when needed, Ehrnstein took the job. She's been a special investigator since 2017.
"I love the amount of freedom it allows," she says of the work. "I primarily worked from home, even before COVID-19, and I set my own schedule." She also gets to travel to conduct her interviews. "I interviewed someone who worked at the Smithsonian and was invited behind the scenes to see the curator rooms and restoration rooms," she recalls. "I interviewed someone at the Smithsonian Zoo at 3 am when they were feeding all of the animals."
While it wasn't the path she initially anticipated, the skills she learned at Simmons have served her well. She recalls the guidance of her advisor, Emeritus Professor Mary Jane Tracey; research teacher and mentor in sociology, Professor Valerie Leiter; her mentor in psychology, Professor Emeritus Gerald Koocher; and in biostatistics, Professor Emeritus Robert Goldman.
"Simmons taught me to advocate for myself," says Ehrnstein. "A lot of times people say, 'she's very brash, she's outspoken,' and it's not meant in a good way. I learned to take charge of that, to define it in a positive light. If someone says that I'm brash, I counter that I'm self-aware. If they say I'm outspoken, it means I'm not afraid to speak up. I'm not going to hide my identity. This is especially important for women."
She encourages Simmons students to be open-minded about their future careers, as there is no way to anticipate what will happen. "Don't decide on a path and think that is the only way to move forward," she cautions. "There are always other opportunities that will present themselves, but if you close yourself off, you will miss them. Simmons is giving you the skills you need to succeed — it's up to you to put them to good use."