Announcement
Director of the School of Social Work Melinda Gushwa Receives Funding from Boston Children's Collaboration for Community Health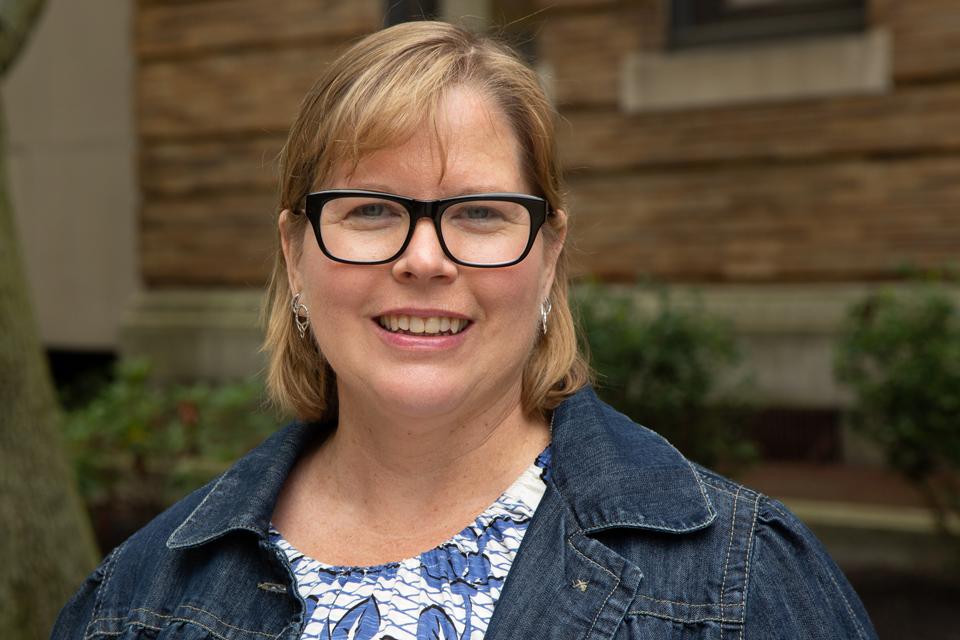 Gushwa to serve as Principal Investigator and Project Director for grant that will support children's mental health workforce and diversity
Simmons University is proud to announce that the School of Social Work has received a grant of $298,393 from Boston Children's Collaboration for Community Health. The funding will primarily be used to address the children's mental health workforce, and specifically support BIPOC trauma practitioners in the Boston area. Associate Professor of Social Work and Director of the School of Social Work Melinda Gushwa will serve as the principal investigator and project investigator for the grant.
The Simmons Workforce Wellbeing Empowerment Project (SWWEP) aims to expand and diversify the children's mental health workforce. In the era of the COVID-19 pandemic, mental health workers experienced collective trauma and burnout, which has especially impacted practitioners of color and has contributed to high rates of turnover.
Firstly, SWWEP will offer $10,000 stipends to support 18 BIPOC students enrolled in the Master's of Social Work with Certificate in Trauma at Simmons. Secondly, SWWEP will offer specialized training aimed at BIPOC trauma practitioners that will support workforce wellbeing, empowerment, and resilience. Gushwa, along with Assistant Professor of Social Work Renada Goldberg, and Associate Professor of Social Work Lydia Ogden will contribute to this training.
For Dr. Gushwa, the Principal Investigator and Project Director of SWWEP, the grant money will address a major crisis in the mental health workforce today. Burnout was high among this workforce population prior to the pandemic, particularly among those help to address trauma associated with children and families.
"In the COVID era, burnout and retention issues in the mental health workforce population have escalated significantly," Gushwa says. "We need to recognize the signs and symptoms of burnout and secondary traumatic stress. Only then we can proactively cultivate prevention strategies and resilience."
Research has also highlighted the ways in which COVID has increased the gap in health and mental health disparities among BIPOC patients, which can place additional pressure on practitioners – contributing to high rates of burnout, lower lengths of stay and high rates of turnover.
"The grant from Boston Children's is a milestone toward supporting mental health practitioners," says Interim Dean of Simmons University's College of Social Sciences, Policy, and Practice Val Leiter. "The strategy that our Social Work faculty has embraced for SWWEP is doubly effective, as it supports diversity in the mental health workforce and it ensures the quality and longevity of care for children who need it."
The grant to Simmons' School of Social Work is part of Boston Children's Hospital's total commitment of $53.4 million to support community organizations and agencies in their efforts to improve the health and well-being of children and families in Boston and across Massachusetts.
"Boston Children's is dedicated to using its resources and expertise to improve child health outcomes," says Kevin B. Churchwell, MD, President and Chief Executive Officer of Boston Children's Hospital. "Through the Collaboration for Community Health, we are able to deepen our commitment and support community organizations in their efforts to address the social determinants of health and advance community health."
Boston Children's is distributing these funds as part of an agreement with the Massachusetts Department of Public Health's Determination of Need Program. This is in addition to the hospital's ongoing support for programs and partnerships.
"We have long recognized that one of the best ways for Boston Children's Hospital to make a difference is to partner with others in the community," says Shari Nethersole, MD, Executive Director for Community Health. "The Collaboration provides organizations with funding so they can establish the infrastructure needed to grow and lead or strengthen their connections with partners to create more efficient systems of care and support."