Teresa Fung
Professor and Director of Didactic Program in Dietetics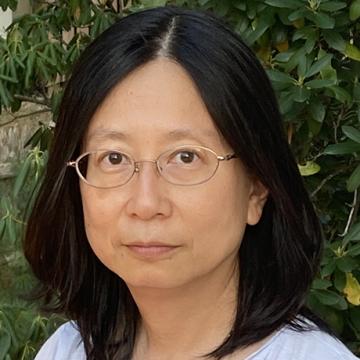 Education
BS/MS Nutrition, Cornell University
Dietetic Internship, Yale-New Haven Hospital
ScD Nutrition and Epidemiology, Harvard University TH Chan School of Public Health
License/Certifications
About Me
I graduated from Cornell University with BS and MS degrees in Nutrition and completed my dietetic internship at Yale-New Haven Hospital. I then stayed on as a clinical nutrition specialist (RD) working in a variety of nutrition specialties. After a few years, I moved to Boston for a dual Doctor of Science degree in nutrition and epidemiology at the Harvard School of Public Health. I have been at Simmons since 2000 and teach both undergraduate and graduate courses while maintaining research collaboration at the Harvard School of Public Health where I am an Adjunct Professor.
I am currently an Associate Editor for the Journal of Nutrition, a member of the Editorial Board for the Journal of the Academy of Nutrition and Dietetics, and a panelist for the U.S. News and World Reports Best Diet rankings. I have been appointed by the Departments of Health and Human Services (HHS) and Agriculture (USDA) to serve on the 2025 Dietary Guidelines Advisory Committee (Committee). In this role, I and other committee members will review the current body of nutrition science on specific topics to develop a scientific report and science-based advice for HHS and USDA.
I believe in preparing students for a fast-paced and quick changing workplace. In that light my teaching focus on providing students with the most updated technical knowledge, skills for critical thinking, problem-solving, as well as locating and evaluating scientific information.
Area of Expertise
Nutritional Epidemiology
Diet Assessment
Development of non-communicable conditions (e.g. diabetes, cancer, cardiovascular disease, obesity, fragility fractures, frailty)
What I Teach
Nutrient Metabolism (NUTR 331)
Dietetics Profession (NUTR 301)
Nutritional Epidemiology (NUTR 460)
Research/Special Projects
I am interested in studying how diet influences the risk of developing major chronic diseases. My research centers on various approaches to examining the entire diet as a whole and its association with cardiovascular disease, diabetes, cancer, and obesity. This also includes evaluating whether adhering to current dietary recommendations does indeed lower the risk of developing chronic diseases. I collaborate with the Harvard School of Public Health and my work has been funded by the National Institutes of Health. Many of the results were published in premier medical and nutrition journals and I have given research presentations nationally and internationally.
Publications/Presentations
Selected Research Publications
Fung TT, Lee IM, Struijk E, Rodrigues-Artalejo F, Willett WC, Lopez-Garcia E. Physical activity and risk of frailty in U.S. women age 60 and older. Medicine and Science in Sports and Exercise, 55:273-280, 2023.
Millan KD, Poccia S, Fung TT. Information Seeking Behaviors, Attitudes, and Beliefs About Pregnancy-Related Nutrition and Supplementation:  A Qualitative Study Among US Women. Nutrition and Health. 28:563-569. (Research with students)
Fung TT, Li Y, Bromage S, Bhupathiraju S, Batis C, Fawzi W, Holmes MD, Stampfer M, Hu FB, Deitchler M, Willett WC. A global diet quality index and risk of type 2 diabetes in U.S. women. The Journal of Nutrition Supplement, 151 (Supplement2): 168s-175s, 2021.
Fung TT, Struijk E, Rodriguez-Artalejo F, Hagan K, Hu FB, Lopez-Garcia E. Fruits and vegetables intake and risk of frailty in women aged 60 and older. American Journal of Clinical Nutrition, 112:1540-1546, 2020.
Fung TT, Mukamal KJ, Rimm EB, Meyer HE, Willett WC, Feskanich D. Alcohol consumption and risk of hip fractures in post-menopausal women and men aged 50 and older. The American Journal of Clinical Nutrition, 110:691-700. 2019
Fung TT, Meyer HA, Willett WC, Feskanich D. Diet quality and risk of hip fractures in postmenopausal women and men age 50 and older Journal of the Academy of Nutrition and Dietetics, 118:2269-2279. 2018
Du M, Li SH, Mitchell C, Fung TT. Associations between diet quality scores and risk of postmenopausal estrogen receptor-negative breast cancer: A systematic review. The Journal of Nutrition, 148: 100-108. 2018  (Research with students)
Professional Affiliations & Memberships
Academy of Nutrition and Dietetics, member
American Society for Nutrition, member
Awards
Toby Sloane Award for Student Centerness (2018)
Elaine R. Monsen Memorial Award for Outstanding Research Literature from the Academy of Nutrition and Dietetics (2022)