Alumnae/i Feature
Fighting Food Insecurity With Adriene Worthington '06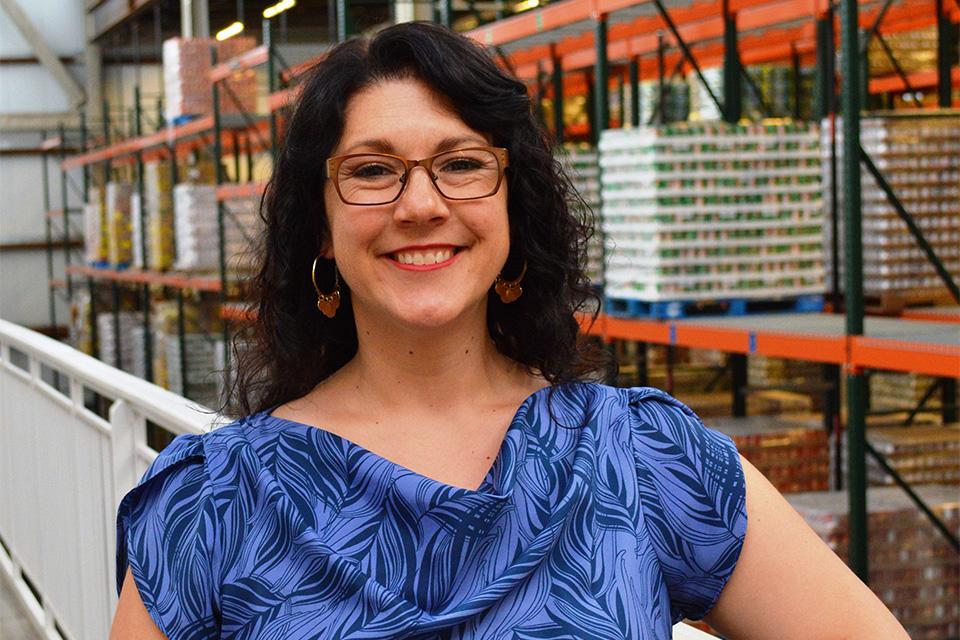 We caught up with Adriene about her work with the Greater Boston Food Bank.

Did a particular experience or person inspire you to pursue your career in nutrition?
I had just moved to Boston and was working as a cook. I was on the fence about going back to school to finish my degree in nutrition and dietetics. My sister was the one who really gave me the kick I needed to start the process and become a Dix Scholar!
The food bank has about 550 member agencies (pantries, meal programs) and over 70 direct service programs (mobile markets, senior distributions). My team is responsible for providing nutrition education to agencies and clients, teaching food safety classes, ensuring the GBFB is prepared for external food safety audits, SNAP application assistance and advocacy, and working with our agencies on ordering, shipping and reporting assistance. We manage an online recipe database and blog, Click 'N Cook, and this year we created the first formal Nutrition Policy that will drive food acquisition towards higher percentages of healthy foods.
What's your favorite aspect of working for the GBFB?
There's always something different to do! My team isn't isolated; we get to work with every department across the organization and participate in community hunger and advocacy meetings. 
Tell us about your continued involvement with Simmons. 
We precept Simmons Dietetic Interns and provide fieldwork hours for Advanced Community Nutrition students. I guest lecture for Community Nutrition when asked. It's important to expose future nutrition professionals to roles in the food insecurity sector, there's a lot of opportunity and it isn't something many people know about. 
Do you have any advice for students?
If you don't know what area of the field you want to work in yet, that's okay; careers take shape over time. Accepting positions and volunteer opportunities (no matter how small or part-time) can help you to narrow down your interests.
Are there any faculty members that impacted your time at Simmons?
I originally intended to take my degree and pursue graduate work in food science. Dr. Teresa Fung, my advisor, sat me down one day and laid out all of the reasons why taking one extra class would be the best choice as becoming a Registered Dietitian (RD) would open doors for me. She is a persuasive person, because I did just that and haven't looked back. And, yes, the RD has definitely opened doors!